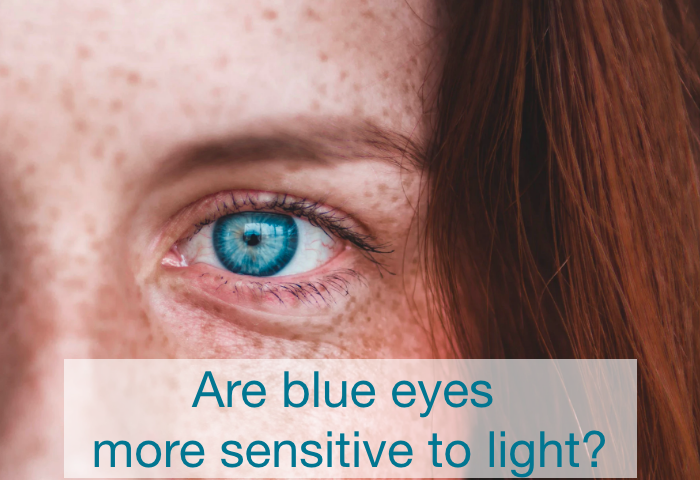 Some eye colors are more sensitive to light than others. People with lighter eye colors and less melanin may be susceptible to light sensitivity, although there are always exceptions.
However, the case for blue eyes has been argued for a long time. This article will talk about blue eye sensitivity to help you gain insights into the connections between eye color and light sensitivity. We will also talk about the best ways to protect your eyes from harsh glares.
Why are blue eyes more sensitive to light?
A study in 2012 showed that light blue eyes did not block outside light than other colored eyes. Blue eyes have less eye color and less melanin, which makes them more light-sensitive. Melanin is a protective pigment that safeguards the skin and retina from the harsh glare of the sun.  
Blue eyes also have thinner irises. Therefore, all these factors increase the sensitivity to light for people with blue eyes (especially for light blue eyes). Grey and green eyes are also other color types that can be sensitive to light. 
How to protect your eyes, especially if they are blue
Use dark mode on your phone
Today, we spend on average 5.4 hours on our phones, texting, calling, emailing, and lots more. Therefore, having light sensitivity means you need all the protection you can get, especially on your phone. 
Luckily, some phone O.S today comes with a dark mode, which you can turn on directly from your phone's settings. However, it's even better to use dedicated dark modes across apps. Fortunately, many popular mobile apps now have dedicated dark modes.
That way, you can enjoy a dark and calming environment on your smartphone.
Use dark mode on your computer
Our computers are equally just as important, primarily if you work long, hard hours on them. Therefore, you need to consider dark mode on your computer. Fortunately, some latest versions of computer operating systems support dark mode. You can also consider dedicated dark modes on all other apps that already offer them. 
Use dark mode on any website
Some of the most popular websites, such as Twitter, Facebook, and YouTube, come with built-in dark mode. However, most websites don't have a built-in dark mode, which can be challenging when surfing the web.
Fortunately, the Night Eye browser extension is the answer to your worries. With Night Eye, you can enjoy a superb dark theme on every web page you open. Night eye transforms every font and color palette giving you a unique and visually appealing environment that goes easy on the eyes.
How to enable dark mode on any website
No matter your favorite browser, the Night Eye browser extension is compatible and would work flawlessly. You can look forward to a gorgeous darker screen that lets you enjoy a brilliant surfing experience.
How to install Night Eye and protect your eyes
At the end of this article, you will find download links to get started on downloading the Night Eye browser extension
Click on the symbol for your preferred browser, and you will be redirected to your browser e-store
Here, you can select 'Add' to get started.
Night Eye runs automatically and starts transforming every web page open in your browser.
Now you can go to any webpage of your choice to start enjoying the stunning Night Eye dark mode.
Why dark mode is good for you
The dark mode is an excellent tool to protect the eyes from the harsh glares of white and blue light. The Night Eye App offers that fantastic benefit and many more. Below you will find other health benefits of using dark mode:
Dark mode helps prevent undue stress, strain, and pressure on the eyes. 
Dark mode will eliminate that awful ache in the eyes and alleviate dry and teary eye symptoms.
It will also eliminate insomnia by allowing the body to develop better melatonin levels.
It can also stop you from over-stimulating the ganglions in the eyes and deter myopia.
With dark mode, you can also enjoy better health and wellbeing as it prevents migraines and headaches, which is common among avid computer users. 
Install Night Eye
No credit card, no names, nothing is required – install Night Eye on your preferred browser and enjoy it completely for free for 3 months. Subsequently, you can stick with the free Lite version or subscribe for $9 per year. You can see for yourself how this dark mode browser extension can help you fight eye strains.