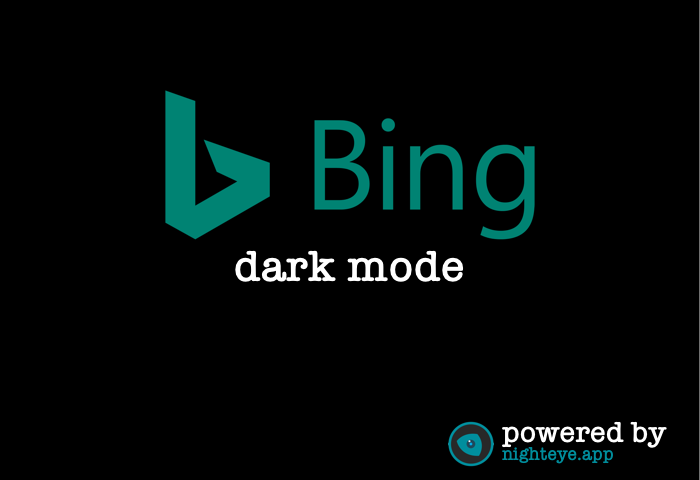 Introducing Night Eye, the premier browser extension for Bing dark mode. With Night Eye, you can upgrade your Bing experience and browse the web in a fresh, dark-themed layout that is easy on the eyes. Not only does Night Eye provide a Bing dark mode option, but it also protects your eyes from harmful blue light emitted by screens.
Prolonged screen time can lead to negative symptoms like:
eye strain
headaches
blurred vision 
But Night Eye's negative polarity feature eliminates blue light and reduces these negative effects. Plus, Night Eye does not affect the performance or speed of your browsing.
Night Eye is designed for one purpose – to deliver you a fresh, cooler and dark-themed layout on nearly any website you search and visit, by providing at the same time increased eye protection for its users. Enabling this dark mode extension while using Bing will replace not only the standard blindingly bright interface most sites on the web use, but also the layout of this famous web search engine with a dark mode version of it, without affecting browsing speed and performance.
As digital users, prolonged time in front of our screens and staring at the bright white backgrounds (if dark mode is not available) can cause us many negative symptoms such as eye strain, headaches, and even blurred vision. This is mainly due to the harmful blue light our PC and laptop screens are emitting. Night Eye will enable negative polarity on your screen and instantly eliminate the blue light, reducing the negative side effects of it and protecting your eyes. And all of this combined with a better visual experience!
Night Eye is compatible with all modern browsers so feel free to install it now and test it while using Bing. Surely you won't regret it!
Bing, one of the leading search engines, is still lacking a built-in dark mode, but there is a solution. In this article, we will explore how to enable Bing Dark Mode with Night Eye, a premier browser extension that provides a fresh, dark-themed layout that is easy on the eyes and protects against harmful blue light emitted by screens.
Bing Chat is a fresh addition to Microsoft's Bing search engine, enabling users to engage in conversations with an AI-driven chatbot. Unlike ChatGPT, Bing Chat is accessible on a wider range of platforms, including Android, iOS, and even within the Skype app. Since Bing's primary role is as a search engine, the Chat feature can tap into web results and current information. Users can enjoy natural, interactive conversations and ask follow-up questions related to their initial search to receive tailored responses. Beyond that, Bing Chat can also serve as a creative companion, assisting with tasks like writing poems, crafting stories, or brainstorming ideas for a project.
Bing Chat's dark mode can be easily enabled using the Night Eye browser extension. Night Eye is a browser add-on that transforms the appearance of websites by applying a dark theme, making them more comfortable to view in low-light environments or for users who prefer darker interfaces. To enjoy Bing Chat in dark mode, simply install the Night Eye extension on your preferred browser, and it will automatically apply the dark theme to Bing Chat and other websites you visit.
As a web search engine owned by Microsoft, Bing's origins are MSN search and Windows Live Search (later rebranded as Live Search). Developed using ASP.NET, Bing provides a variety of search services, including web, video, image, and map search products. This web search engine is the replacement of Microsoft's Live Search since 2009. There are few key features included as the listing of search suggestions while queries are entered and a list of related searches (called "Explore pane") based on semantic technology created from Powerset which is another acquisition of Microsoft. 
Back in July 2009, Microsoft and Yahoo! announced a deal in which Bing would power Yahoo! Search. As a consequence, all Yahoo! Search global customers and partners made the transition by early 2012. In 2015 the deal was altered, meaning Yahoo! was only required to use Bing for a "majority" of searches. Microsoft released a statement in October 2011, that they were working on new back-end search infrastructure intending to deliver faster and slightly more relevant search results for users. The new index-serving technology known as "Tiger" had been incorporated into Bing since August 2011. 
In May 2012, Microsoft added a new social "Sidebar" feature to Bing that searches user's social networks for information relevant to the search query. As of today, Bing is the second-most renowned search engine globally placed just behind Google. In the next lines of this article we will review the most recognizable features of Bing and how you can use them and more importantly how to enable a better version of Bing, a one with dark mode on.
Bing search engine filters results in different tabs such as ads, images, maps, videos, news and also provides to its users the option to accumulate points, which can be later redeemed on Microsoft and Windows stores.
By featuring captivating pictures that frequently change as the background on the home screen page, Bing for sure knows how to entertain its users. Additional smaller pictures are also visible at the bottom with the current trending headlines.
Bing's autocomplete suggestions are considered to be better than the Google ones, as they are showing more results.
This web search engine provides a quick "snapshot" of basic information to its customers that can be clicked on to explore more about their search query, including quick links to points of interest, such as news, images, biographies, quotes, etc.
This feature offers key events in the lifetime of influential or famous people's lives and they are shown as per the user's preference.
Searching for videos on the web can take more time than presumed as sometimes it may be difficult to know if you are about to click on the correct video or a copycat. By allowing you to hover over any video and preview a short clip of it, Bing is making sure to eliminate this uncertainty a user may have.
"My Saves" search capability
Bing offers the option to save video, images, and shopping searches you find while using the web search engine, and view them later on your PC or mobile device, as long as you're signed in.
This feature is a serious competitor to Google maps, with a stylish look and search quality with more relevant and updated information than ever before, including directions and traffic data.
Bing search engine is performing computations that allow you to type in a math query and see instant results. The search engine also has a user-friendly implemented calculator feature that you can use to solve your math problem.
You can use Image Match to find an image on the web that you would like to "re-find" on the internet with different size and quality. For example, if you have a small image that you found on the internet a while back and you want to use it as a wallpaper, you could now use Bing's Image Match feature to find a larger and high-resolution copy of that same image. Pretty useful indeed, don't you think?
Install Night Eye dark mode now
No credit card, no names, nothing is required - install on your preferred browser and enjoy completely for free for 3 months. After that, you can stick with the free forever Lite version and subscribe for $9 per year. Night Eye can enable dark mode on nearly any website like LinkedIn, Facebook, Google, and much more. See by yourself how this dark mode browser extension can help you fight with eye strain.