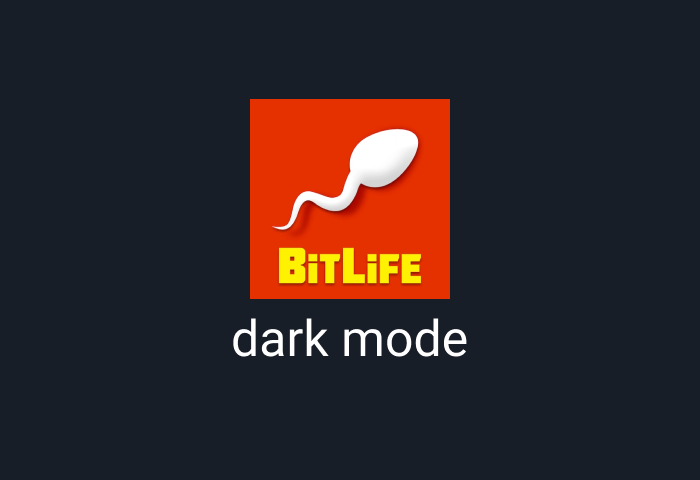 While getting sucked into customizing, randomizing, and memorializing your "Bit-Lives", it's so easy to spend hours and hours at go. These long hours can quickly become a nightmare afterward, your eyes literally feel like they could fall out at any moment, and there's a pounding headache to go with it.
Thankfully, BitLife has a built-in dark mode, you can switch to the default glaring white screen to reduce eye strain and protect your eyes from other associated problems like blurry vision, teary eyes, headaches, and migraines.
But then lies the problem - the native Bitlife dark mode is only available for Bitizens (premium users). Fortunately, Night Eye comes to the rescue, offering a fantastic alternative for both free and premium users. Plus, you will love that Night Eye allows you to customize your built-in Bitlife dark mode to create your preferred dark theme style for Bitlife and all your favorite websites. This guide will show you how to enable Bitlife dark mode by using Night Eye, alongside its wholesome benefits and steps to overcome any possible problem when using the bit life dark mode.
What is the Night Eye?
Night Eye is a superb free dark mode browser extension that changes the interface of web pages and websites from their default dark text on a white screen to an amazing black background with white or grayish text. That said, Night Eye does not merely invert the colors of a website, a practice done by most dark mode extensions which end up washing out texts and images into a visual appearance that isn't appealing to the eyes. 
In its place, Night Eye offers a beautiful black theme, while carefully recoloring texts, and other visuals, so you can enjoy an almost cinematic experience when surfing the internet. As a free dark mode browser extension, you can also use Night Eye on many of your favorite browsers including Yandex, Chrome, Microsoft Edge, and Opera.
 Besides, Night Eye offers other wholesome benefits such as:
Cuts down blue light exposure:

Night Eye does a decent job of cutting down your exposure to excessive blue light. Excessive blue life exposure has been proven to limit melatonin production thereby making it harder for you to fall asleep. 

Cuts down glare:

NIght Eye doesn't just give you a soothing black screen, it reduces glare and brightness on your eyes as well. You will especially love that you can also control the amount of contrast, glare, dimness and brightness as well. 

May help reduce visual disturbances:

Many bitizens have previously complained about having double vision after hours of gameplay. With dark mode, you can protect your eyes, which further supercharges your gameplay by improving your focus. 

Ultimate dark theme browser extension

: Night Eye also extends the power of any built-in dark theme by offering a myriad of features including OS color integration, brightness, contrast, and dimming, for a smooth and consistent dark appearance.
How to Install NightEye 
Installing Night Eye is so easy and happens directly from your browser. Follow the prompts below to get started:
Go to the bottom of this article and select your browser icon as displayed. This redirects to your browser extension store in seconds.

Click

"Add"

to add the extension to your browser and Night Eye starts working automatically from the background. 

Now visit BitLife at

https://bitlifeonline.com/

and start enjoying your new Bitlife dark mode. 

Don't forget to pin the extension for quick access directly from your browser extension bar.
How to enable dark mode in Bitlife using Night Eye
Once you install Night Eye on your browser, Night Eye should immediately transform your BitLife environment alongside other open websites and web pages.  On occasion, Night Eye does not transform your BitLife environment automatically, here's what you should do:
Go to your extensions bar and click on the Night Eye icon to find three main modes:

"Filtered", "Normal", and "Dark".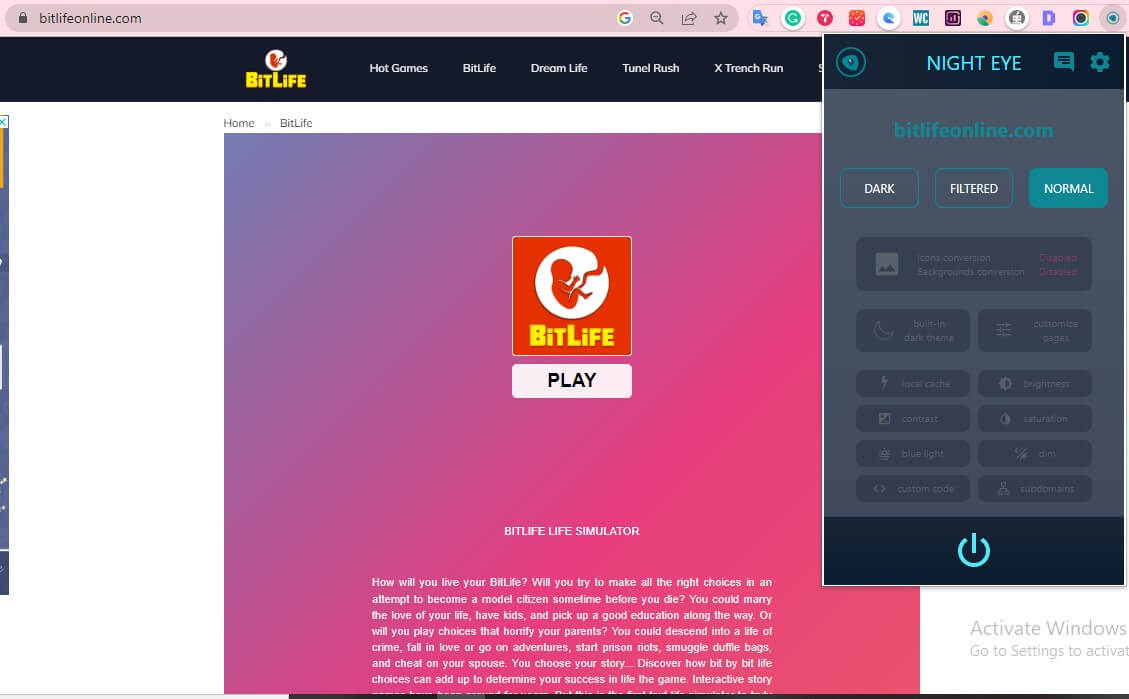 Go to your extensions bar and click on the Night Eye icon to find three main modes: "Filtered", "Normal", and "Dark".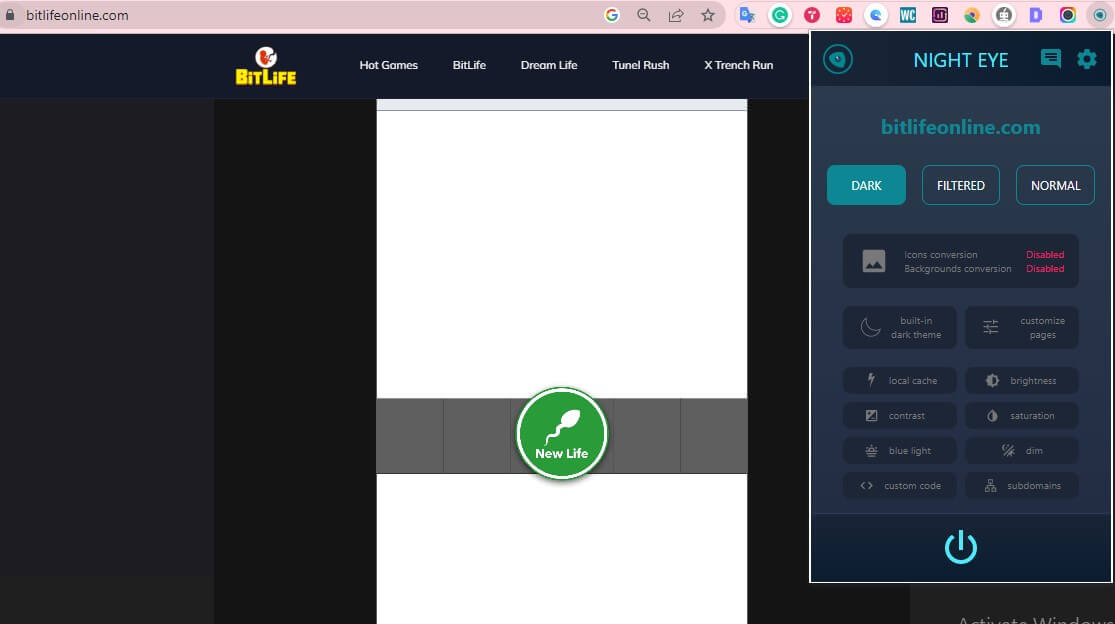 Conclusion 
With BitLife dark mode, you can alleviate huge stress on the eyes, which makes it easier to enjoy your gaming time seamlessly. Whether you use Night Eye's dark mode, Bitlife's native premium integration, or both, you can enjoy reduced eye strain and fewer possibilities of headaches and migraines after hours of gaming. Even when used together, Night Eye's smart conversion will supercharge your Bitlife dark theme, offering the choice of customizing a plethora of features to enjoy a truly amazing theatrical experience.
Enable dark mode on any website
Sadly not all websites have built-in dark mode. Luckily Night Eye is here to help. Protect your eyes, enable dark mode on any website!
Smart conversion, no ads, no data mining, helpful support!
Get started for free today!
Just install it and feel the difference!
We are at your disposal! If you have questions, simply send them through the built in support system!!