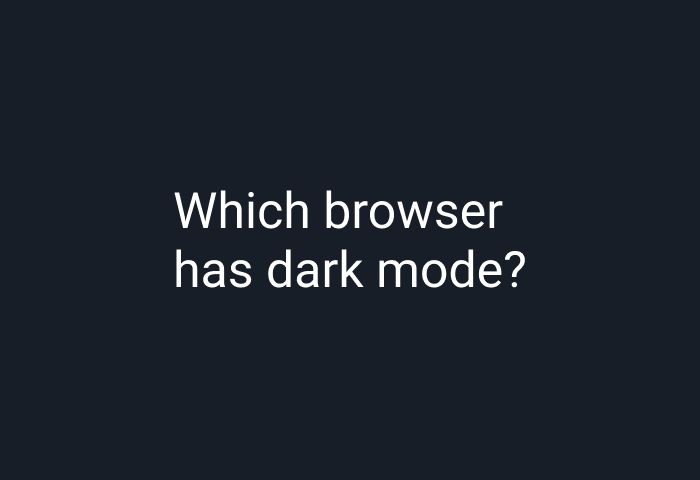 Staring at a brightly lit screen at all hours can put a lot of strain on your eyes and potentially disrupt your sleep. That's why you need a browser with dark mode to turn down the lights from time to time. Dark mode on your browser offers a soothing light or grayish text on a black background as a fantastic alternative to the regular black text on a blinding white background, thereby going easy on your eyes.
Dark mode helps reduce glare and brightness as well as excessive exposure to blue light, which has been proven to disrupt your natural circadian rhythm, making it harder to fall asleep. Dark mode may also protect the eyes from eye-related issues such as frequent dry eyes, eye strain, increased tension headaches or migraines, and visual disturbances.
Given how effective dark mode is, it's no surprise that developers have included a built-in dark mode in a variety of browsers. But some browsers do not have a native dark theme. Thankfully, Night Eye is an amazing alternative to still enjoying that visually appealing dark theme while using any browser of your choice.
Here's everything you must know about the top browsers with full dark mode settings, alongside instructions on how to install dark mode on every other browser using the Night Eye. 
Top Browsers With Built-in Dark Mode
Opera dark mode
Opera is a fascinating chromium web browser that comes with a built-in Dark mode you can easily access from its Easy Setup bar. Compared to many other browsers, Opera offers the darkest dark theme setting, which is simply delightful. You will also love the special Opera GX version, which adds additional gaming features on top of Opera's standard features for added gaming pleasure. To enable dark mode on Opera, go to the top-right corner and open the Easy Setup hamburger menu. Next, select "Dark" to change colors to dark mode.
Pros
Opera's dark mode does not just invert colors. You have a dedicated dark theme, with carefully formulated colors for texts and graphical elements to enhance your viewing pleasure
Unlike any browsers with built-in dark mode, Opera makes it easy to switch to dark mode while enjoying the same lightning-speed browsing experience.
Opera's GX version provides more dark theme features for gamers alongside the ability to limit network usage, check system resource usage, and limit RAM to optimize gaming performance.
Cons
Opera's dark mode does not allow you to customize the dark theme settings which is a problem for websites that don't turn entirely black even in dark mode.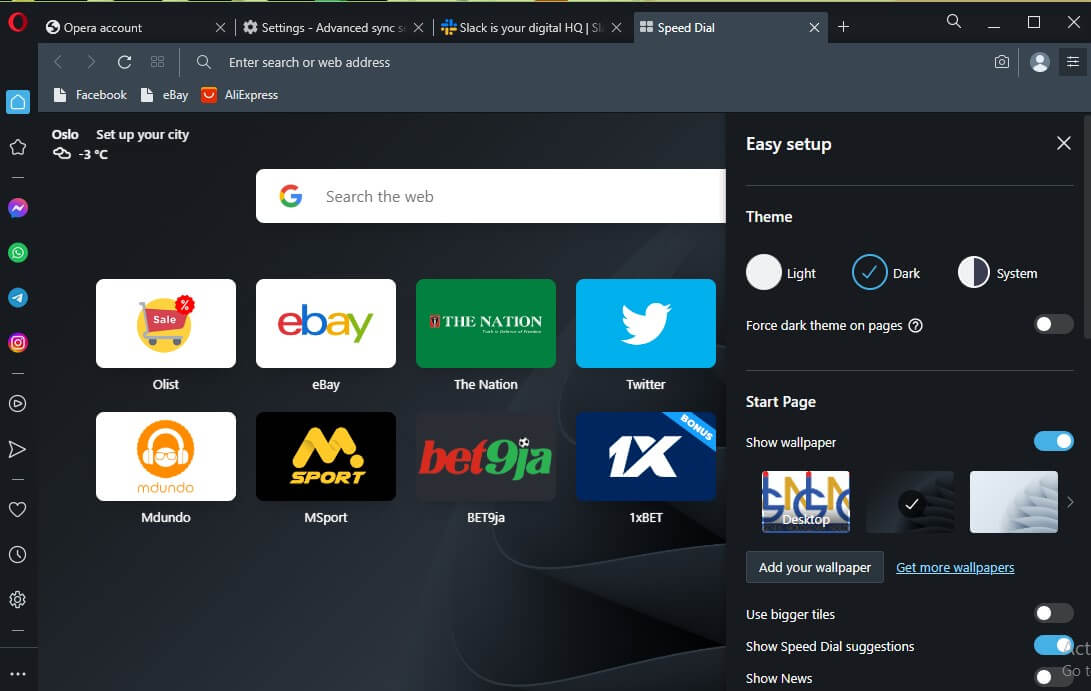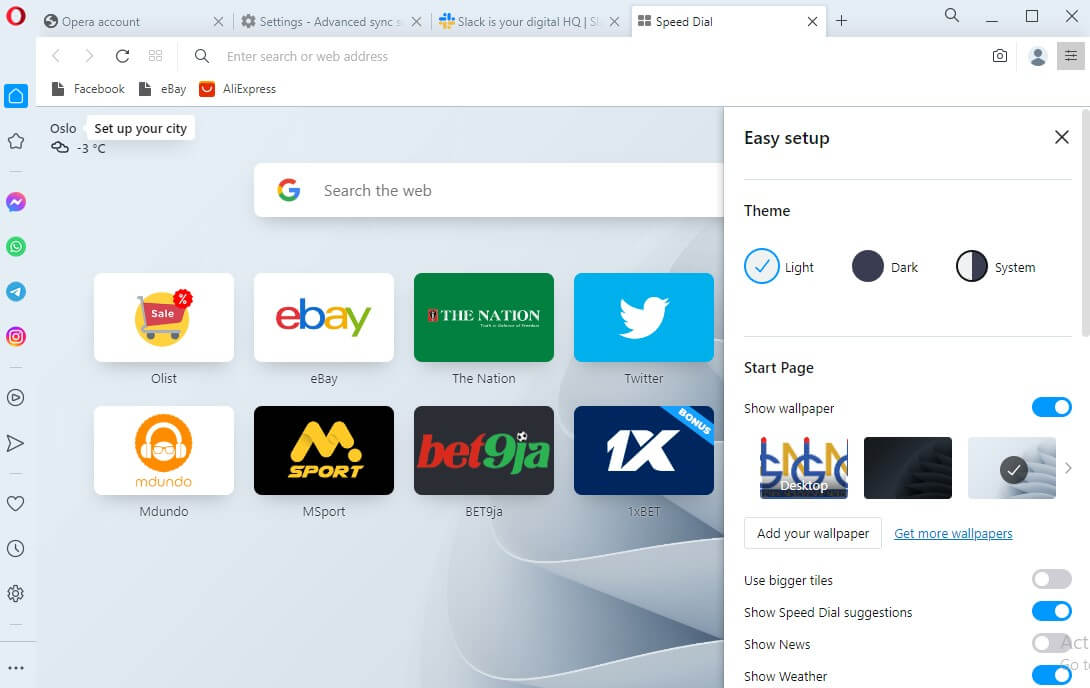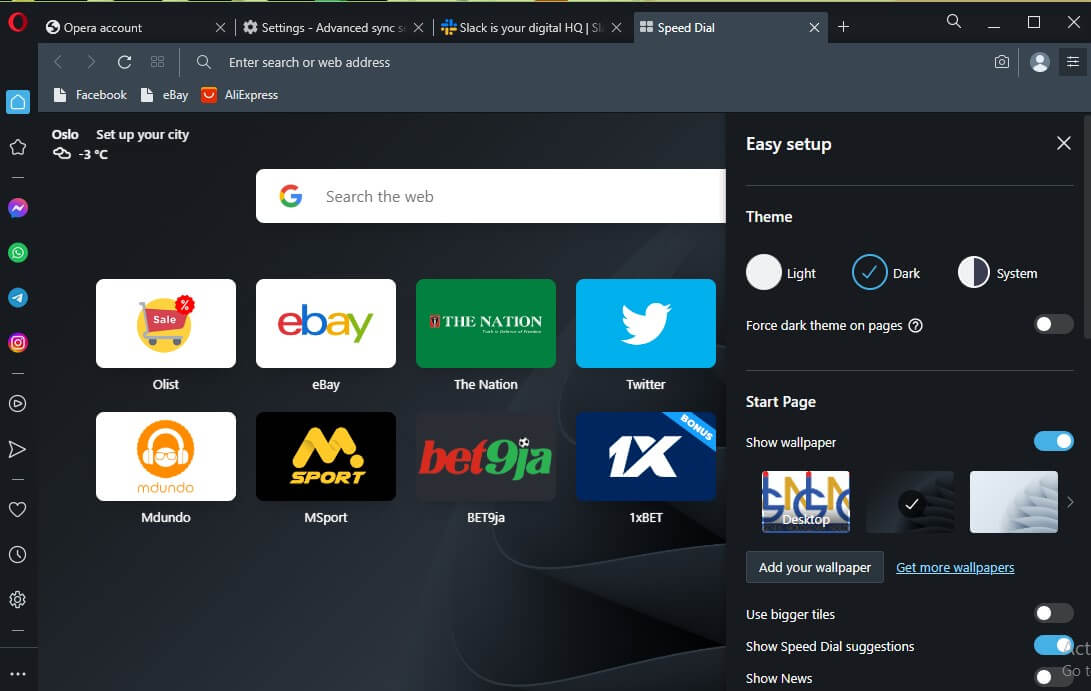 Vivaldi dark mode
Vivaldi is another Chromium browser with unique features, including a native dark theme alongside eight other predefined themes. Vivaldi especially stands out because you can also modify theme colors, increase or decrease contrast and saturation, and even schedule times for your browser to automatically turn on any theme you like. Vivaldi is also known for offering the best tab management features, thereby allowing you to group, or stack multiple tabs and hibernate them at will. To enable dark mode on Vivaldi, click the "gear icon" at the bottom of your Vivaldi homepage to open settings. Choose "Themes" from the sidebar, and then pick the "Dark" theme.
Pros
Vivaldi offers nine predefined themes including a dedicated dark theme
You can also customize Vivaldi's dark mode and schedule times for any theme you like.
Vivaldi offers the best tab management features thereby supercharging your productivity.
Cons
Vivaldi's dark theme may not work on some websites prompting the need for a browser extension.
Firefox dark mode
The Firefox browser is one of the most efficient and responsible browsers, known for its privacy features. You will also love its dedicated dark theme, which is also easily customizable. Firefox also boasts tons of features, including a password manager, an ad-blocker, and a Ctrl + Alt-tab cycler. That said, enabling the Firefox dark theme is easy. Simply go to Theme"."Settings", then "Extensions & Themes." Click "Themes" to open up the Theme management page, where you can choose the theme you want, like "Dark."
Pros
Firefox comes with a native dark theme setting that works with almost every webpage you visit.
Firefox equally allows you to "Build your own theme", which is a fantastic option if you want to control specific colors for pop-up text, background, toolbar, and other elements.
Cons
Firefox dedicated dark mode isn't customizable.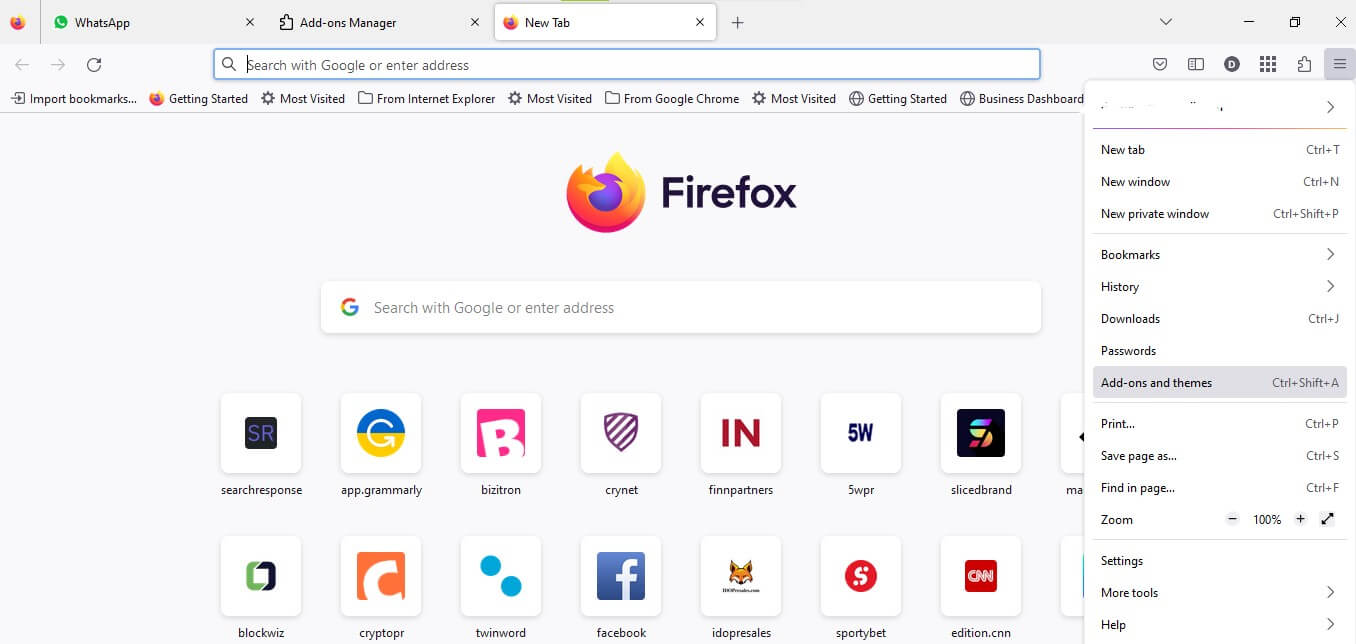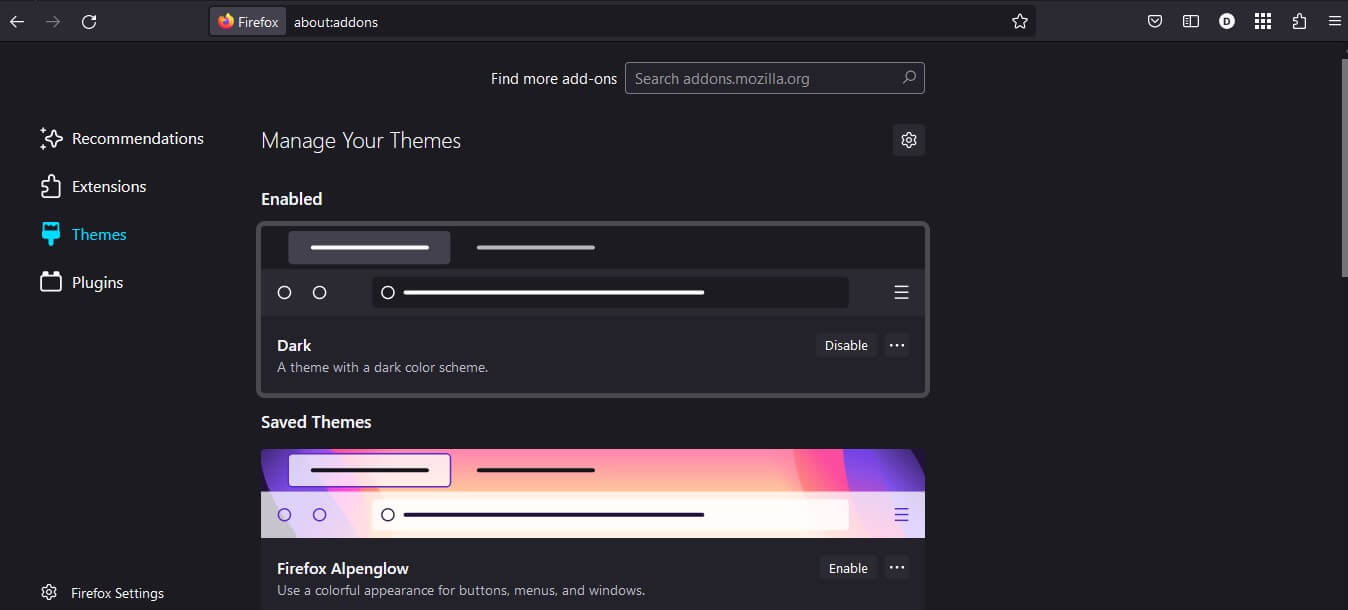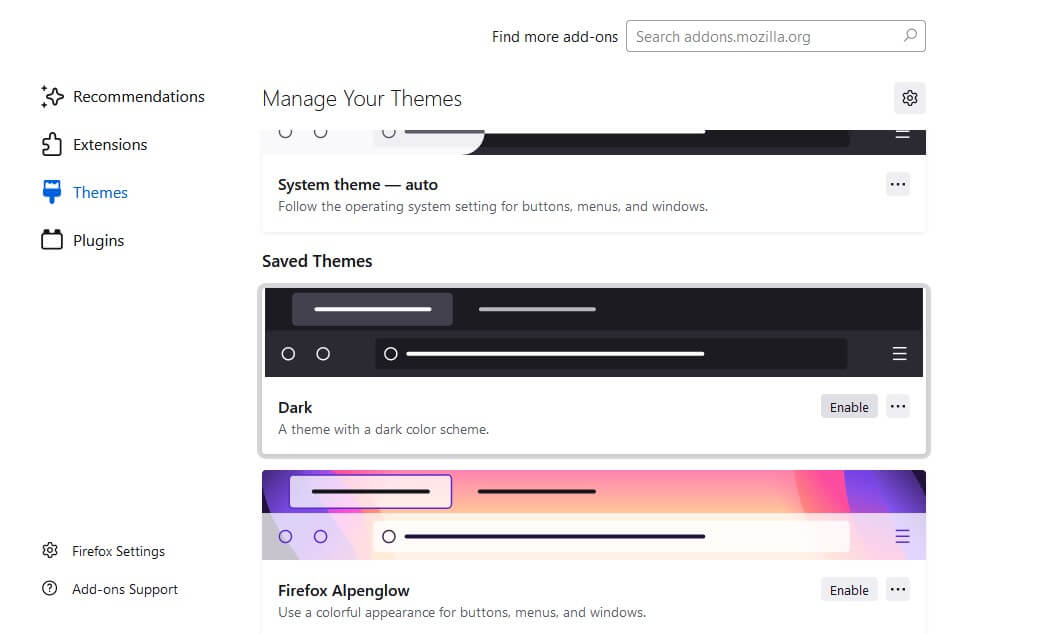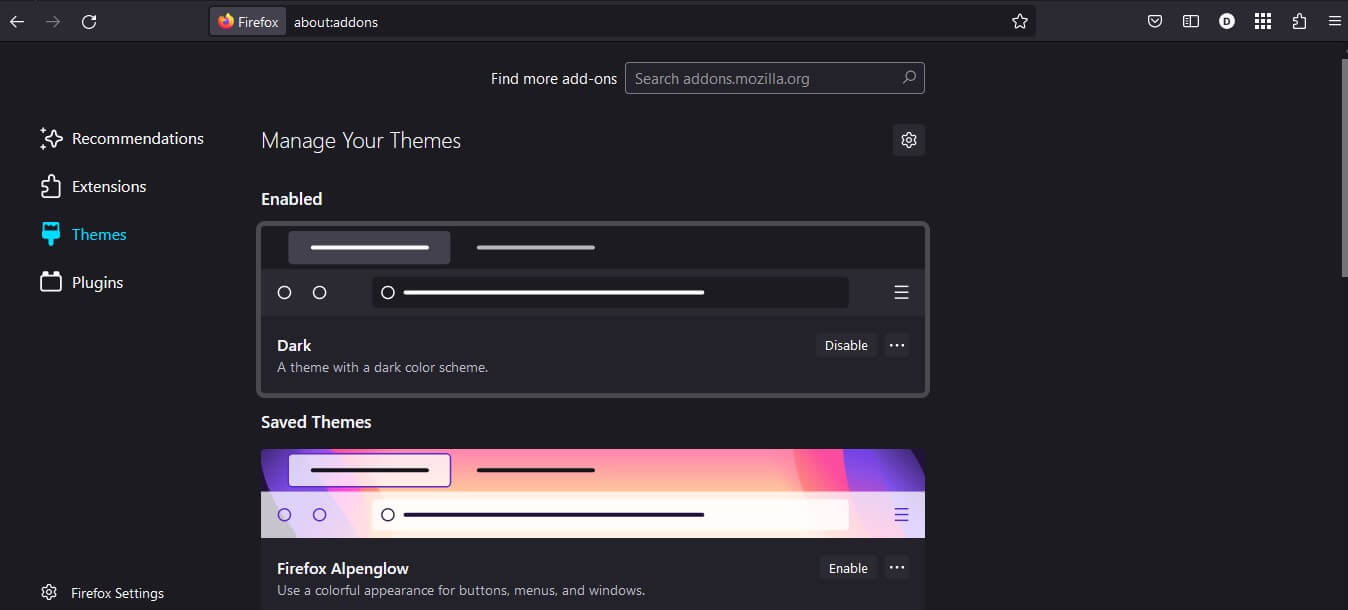 Microsoft Edge dark mode
Microsoft Edge offers a robust and cleaner Chrome-like UI design, known for its amazing features such as a profile manager, rendering engine, and tracking preventions. Edge users can also use Chrome extensions like Night Eye with ease. That said, Microsoft Edge is also a great browser with a dark mode. To turn on this dark mode on Edge, open the three-dot menu and go to "Settings." Next, select "Appearance," and under Overall appearance, tap "Dark". Next, pick a color theme to customize your browser's top menu bar.
Pros
Microsoft Edge comes with a superb dark theme that works directly from the browser's settings.
Microsoft Edge's dark mode also works with its Reader support, thereby supercharging your focus and productivity.
Cons
Edge dark mode may slow down the performance of some websites causing them to break
You can't customize Edge's dark theme to your personal preferences.
 
Browsers without Built-In Dark Mode
Chrome dark mode
Chrome might be the world's favorite browser, but it's lagging behind in features such as a dedicated dark theme. Fortunately, you can still enjoy dark mode on Chrome using the Night Eye browser extension. To enable dark mode on Chrome with Night Eye, go to the bottom of this article and click on the Chrome icon. It automatically takes you to the Chrome extension store. Next, select "Add to Chrome" and confirm by clicking "Add extension" when it pops up on your screen. That's it! Night Eye starts working immediately, transforming every open web page on your screen.
Pros
Chrome's handy plugin expansion means you can enjoy the full power of Night Eye, giving you an almost native theme that will never limit your browsing speed and experience.
Chrome also packs many other convenient features such as the ability to generate new passwords for users, manage open tabs and configure web page permissions and content.
Cons
Chrome has no built-in dark mode or theme.
Safari dark mode
Safari has no dark mode of its own. Fortunately, you can install the Night Eye browser extension to enjoy a dedicated dark mode in your Safari browser. To turn the browser black, go to the bottom of this article and click the Safari icon. This automatically takes you to the Safari browser extension store, where you can enable Night Eye by selecting "Add." Once added to your browser, Night Eye begins working instantly.
Pros
Night Eye offers a soothing and dedicated dark mode for Safari
It's also easy to configure Night Eye on Safari to your liking and even schedule your dark theme to turn on automatically at any time of the day.
Night Eye is also fully customizable per website, so you can decide how your favorite web pages look in dark mode. This means you can reduce or increase contrast, saturation, dim, and brightness to your preferred levels.
Night Eye comes with fully dedicated support from its built-in chat system (available for premium users).
Cons
Safari has no dedicated dark mode. You can only use a browser extension or your system's settings.
How to Install Night Eye - dark mode for every browser
No matter the browser you choose, Night Eye is a fantastic dark theme. Even when your browser already has a dedicated theme, Night Eye deeply integrates with that theme, offering you the ability to control every feature and adjust it to your preferences for ultimate control over your online experience. Installing Night Eye is also easy on any browser:
Simply go to the bottom of this article and tap on your browser's icon:
Selecting that icon should take you to your browser's extension store, where you enable Night Eye by clicking "Add".
Once added to your browser, Night Eye begins working automatically thereby transforming every open page on your browser.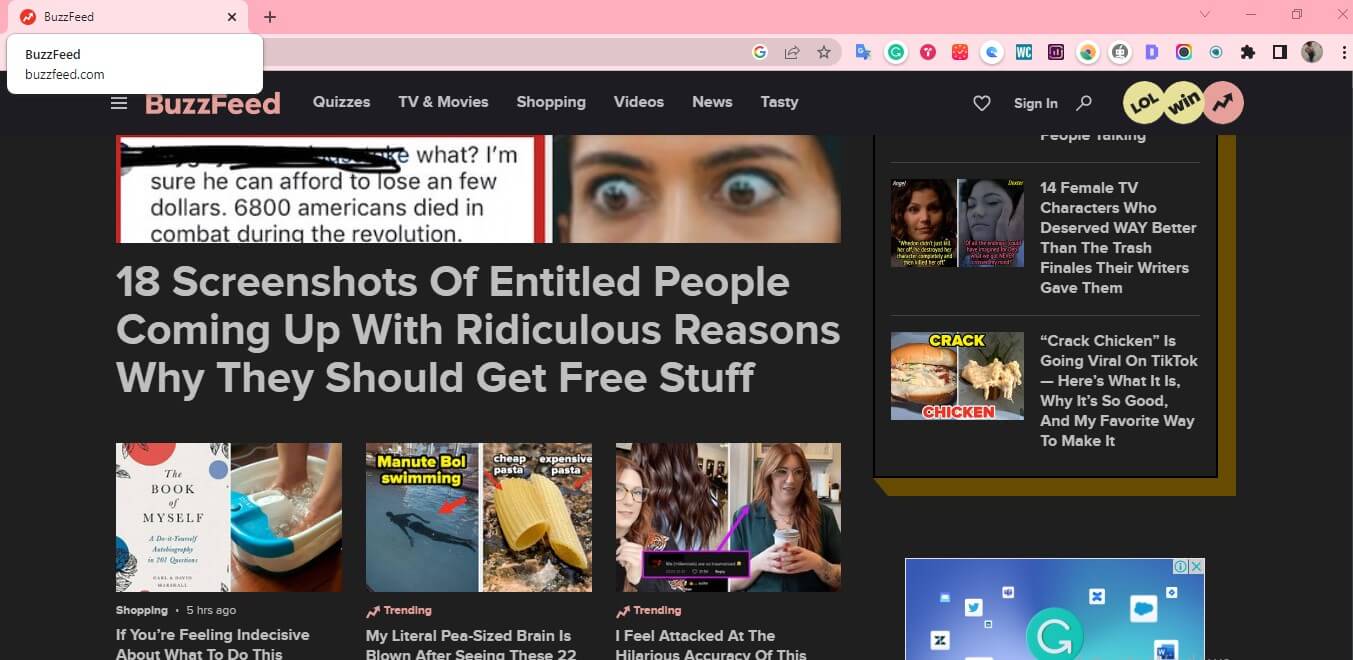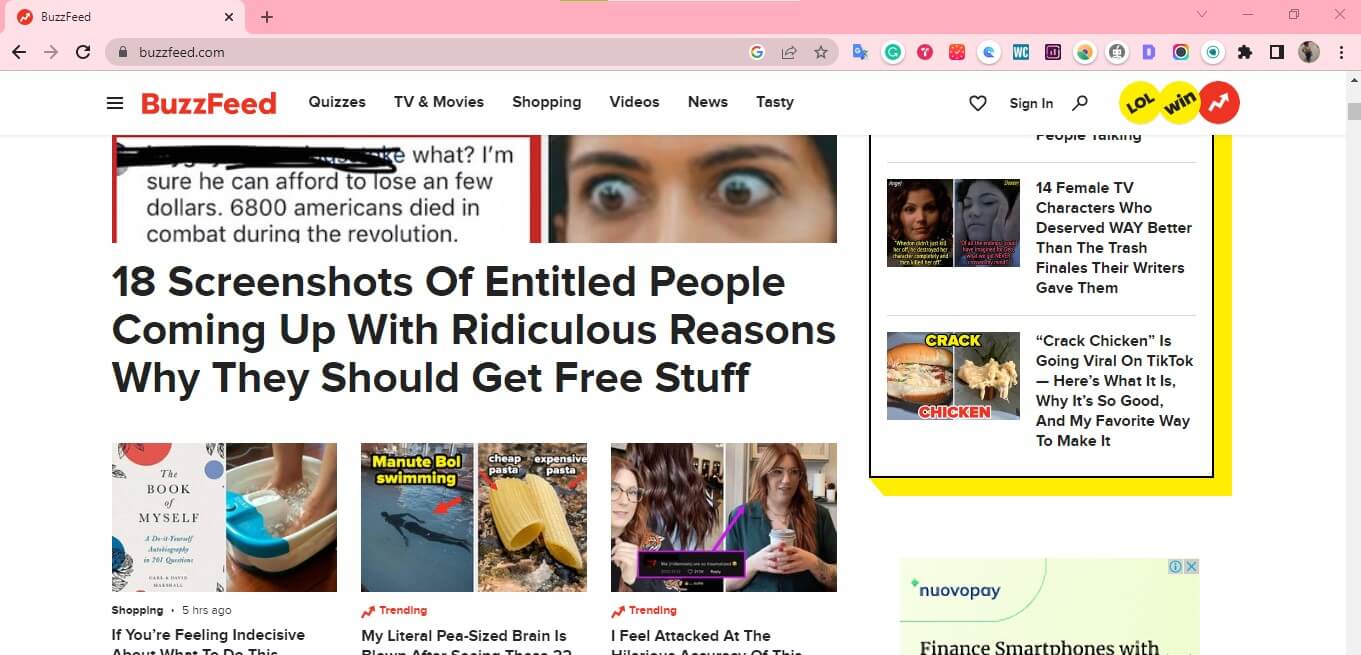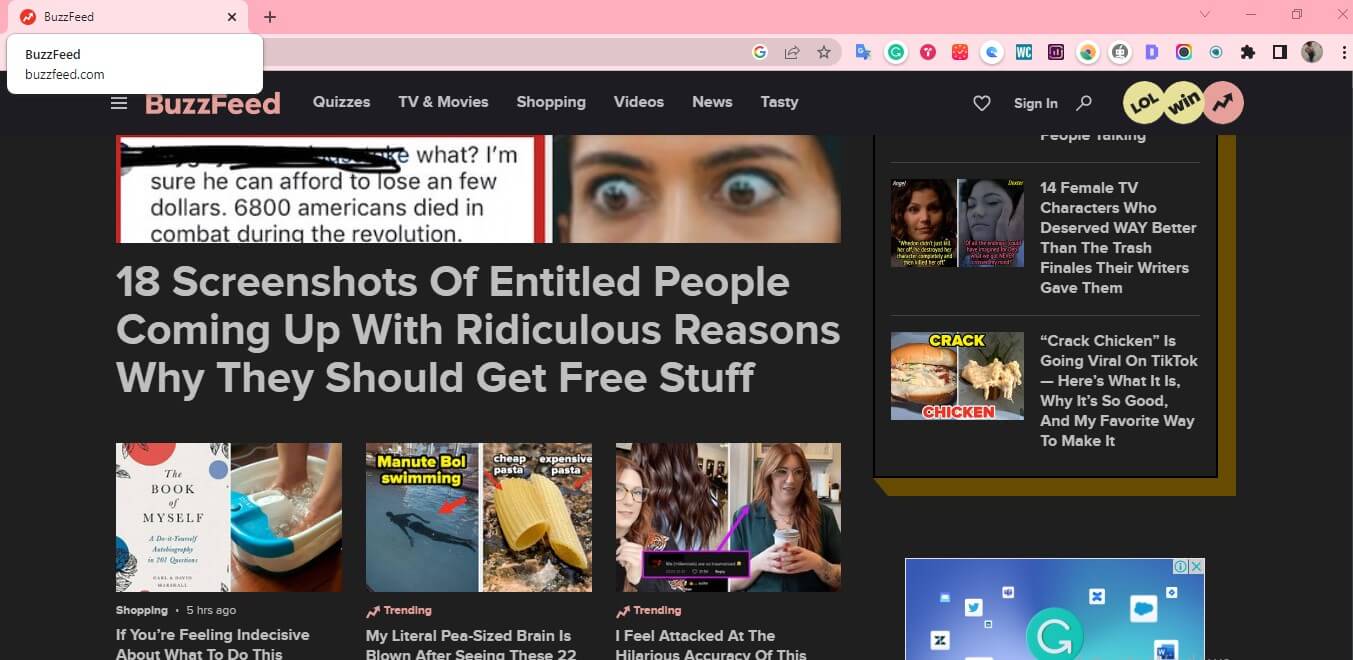 Troubleshooting
What If Night Eye isn't working on my browser?
If Night Eye isn't working on your browser, the first solution is to ensure you have updated your browser's operating system. Next, check that Night Eye is turned on by tapping the Night Eye extension and selecting "Dark." brightness
How do I activate Night Eye if my trial has expired?
You can simply choose a payment plan and complete the payment by following the prompts on your Night Eye interface. Alternatively, you can use the free forever plan, which allows you to use Night Eye on any five websites of your choice by tapping on the Night Eye icon. Click on the "Settings" icon and navigate to "Whitelist," then add your favorite five websites.
How do I use Night Eye with built-in dark mode on browsers?
Night Eye offers three deep integration modes for use on websites and browsers with native dark themes.
The first mode - deep integration - will override the settings on that browser so that your Night Eye dark mode preferences will be used entirely.
The second mode- Night Eye dark - uses Night Eye's built-in dark theme.
The third mode - Disabled - will not control or convert the built-in themes on the browser or website.
Conclusion
Finding the right browser with dark mode is a thoughtful search. Thankfully, you can enjoy dark mode on any browser you like by using the Night Eye browser extension. Night Eye's dark mode on the browser will reduce glare, thereby improving your reading and surfing experience, especially at night or when working in a low-light environment. The Night Eye browser extension is a must-have, especially if your browser does not have a dedicated dark mode. Whenever you wish to dim the lights while surfing the internet on your browser, turn on dark mode with Night Eye. 
Enable dark mode on any website
Sadly not all websites have built-in dark mode. Luckily Night Eye is here to help. Protect your eyes, enable dark mode on any website!
Smart conversion, no ads, no data mining, helpful support!
Get started for free today!
Just install it and feel the difference!
We are at your disposal! If you have questions, simply send them through the built in support system!!