We, at Night Eye, are fully dedicated to help you browse the internet with smooth and eye pleasing dark mode. The hype around dark mode is not a surprise. From improved battery consumption to better visibility on low-light environments, the dark mode is one of the discrete productivity hacks you can adopt in your daily life with little to no efforts.

We are teaming up with Dracula PRO to provide all developers with the ultimate dark mode experience.
While Night Eye enables dark mode on nearly any website, Dracula PRO is a color scheme and UI theme tailored for programming.

Zeno (the founder) made Dracula Pro for terminal emulators, code editors, and syntax highlighters. It is designed to be aesthetically pleasing while keeping you focused.
This is a package built for developers who are willing to invest in their productivity.

Easy on the Eyes
Dark mode is everywhere, and there's a reason for that. From improved battery consumption to better visibility on low-light environments, there are many reasons to love.

Less Context Switch
By having the same color scheme across multiple apps, you reduce the time it takes to switch context between tasks. That's why Dracula PRO is available in as many platforms as possible.

Precise Contrast
The entire palette was tested against the WCAG 2.0 level AA spec, which requires a contrast ratio of at least 4.5:1 for normal text, therefore affording the best readability.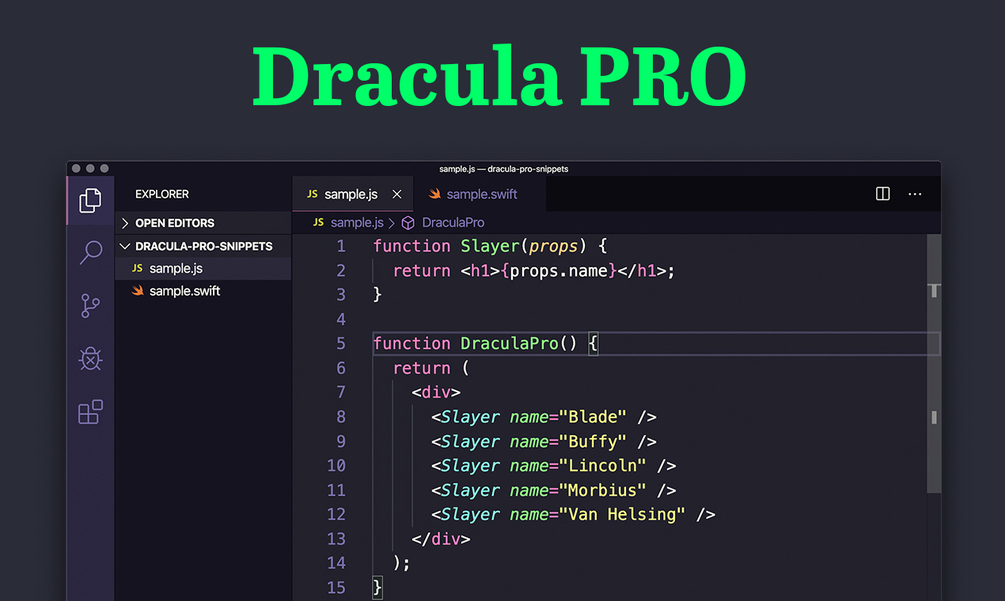 Available Everywhere
Dracula PRO is built for your favorite apps.
Here is what you will get if you go for the Dracula Pro
You'll get 6 theme variations for 16 different applications such as:
Alfred

Atom
Firefox

Google Chrome

Hyper
iTerm
JetBrains IDEs
Notepad++

Slack
Sublime Text
Terminal.app
Vim

Visual Studio Code
Windows Terminal

XCode
ZSH
Design files for:
Adobe Photoshop/Illustrator
Figma
Sketch
A wallpaper for
:
Plus, 4 hand-picked fonts with support for ligatures.