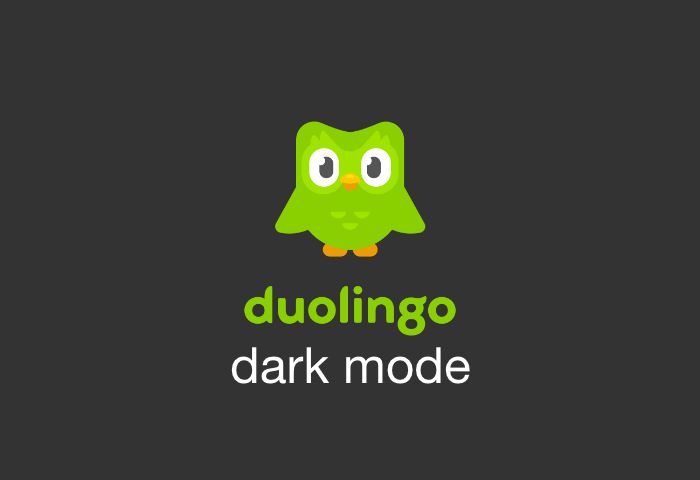 Duolingo is a fascinating e-learning platform dedicated to helping you learn diverse new languages in a gamified manner. But, like most websites, Duolingo has no built-in dark mode.
However, thanks to Night Eye, you can transform your Duolingo learning environment into a brilliant dark and vibrant screen that supports your eye health and makes it easier to focus on reaching new heights of learning great languages. However, there are other excellent benefits of Duolingo. This article will take about the incredible benefits and how to use the Duolingo dark mode.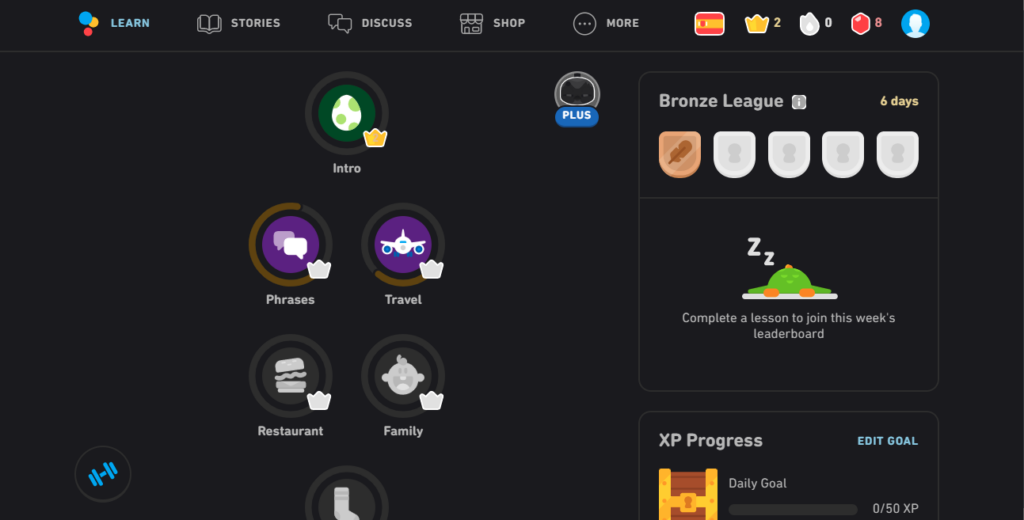 How to Enable Duolingo Dark Mode?
Duolingo users can easily add the dark mode to any favorite browser with ease. Night Eye browser extension works with almost any website and without compatibility issues. Here's a free dark mode solution that promises to give you the true heights of gamification. Below you will find instructions on how to install Night Eye on your preferred browser:
The bottom of this article features icons representing all browsers to help you install Night Eye on your chosen browser quickly.
Next, tap the appropriate icon, and you will find yourself on your browser extension page.
There, you can install Night Eye by clicking on 'Add.'
As soon as you 'add Night Eye,' your entire environment starts changing into a stunning dark interface.
Go ahead and visit https://www.duolingo.com to try out your newfound learning tool. You will love just how amazing it looks and feels to the eyes.
For the Android and iOS apps, you can check the official dark mode guide here – https://support.duolingo.com/hc/en-us/articles/360043998772-How-do-I-enable-disable-dark-mode-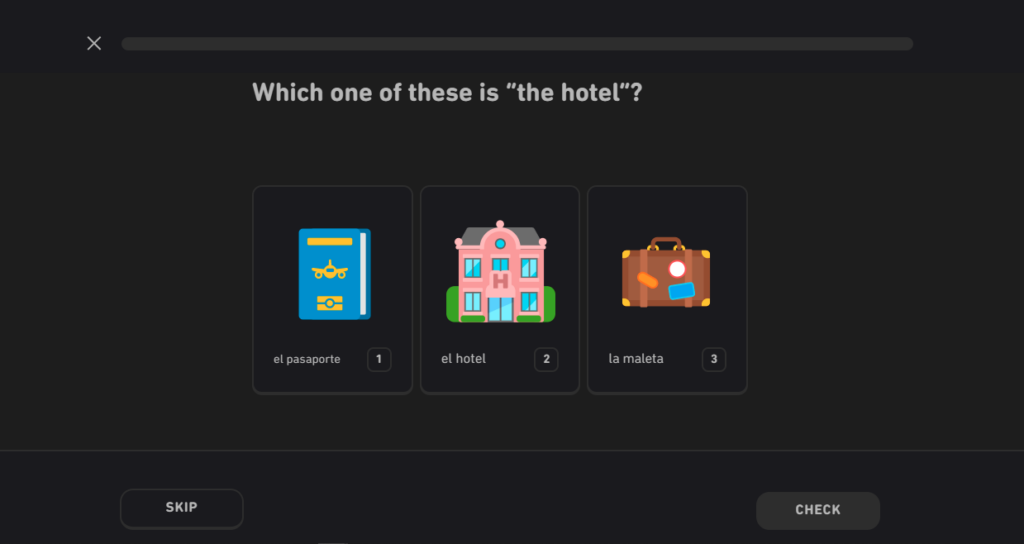 Why is it important to have a dark mode on Duolingo?
Duolingo is a popular language-learning website with over 300 million active users. This is because the app is straightforward to use. In addition, we all love the interactiveness of classes on the platform. On average, we spend about four hours strengthening our knowledge about a language, alongside additional hours outside carrying out research and familiarizing ourselves with the culture and history of the origins of such language.
This means we are carrying out a large number of readings and research on the platform. So it's no wonder we sometimes find ourselves plagued with pain in our eyes, blurred vision, swollen eyelids, and other unwholesome results after hours of reading. This makes it challenging to continue focusing and achieving our goals.
Fortunately, Night Eye is a dark mode extension that can alleviate all of these struggles. By transforming the Duolingo website into an enriching dark environment, you won't face undue pressure to the eyes any longer, leading to a pleasure-filled reading experience.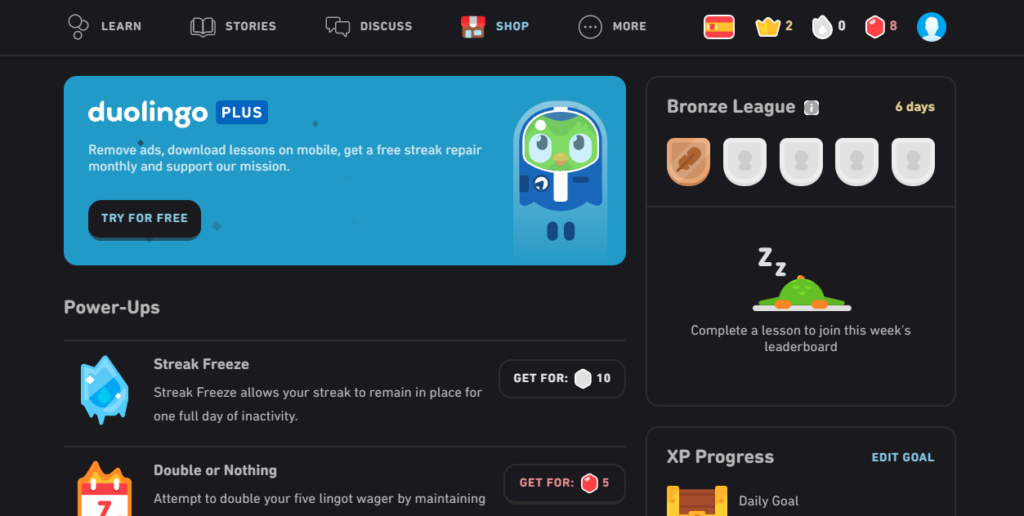 What are the health benefits of a dark mode?
One of the most notable benefits of using Duolingo dark mode is the ability to protect your eyes from digital strain. Studies show that the tiny contrast between the text you read and the background puts pressure on the eyes. It is why we find ourselves with severe dry eyes and eye strain after long spans of reading. In contrast, dark mode increases this contrast, giving you more comfortable support. Therefore, Duolingo's dark mode is fascinating protection. However, there are other excellent benefits, including:
Cut down exposure to blue light: Studies have shown that too much blue light is harmful, giving off effects such as eye strain and difficulty sleeping. With Duolingo dark mode, we can cut down that exposure, especially after dark, making it easy to build better sleeping habits.
Gets rid of chronic pain: Severe and chronic digital eye strain leads to other unwelcome effects ranging from headaches to migraines, anxiety, and depression. Cutting off that exposure can also help you enjoy a hassle-free learning experience
Improves your focus: With eye strain out of the day, you can focus on achieving your goals. This, in turn, will support your all-around health and wellness.
Prevents developing visual disturbances: When there is no undue pressure on the eyes, this reduces our risks of developing unwholesome eye defects.
When to use dark mode on Dulolingo?
The dark mode also makes it easier to save your batteries. This is because the dark pixels reduce energy consumption, adding an hour or two between charges. This reason is why some people have Duolingo dark theme enabled at all times. However, there are unique circumstances when using dark mode is the best choice. Below, you find those examples: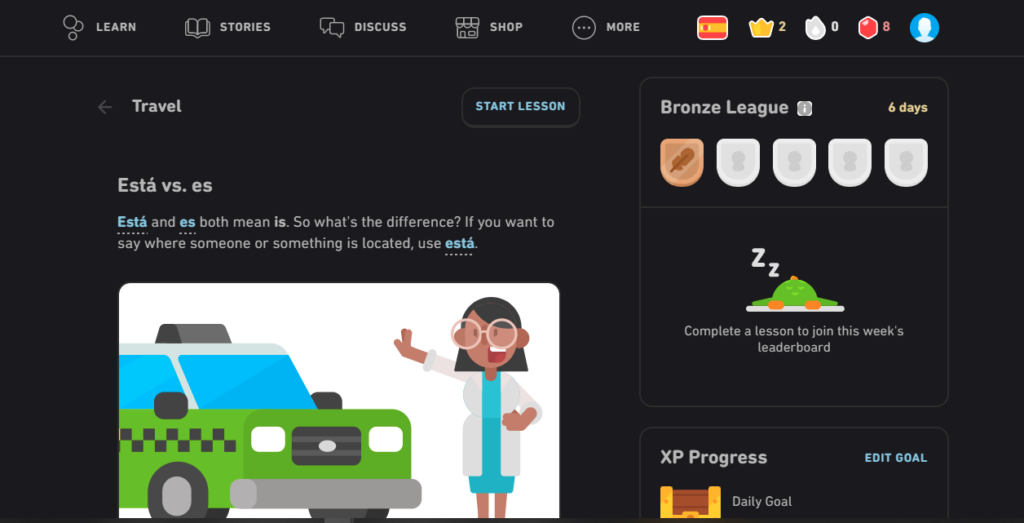 The dark mode is an excellent choice for saving your battery juice for as long as possible between charges.
Duolingo dark mode is ideal for low-light and dark environments. It makes it easier to focus on what's in front of you without the harshness of a white illuminating screen.
You should have dark mode if you work at night.
Dark mode can help you manage eye conditions such as photophobia, so you don't cause undue stress to the eyes.
Install Night Eye
No credit card, no names, nothing is required – install Night Eye on your preferred browser and enjoy it completely for free for 3 months. Subsequently, you can stick with the free Lite version or subscribe for $9 per year. You can see for yourself how this dark mode browser extension can help you fight eye strains.
What is Duolingo dark mode?
Duolingo dark mode is an option that can be enabled to help you get better sleep at night. It's designed to make the app more comfortable for your eyes in the dark. The Duolingo dark mode is a new feature that has been designed to make it easier for people who are using the app late at night.
What are the benefits of using Duolingo dark mode?
The benefits of using Duolingo's dark mode are that it saves battery life, reduces eye strain and it can be easier on your eyes.
When does Duolingo dark mode turn on automatically?
When the user switches to another app and then returns to Duolingo, the dark mode will turn off. In order for Duolingo to have a dark mode, it needs to be updated with the latest version of iOS.
How can I turn on Duolingo dark mode manually?
Duolingo dark mode is an accessibility feature that can help those who use Duolingo in low light or at night to be able to see the screen better. Duolingo dark mode is not yet available on all platforms, but there are some workarounds for those who want it. For example, you can use the NightEye Chrome extension to enable Duolingo dark mode for free.
Why did Duolingo add a dark mode?
Duolingo added dark mode because many users use the app at night and requested the feature.
You can also enable dark mode on many other websites such as enable dark mode on Asana.