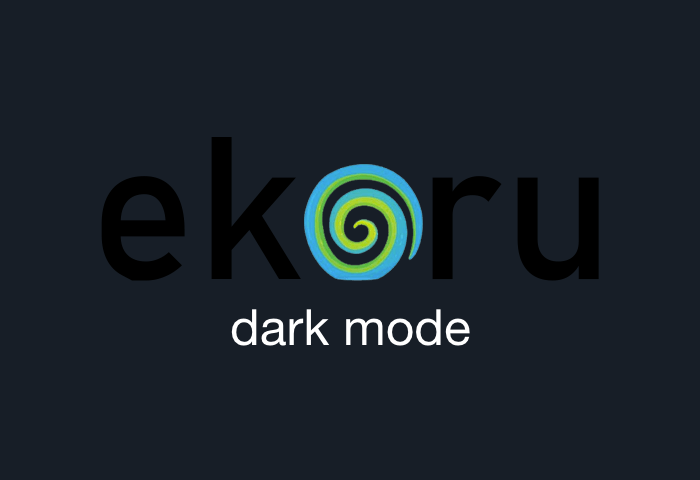 The Ekoru Search Engine is a fascinating tool for surfing the internet while impacting humanity through donations accumulated from your browsing time and clicks. However, like most websites, Ekoru does not have a built-in dark mode. Therefore, users may have a hard time making all their search needs from the browser.
Thanks to Night Eye, you can transform your Ekoru search engine into a sleek and elegant dark screen. Besides being the height of attraction, there are other astounding benefits of choosing the Ekoru dark mode. This post will share everything about the Ekoru dark theme with you, including the benefits and how to use it.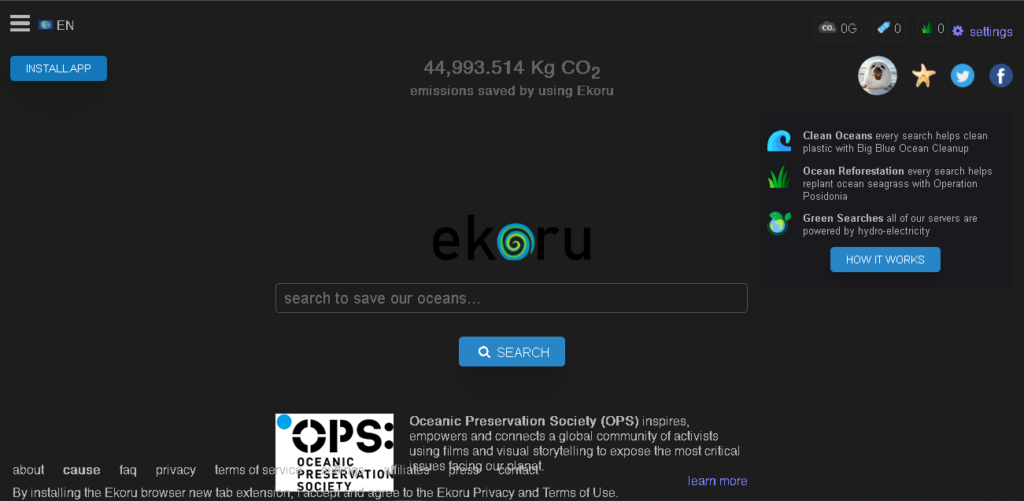 How To Set Up The Ekoru Dark Mode
For avid Ekoru aficionados, you can get the Ekoru dark mode for your preferred web browser. The Night app extension is an excellent choice that works across all browsers. Follow the steps here to enable this free dark solution on your favorite browser:
At the end of this article, you will find download links to get started on enabling the Night Eye on your browser
Select the icon representing your browser to jump-start the process of enabling the dark mode on your browser. For instance, let's say you use Opera, then click on the icon representing the Opera browser
When you tap on the icon, it automatically takes you to your browser's extension marketplace
Next, you can select 'Add,' and you're good to go. Night Eye begins running automatically and transforming all open web pages
Now visit https://www.ekoru.org/ and start enjoying the beautiful, dark, and powerful interface.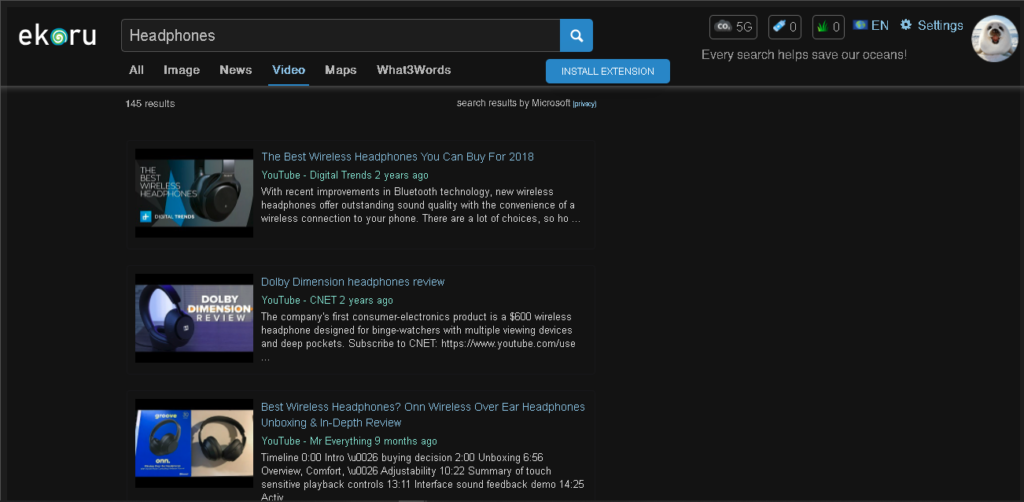 Why Is It Important To Use Ekoru Dark Mode?
Pure dark text on a white background is jarring, and that is the experience Ekoru users have to endure while surfing the web. This, in turn, leads to explosive headaches, migraines, painful eyes, and other eye-related problems. An average surfer on Ekoru may spend at least three hours on search queries to raise funds to keep marine life and oceans healthy.
Recently, Ekoru released 11-ocean inspired color schemes, including one called 'Dark Abyss' that seems to offer a 'pseudo-dark mode experience.' The entire interface is entirely black with sharp white text, which has been proven to deliver the same harsh effect as the dark text on a white background. Fortunately, Night Eye comes to the rescue. With Night Eye, you have a thoughtfully created dark color scheme that is relaxing and easy on the eyes.
Therefore, Night Eye helps you focus on making positive impacts on the planet without hurting your eyes in the process. In the end, you can say goodbye to insane headaches and enjoy a refreshing surfing experience.
What are the Health Benefits of Dark Mode?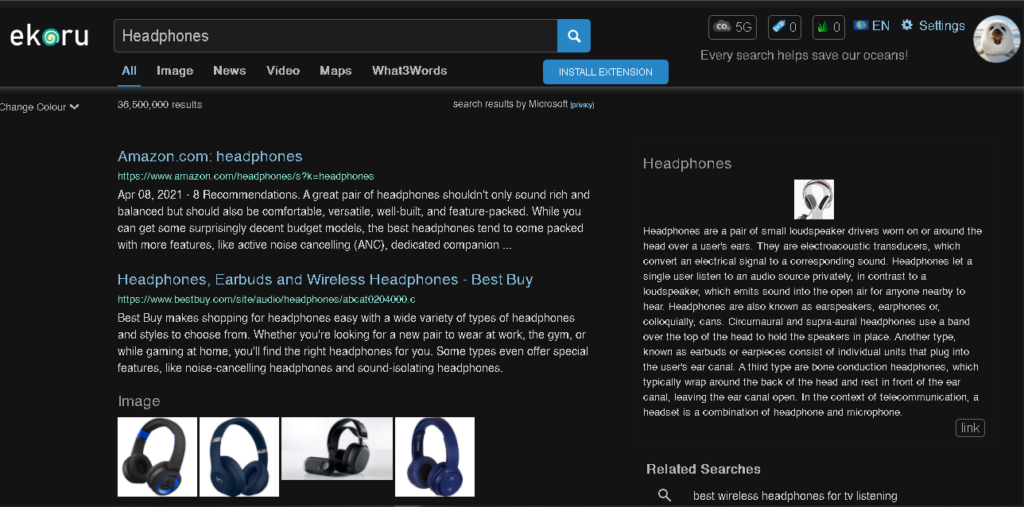 Ekoru dark mode makes it easier to protect your eyes while creating a sustainable impact when using this ocean-friendly search engine. The ability to safeguard your eyes is the number one advantage of using Night Eye, but there are other benefits. Below you will find additional incredible benefits of the dark mode.
Dark mode helps improve melatonin levels, helping you build better sleep habits
It can reduce eye strain, making it easier to surf in low-light condition
Dark mode offers better contrast and improves text readability
It also minimizes eye fatigue and teary, painful eyesight issues.
You can look forward to a pain-free experience that does not result in endless headaches, stress, and eyesight problems
It also prevents overstimulating the ganglion cells in the eyes. That way, you can avoid the risks of developing nearsightedness.
When To Use Ekoru Dark Mode
The dark mode is reputed for reducing exposure to blue light. This, in turn, helps you build better habits that promote health and wellness. Perhaps, this is why millions of avid internet users upvote on dark mode at all times. However, you might wonder about the best times in the day to use dark mode. Some people see dark mode as a lifesaver for all hours, but it doesn't work for everyone. Below you will find perfect scenarios that work for everyone:
Dark mode demands less power than using a white screen. Therefore, when conserving battery power, a dark theme is an excellent choice.
You can use dark mode in dimly lit conditions or darkroom.
Ekoru dark mode is an excellent choice for surfing the web at night.
Excellent choice for people with light sensitivity and other visual-related problems
Ekoru dark mode is an excellent choice if you have flickering issues. It will reduce the amount of flicker, allowing you to enjoy your surfing experience.
It's also ideal for people who have photophobia and light sensitivity issues.
Install Night Eye
No credit card, no names, nothing is required – install Night Eye on your preferred browser and enjoy it completely for free for 3 months. Subsequently, you can stick with the free Lite version or subscribe for $9 per year. You can see for yourself how this dark mode browser extension can help you fight eye strains.