Spread the word and get up to 1 year of free Night Eye Pro
If you enjoy using Night Eye and would like to earn free months of Night Eye Pro, you are on the right page.
The rules are simple and straightforward.

Create a post on your social media, fill the short form below and get months of Night Eye Pro for free.

If you create a post and submit it to us - you get 1 month for free.
For every 10 likes on your post - you get an additional 1 month for free.

You are not limited to just 1 social media. In other words, you can share a post on Twitter and Facebook and you will get 2 months for free.

The total amount of free months you can get is 12 or 1 year of free Night Eye Pro.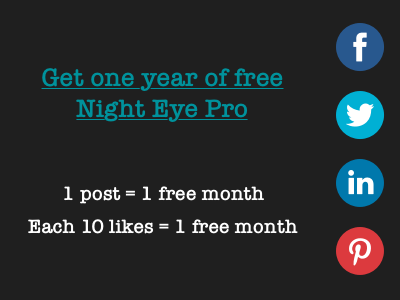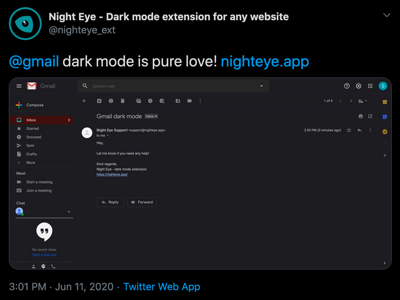 After your post is live, please fill the form mentioning the email you used when creating an account
You also need to share the link to your post.
We will review it and send you a confirmation on the email associated with your Night Eye account.
The reviewing process usually takes up to 48h, but it can be longer during the summer.
If something is not clear or you are not sure about how this works, feel free to contact us at
[email protected]