Gmail is the free email service of Google. Users can access Gmail on the web and use third-party programs that synchronize email content through POP or IMAP protocols. The beta version started on April 1, 2004, and ended its testing phase on July 7, 2009. At the very beginning, Gmail's most distinctive benefit was an initial storage capacity offer of 1GB per user, a significantly higher amount than any of its competitors at the time.

Today, Gmail comes with 15GB of storage while users can receive emails up to 50MB in size, including attachments, and they can send emails up to 25MB. Another great part of Gmail is its user-friendly design with a search-oriented interface and a "conversation view" similar to an Internet forum.

Gmail Today
Nowadays, Gmail is the email service dominating this part of internet life. It is not surprising why so many people choose Google to handle their email communication, both personal and business G-Suite. It is free, reliable, intuitive, and makes you even more productive. However, there is one thing still missing in Gmail today - Gmail dark mode option.
Why Gmail Dark Mode is the Missing Piece in Gmail?

Dark mode can reduce eye strain, allow you to be more productive, and, most importantly, give you another layer of protection for your eyes. As we are spending more and more time in front of the screen, our eyes suffer the most out of this. Obviously, there is no turning back; we will be spending most of our waking hours staring at screens. Thus something must be done to lift the heavy burden we are putting on our eyesight.

The fact is that we are sending more and more emails, and pretty much all communication is done via email. E-mail is one of those online activities that can literally eat up half of your day. This is why improving how you handle email is a good starting point to minimize the pressure you put on your eyes every day.

Preferred by the power users, dark mode is beneficial for pretty much everyone these days. It significantly reduces eye strain, especially if you work late at night or in a low-light environment. Some people simply cannot stay for more than 15 minutes in front of the screen without using dark mode due to sensitive eyes. Of course, the positive outcome for power users is far bigger, but it is mainly due to the large amount of time they spend bashing out emails.

Does Gmail Dark Mode Exist?
There has been a significant interest in dark mode for Gmail lately, and more and more companies are responding to the trend. In other words, there is hope that Google might finally decide to implement a built-in dark theme for Gmail as an option for those of us who need it. At the moment, the darkest you can get by choosing their built-in dark theme is this: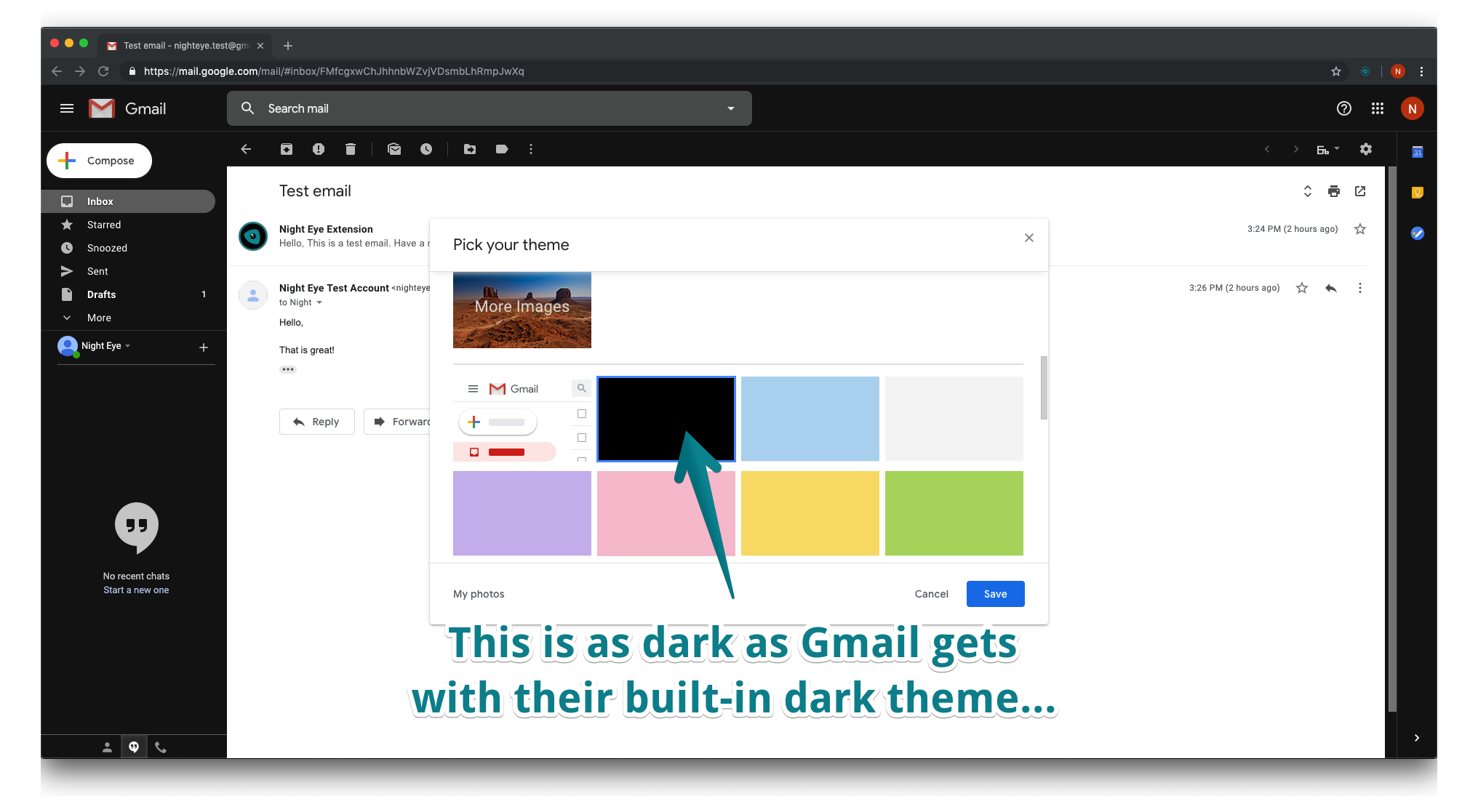 Quite honestly, it is not really a big change since most of the time; you are focused on reading the content of your emails or writing ones. All of this will still be happening on the bright white background. However, there is a way to enable dark mode in Gmail.
How to Enable Gmail Dark Mode?
The example above is a strong argument that an external app is necessary for you to enjoy a proper dark mode in Gmail. Night Eye offers arguably the best dark mode for Gmail and many other websites and web apps. It is smooth, fast, and almost unnoticeable while working under the hood. All you need to do is install it and enjoy it for free for three months.
How to Install Night Eye on Chrome and Enjoy Dark Mode on Gmail
We prepared a short video for you to see for yourself if Night Eye is something that you would use and enjoy. We wanted to allow you to quickly see and decide for yourself if you would enjoy the dark mode for the Gmail desktop provided by Night Eye. Enable dark mode in two simple steps:
Install Night Eye.
Night Eye automatically will start converting sites to dark mode.
One more thing - Night Eye works with almost all browsers; we used Chrome just as a showcase for the video.
In case you're wondering, Night Eye can enable
dark mode for all Google products
. It's really easy and simple. Just install Night Eye and start enjoying Google Sheets, Google Docs, Google Search, Google Calendar, etc., in a smooth and gentle dark theme.
Previews of Gmail Dark Mode by Night Eye