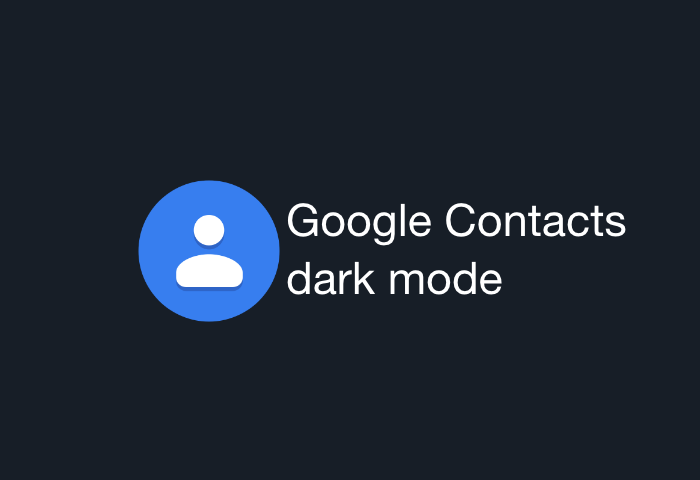 Google Contacts is one of the most used primary address applications around the world. But Google Contacts comes without a built-in dark mode for your web browsing experience creating an awful challenge. Thanks to Night Eye, you can transform your Google Contacts page and navigate your contact list without hassles.
Night Eye create a gorgeous Google Contacts dark theme with is incredibly convenient and visually satisfying. However, there are many more reasons you should use the Google Contacts dark mode. This article will talk about all of those benefits and how you can set up the Google Contacts dark mode seamlessly.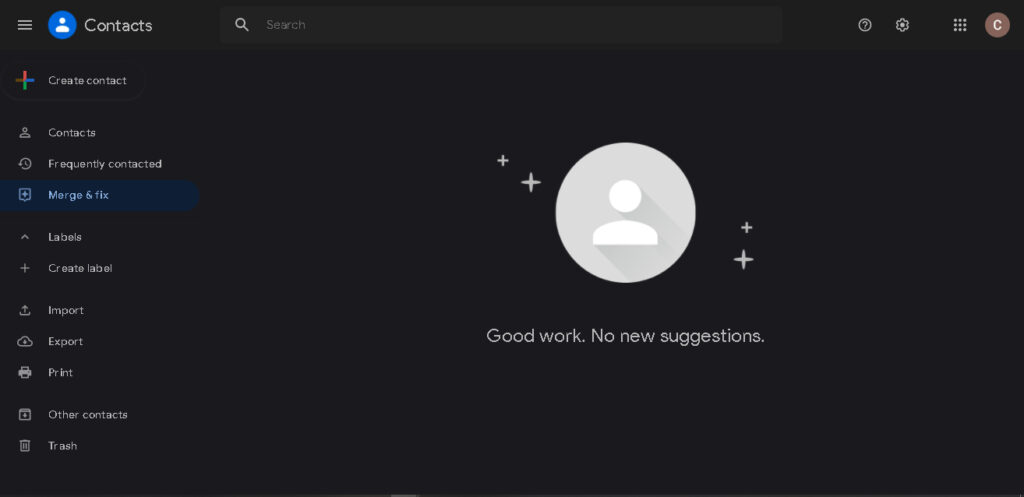 How to set up Google Contact Dark Mode
For regular Google Contact users, you can get the Google Contact dark mode for your favorite web browser. The Night app extension works with all kinds of browsers, giving you the ultimate free dark mode solution. Follow the steps below to enable the Night app extension and make the transition to the darker side:
At the bottom of this article, you can click on the icon representing your browser to kick-start the process of setting up the dark mode on your browser. For instance, if you use Firefox, all you need do is tap the FireFox icon
Selecting the icon spontaneously takes you to your browser e-store
Now select 'Add,' and that's it. You're good to go
Night Eye starts working straight away, converting every web page open in your browser.
You can now visit your https://contacts.google.com/ and start enjoying the stunning Google Contacts dark theme that comes alive on your screen.
Why it is Important to Choose Google Contacts Dark Mode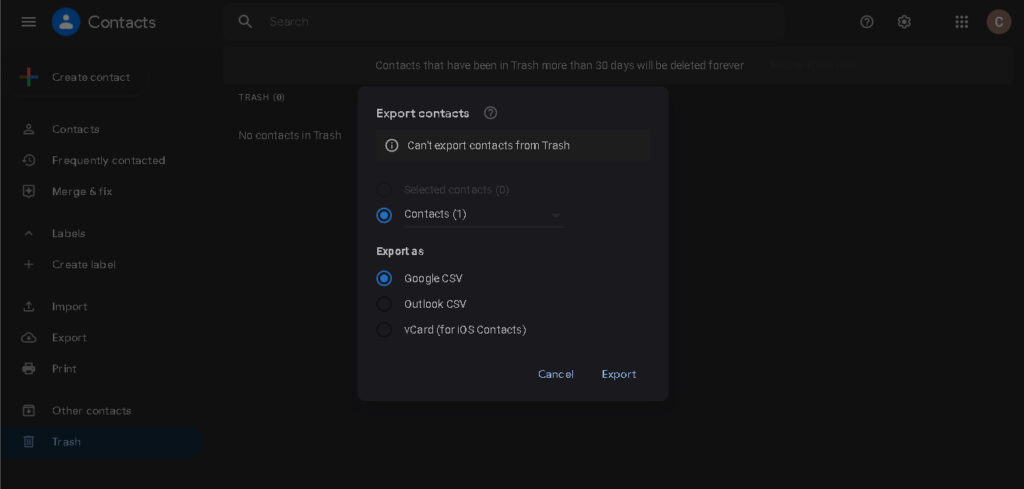 Google Contacts is an invaluable tool for storing your contacts alongside thorough notes (such as their favorite colors, play, movie, entertainment, and restaurant) about each contact. Thousands of email marketers use Google Contacts alongside their CRM and other email marketing software. When using Google contacts for your email marketing needs or simply as a primary address book, you might spend hours updating and sending emails to your contacts. Using the default Google Contacts white background has a lot of devastating effects. 
It can become a woeful experience for marketers after hours of staring at the harsh white screen leading to insane headaches and painful eyes. Fortunately, Night Eye comes to the rescue by creating a beautiful Google Contacts dark mode that transforms all the colors on your Google Contacts page, including link colors, font colors, and background. In the end, you will have a dark environment that goes easy on the eyes. It also eliminates distractions by making your background fade out when you want to focus on critical details, thereby giving you more control and productivity.
What Are The Health Benefits of Dark mode
Google Contacts dark theme remarkably friendly to the eyes by creating a calming and soothing experience you can't find with the white default scene. This pain-free experience is the most spectacular advantage to using Google Contacts dark mode, but there are others. Below, you will discover other benefits and reasons to choose Google Contacts dark theme.
Google Contacts dark theme is so easy on your eyes that it becomes effortless to focus on your work and avoid distractions.
Dark mode boosts health and wellness by alleviating migraines, headaches, and vision-related problems
Google Contact dark theme will prevent undue pressure on your eyes, thereby limiting the risks of developing myopia
It helps you alleviate eye strain, blurred vision, and dry eyes.
It's an excellent choice for improving your sleep hygiene as it reduces your exposure to blue light, which is significantly higher on white screens.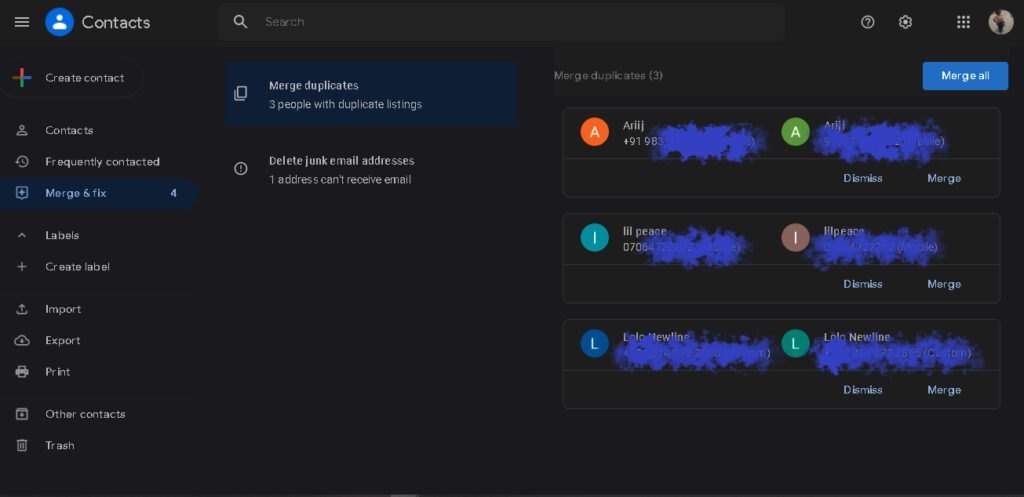 When to use Dark mode on Google Contacts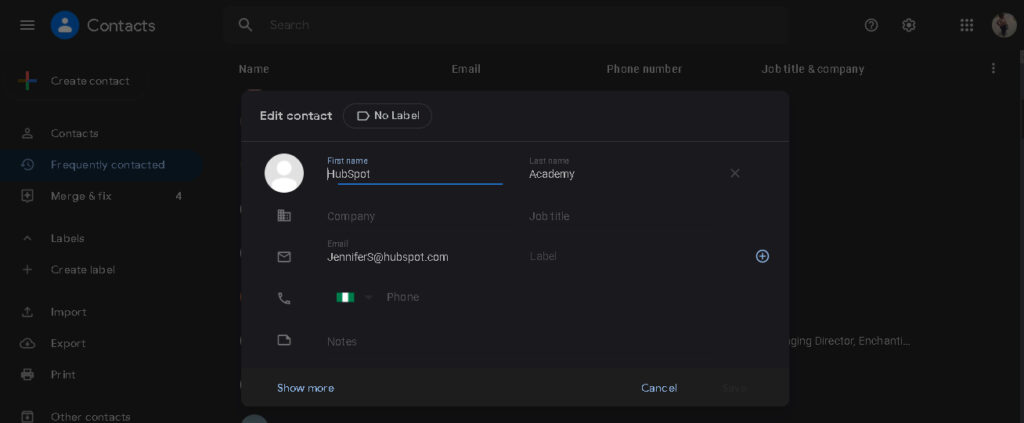 Recently, a study by Google proved that dark mode saves your battery remarkably. This is because the individual pixels on all dark areas on your screen do less work, thereby helping you prolong your battery juice for as long as possible. This is why thousands of Google apps enthusiasts use the dark mode at all times of the day. But this isn't suitable for everyone. If you are concerned about the best times in the day to use the Google Contacts Night Mode, below, you will find specific examples that can apply to anyone.
Google Contacts light mode is superb for reading in low-light conditions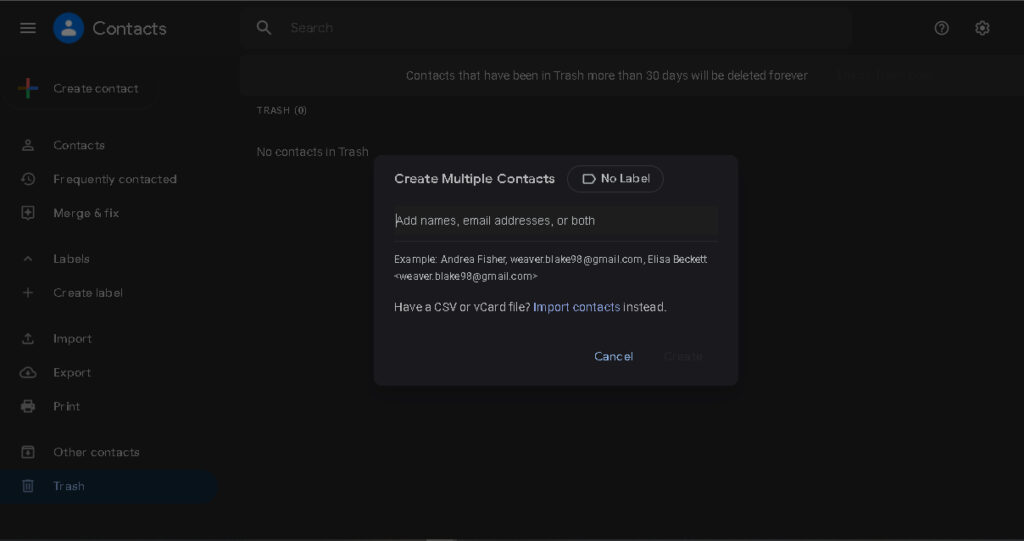 Dark mode improves readability, making your contact list pop out in the most beautiful way without distractions. It's best for navigating your Google contacts list without background distractions
Google Contacts Night Mode is an in-demand feature for avid night workers. It causes less strain on the eyes, allowing you to work long hours without hurting your eyes.
Dark mode is excellent for dark rooms or dimly lit environments.
It's an excellent choice for users suffering from light sensitivity and photophobia. 
Install Night Eye
No credit card, no names, nothing is required – install Night Eye on your preferred browser and enjoy it completely for free for 3 months. Subsequently, you can stick with the free Lite version or subscribe for $9 per year. You can see for yourself how this dark mode browser extension can help you fight eye strains.