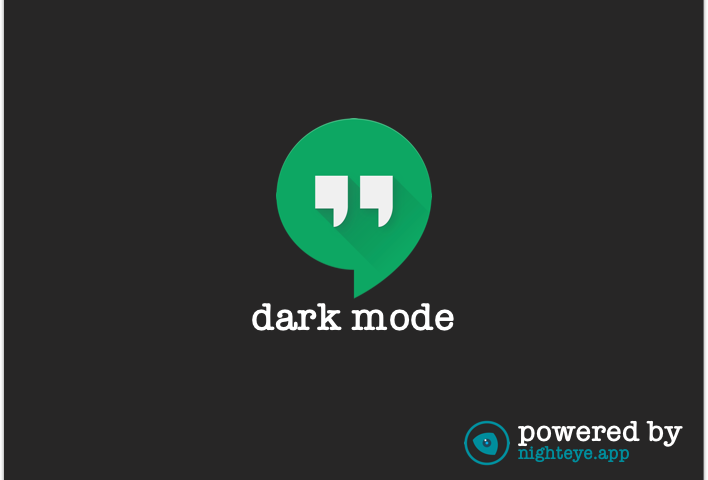 If you want to keep in touch with your friends by messaging them, then do not hesitate to use Google Hangouts. With the help of Google Hangouts, you can not only message your friends, you can also start free voice and video calls with them. Today, let's discover more about this software product by Google including its history and the target audience. We will also discuss the content that you can find on Google Hangouts along with its dark mode.
The History Behind Google Hangouts
Google Hangouts is a popular communication software product that not only provides remote access to systems but also allows exchanging messages and files. A leading American multinational technology company, Google, develops it in the year 2013. It is a great platform that brings conversations to life by using various photos, emoji, and even group video calls. It is a free product by which you can exchange messages in the video, audio as well as text format between several computers and users.

It also includes the feature of Google Hangouts Meet which is a popular video communication service developed by Google. Moreover, it includes an instant messaging service which is also developed by Google and is known as Google Hangouts Chat. Before its launch as a standalone product in 2013, it was a feature of Google+. In 2015, Google made an announcement in which he asked the users of Google Talk to start using the Google Hangouts app. In 2017, Google made efforts to develop Google Hangout as an enterprise communication product. The hangouts app is now available for Android, iOS as well as the web.

Who Uses Google Hangouts
Google Hangouts targets enterprise customers as it serves a cost-effective and useful collaboration platform. Its target audience also includes an average person who can use this communication service in the form of voice, video or text.
Interesting Facts about Google Hangouts
With Hangouts Meet by Google Hangouts, you can join meetings by using a smart and fast interface
Use chat rooms to message to other team members using Hangouts Chat
By using Google Hangouts, security is not a problem at all. The reason is all video and audio streams are encrypted.
Google Hangouts Moving to Google Chat
In the first half of 2021, Google Hangouts will start migrating to Google Chat. Hangouts conversations, contacts and saved history will automatically be migrated to Chat. The transition process will start very soon and Google claim the new Chat will be a big step forward for users.
Google Hangouts Dark Mode
If you want to protect your eyes and enable dark mode on Google hangouts, then use Night Eye browser extension. Night Eye can not only enable dark mode on all websites but also helps in customizing the browser experience completely. If you are communicating with your friends or working late at night or in a darker environment, then the browser extension Night Eye can help you a lot. It can become your best friend as it can help you to prevent any unnecessary headaches and reduce the eyestrain.

How to Start Using Google Hangouts Dark Mode?
Install Night Eye on your browser.
Enjoy dark mode - it works for all Google products and nearly the whole Internet
More Google Products with Dark Mode
Night Eye enables smooth dark mode for all Google products. Check out some of our other posts with previews and instructions: