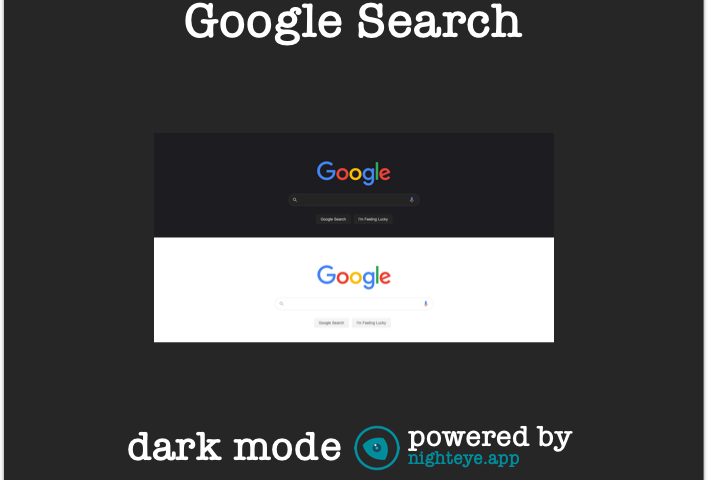 If you ever had any interaction with any sort of smart device – PC, laptop, smartphone or tablet – you already know Google. This is THE search engine that has been the main source of information for the entire connected world. We no longer need to remember stuff, just google it and the answer will be in front of you in a second.

Although there are other search engines that have been gaining some momentum and market share such as duckduckgo.com, duckduckgo.com, qwant.com, ecosia.org and others. Still the best and most convenient results appear on the Google search.

One thing that Google is lagging behind DuckDuckGo and Qwant is the lack of dark theme. Dark mode has been continuously growing for the past couple of years and it is almost a standard these days. Not that dark mode is novel concept, it has been available since the dawn of computers. Arguable, Apple pushed the bolder downhill when they introduced the dark mode feature of their macOS Mojave. That bolder has been gaining speed and momentum for quite a while now and it seems that there is no turning back. Dark mode is a standard already and even Google will need to adapt to that.
Google Has Been Pushing Dark Mode, but Only for Mobile
Google has been rolling out dark UI for some of its products, but the main focus remains on the mobile devices. For example, if you want to enable dark mode on Gmail, you can only do it on your Android and iOS phones. However, the
Gmail dark mode on your desktop
can be enabled only with the help of third party extension such as Night Eye. The same apples for the second most used product – Google Calendar. With the introduction of Android 10, Google Calendar got a nice dark mode, but for the desktop version – you need dark mode extension (example for
Google Calendar desktop dark mode
).
Before jumping to the main product of Google, its search, lets quickly head over to Google Docs. As of writing this blog post (18.03.2020), there is no dark mode for mobile or desktop. The only solution is again a third party browser extension, but it works only on a desktop browser. Sadly the mobile experience of Google Docs will remain bright white for now.
If you are using Google Docs on a daily basis, check out how to enable dark mode and save your eyes from eye strain and headache here –
Google Docs dark mode
How to Enable Google Search Dark Mode
As previously mentioned, the most advanced search engine that exists – still lacks the eye saving dark theme. Although it has been requested for quite a while now, the tech giant is still silent about it. Dark mode for some people is just a cool looking feature, a trendy design and a nice to have thing. However there are people that simply need it to be productive and avoid severe pains.

Example are people that have eye condition such as photophobia. People with it experience discomfort and pain from being exposed to light. In this day and age, we are spending nearly all waking hours in front of the screens. Prolonged time in front of screens and the bright white backgrounds (if dark mode is not available), guarantee discomfort and low productivity.

Night Eye is here to help not only people that enjoy the dark theme (as we do), but also to those, who really need it. Night Eye is a browser extension that enables dark mode on nearly any website and is compatible with all modern browsers.

Preview of Google Search Dark Mode by Night Eye