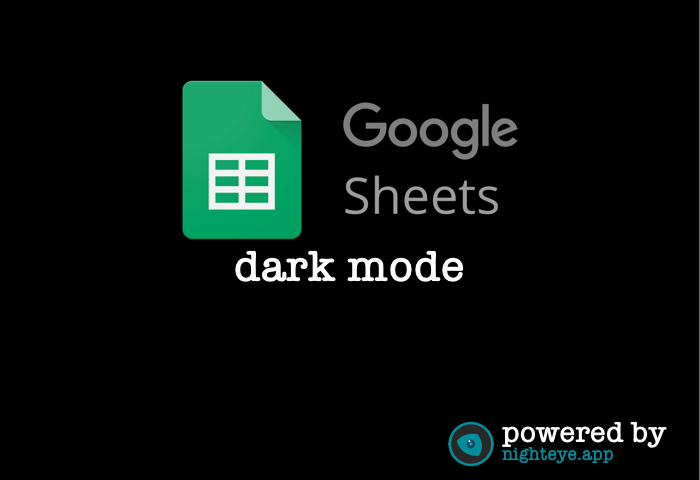 In this article, we will focus on another Google product called Google Sheets, and how to enable Google Sheets dark mode for a better overall user experience.
What is Google Sheets?
Google Sheets is an online spreadsheet application part of the free web-based software office suite offered by Google. Google Sheets provides users with the option to create and format spreadsheets and simultaneously work with other people. The application is used by individuals and various businesses and schools to manage spreadsheet data by allowing its customers to create and edit files online while collaborating with other users in real-time.
History of Google Sheets
Google Sheets's origins came from the web-based spreadsheet application developed by 2WebTechnologies called XL2Web. In 2006, Google acquired this app and revamped it as Google Labs Spreadsheets. At first, it was launched as a test for a limited number of users which was later replaced with a beta version available to everyone with a Google Account.

In 2010, Google acquired an online document collaboration company called DocVers which allowed users online to collaborate with each other on Excel-compatible documents and other Microsoft Office formats such as Word and PowerPoint. In 2012, Google made another acquisition, this time of a freeware proprietary productivity suite for mobile devices with the name of Quickoffice.

Later that year, Google Spreadsheets was rebranded as Google Sheets, and at the same time, a Chrome app was also released in order to provide shortcuts to Sheets on Chrome's new tab page. Now it is time to take a closer look at Google Sheets distinguishing features.

Main features of Google Sheets
Why should you consider Google Sheets over other alternatives such as Office Online, Zoho, and others.
Collaborative editing
Probably the best feature of Google Sheets is that it allows collaborative editing with other users. The possibility to open a single document and edit it by multiple users simultaneously, rather than emailing one document to multiple people, is a crucial benefit. Users are able to see in real-time every change made by other collaborators, and all changes are automatically saved to Google servers. With an implemented sidebar chat feature in Google Sheets, collaborators can discuss the edits at the moment of their creation and make recommendations and reviews instantly. Every change is tracked by the "Revision History" feature, with the option to review past edits and revert any unwanted modifications.
Explore feature
Another great addition in Google Sheets is the Explore feature introduced back in September 2016. By using machine learning to bring additional functionalities, this feature provides a lot of information based on the data added to the spreadsheet alongside the ability to auto-update itself depending on the selected data. Users are able to do numerous tasks such as to ask questions, build charts, visualize data, create pivot tables, and format the spreadsheet with different colors. Imagine that you are preparing a monthly budget, and you have already added all the expenses to the spreadsheet. With the Explore feature, you can filter the cost of specific expenses such as food, clothing, entertainment, travel, etc.
Offline mode
Offline mode editing Mobile and desktop Google Sheets users have the option to edit their spreadsheets offline. Desktop users with Chrome browser need to install the "Google Docs Offline" Chrome extension to enable offline editing for Google Sheets. Mobile users can download the Google Sheets app for Android and iOS, which supports offline editing. Multiple spreadsheet file formats support Google Sheets supports various spreadsheet file formats and types which can be viewed and converted, including .xlsx .xls .xlsm .xlt .xltx .xltxm .ods .csv .tsv Users can also open, edit, save and export spreadsheets and doc files into Google Sheets.
Integrations
Google products integration Google Form, Google Finance, Google Translate, and Google Drawings can be integrated with Google Sheets. This means that you can input information in Google Forms or other Google product, and then import this information into Google Sheets, which is really useful.
Why You Might Consider Enabling Google Sheets Dark Mode On
Many Google users have asked us if one can make Google Sheets dark mode? After this brief presentation of Google Sheets features, we will introduce you to Night Eye - the dark mode browser extension which can transform the way you work with your favorite Google app.
By installing Night Eye and enabling it on your browser while using Google Sheets, you will instantly feel the positive change on your PC or laptop screen. Our dark mode browser extension will apply negative polarity on your monitor, ensuring the removal of the harmful blue light which is constantly damaging our eyes without we even know it.
Symptoms like headaches, dry eyes, blurred vision are unfortunately well-known to all of us as digital users. Whether we work from home or at the office, the time we spend in front of the computer screen is ever increasing, and this can cause severe negative side effects on our eye health. Night Eye can prevent this from happening by protecting your eyes, as negative polarity will remove both the blue light and screen flickering, ensuring your eye-care.
Enable this dark mode browser extension in addition to Google Sheets and feel the positive difference in a new, more stylish, and healthier dark mode. Apart from a health and visual perspective, Night Eye will vastly improve your focus while using your Google product as the dark screen will help you to concentrate your eyes for a longer period of time and also for your brain to keep more attention on the work at hand.
You will probably be interested to also turn dark mode on for
Google Docs
,
Google Calendar
and
Google Drive
.
This is a Preview of Google Sheets Dark Mode by Night Eye
Install Night Eye Google Sheets Dark Mode Now
No credit card, no names, nothing is required - install on your preferred browser and enjoy completely for free for 3 months. After that, you can stick with the free forever Lite version and subscribe for $9 per year. See by yourself how this dark mode browser extension can help you fight with eye strain.