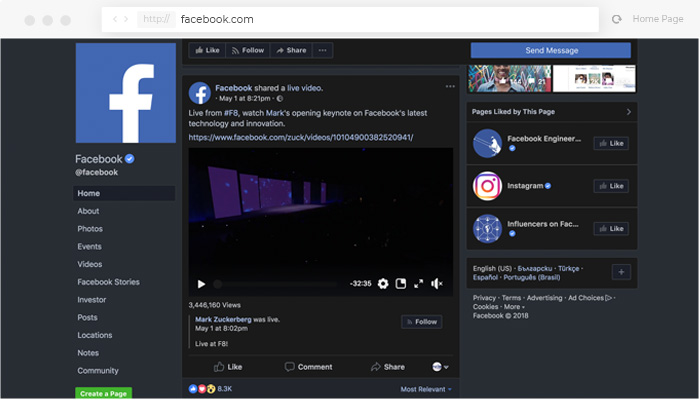 The following post about the Facebook dark mode is regularly updated and contains nearly all the information that you need to enjoy a smooth Facebook dark mode for your android, iPhone, and desktop browser. All updates are ordered in a chronological timeline.
What is a dark mode on Facebook?
The dark mode on Facebook is called the ability to change your white screen to a dark (black-ish) screen. These days, it is becoming very popular to use dark mode on your screen or app mode as it is considered to be healthier for your eyes.
Does Facebook have a dark mode?
Yes, Facebook has a built-in dark mode. You can also enable Facebook dark mode by using the Night Eye browser extensions. Follow the steps below to see how easily you can enable it.
How to turn on dark mode on Facebook?
We will show you two of the most popular ways to turn on dark mode on Facebook – via Night Eye browser extensions (if you already use it for enabling dark mode on other websites) and via Facebook's built-in dark mode feature.
First, let us walk you through the simple process of turning on Facebook dark mode via the Night Eye browser extensions.
Option 1: How to enable Facebook dark mode on desktop by Night Eye
Updated 20.03.2020
Facebook has been rolling out its new design that offers a built-in dark mode. You can still use Night Eye as a way to control the mode of your Facebook thanks to the deep integration feature.
If you prefer the old Facebook design and would like to have a dark mode on it (since the built-in is available only on the new design), you can use Night Eye. Several previews on how it looks and feels to have dark mode enabled and disabled when browsing Facebook can be found below.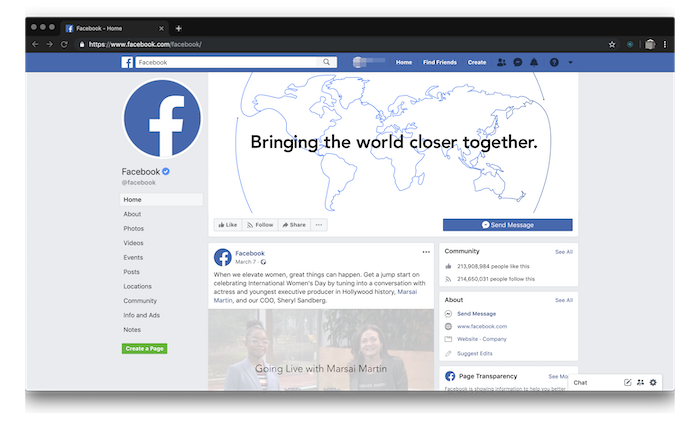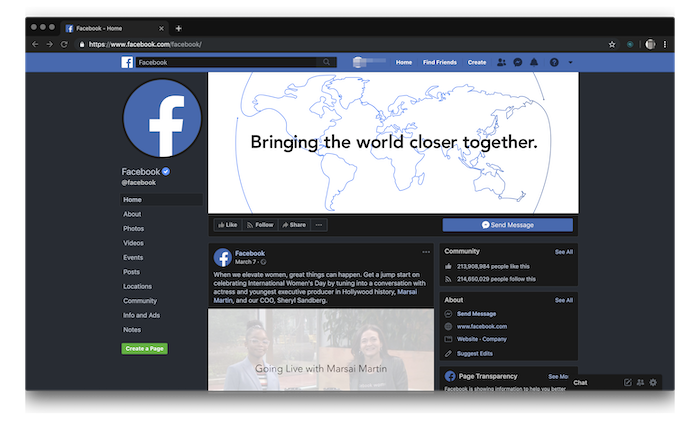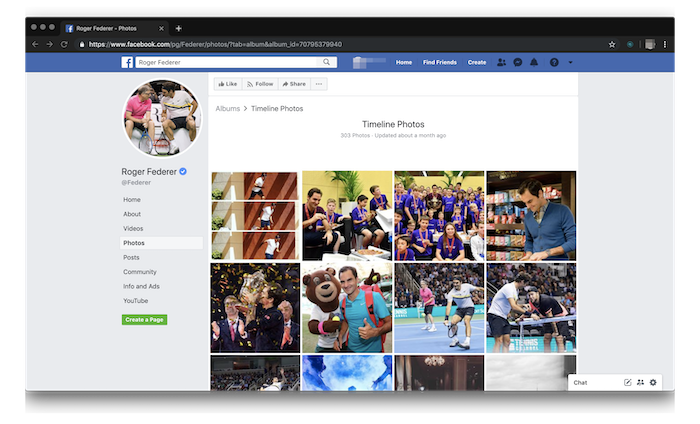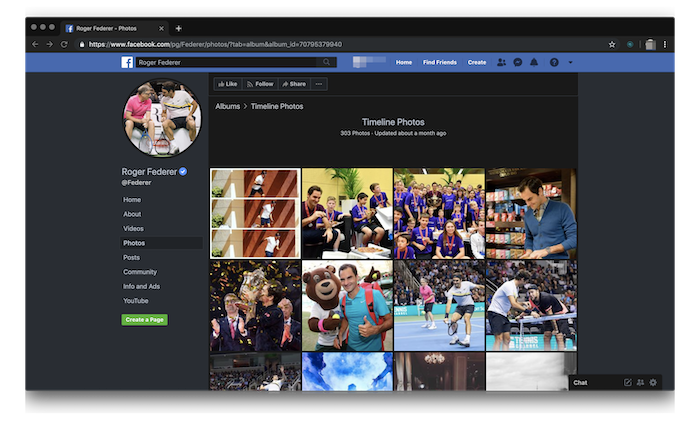 How to install Night Eye and enable Dark mode for Facebook (Desktop)
STEP 1: Click on the preferred browser icon to download and install the extension
STEP 2: Once the installation is complete, you will be asked to adjust the language settings for the extension.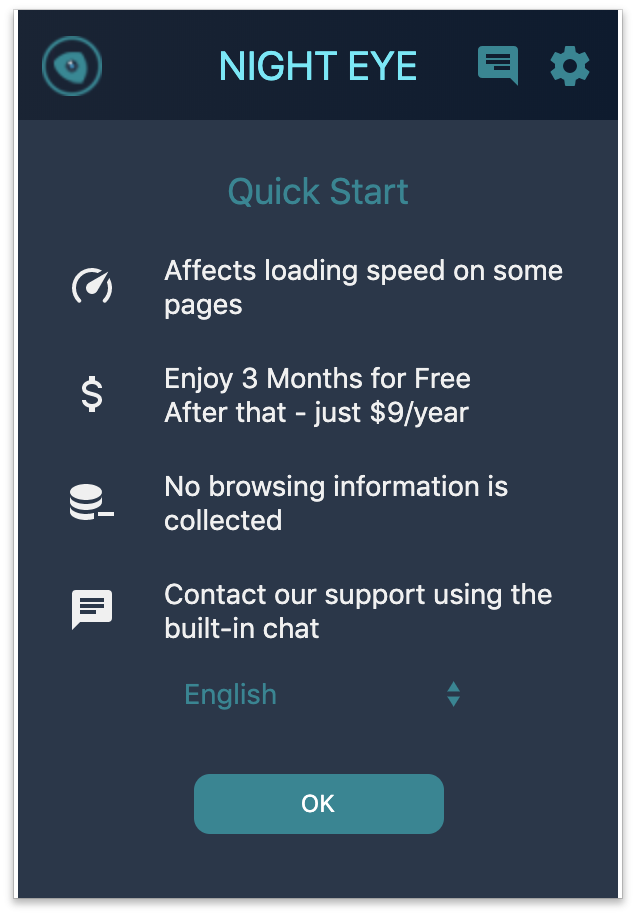 STEP 3: The dark mode is set as the default mode for any website you will be visiting from now on, but most importantly Facebook and Facebook Messenger.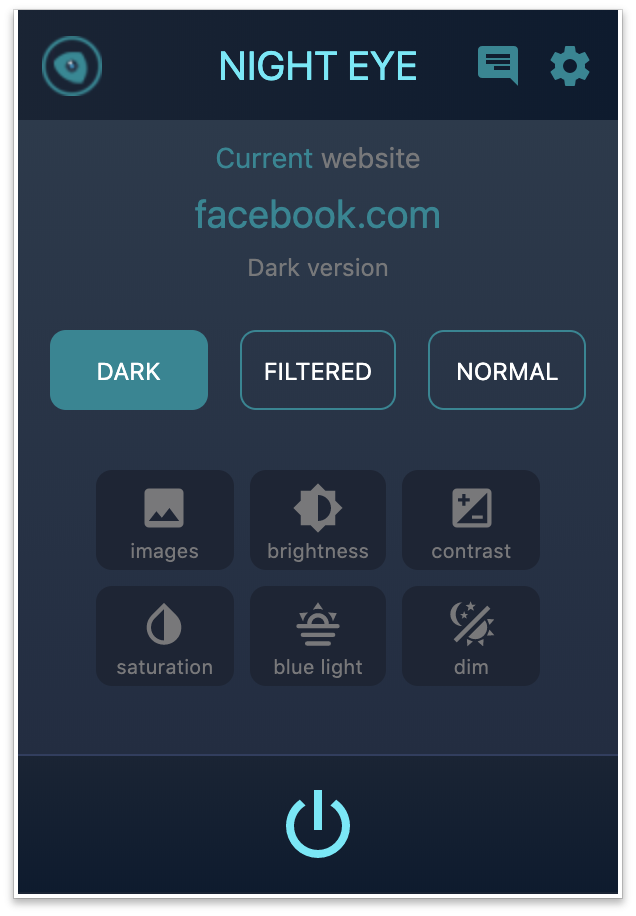 STEP 4: There are 3 general modes that you would like to explore
Dark Mode – All colors, small images and icons will be converted to give you the smoothest dark experience possible.
Filtered – The websites' colors will not be changed, but you can still adjust brightness, contrast, warmth and more.
Normal – Get back to the normal browsing experience.
STEP 5: You can customize by applying filters, scheduling when Night Eye to work, and much more by opening the extension window.
Option 2: How to Enable Facebook built-in dark mode on desktop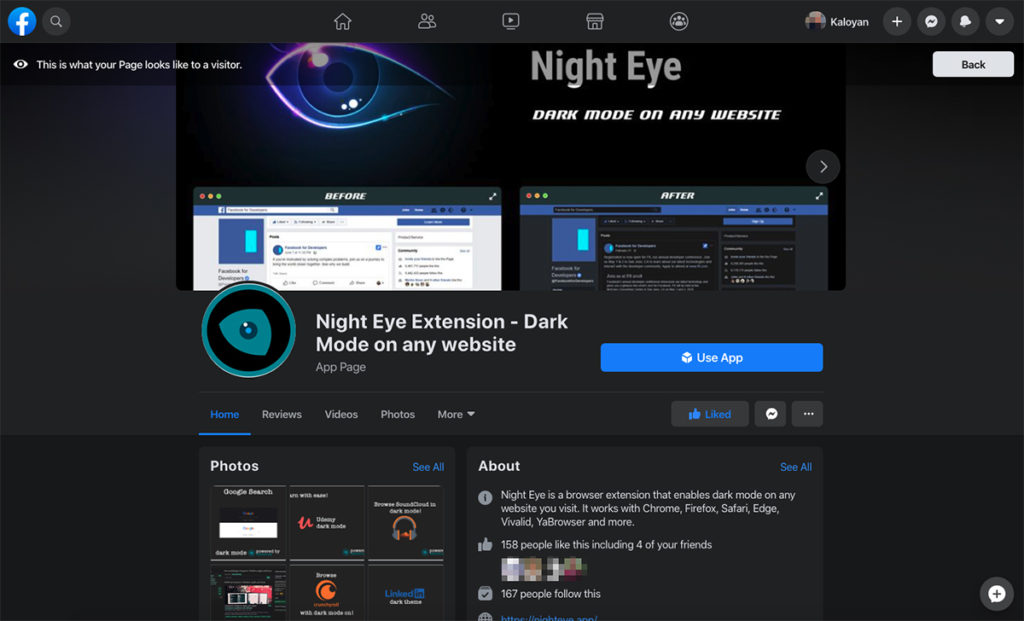 Latest Update from Facebook 20.03.2020
It is official! Facebook began rolling out its complete redesign for the desktop version which includes the most anticipated dark mode. According to Facebook, the majority of us will have this option enabled.
In order to enable the built-in dark mode by Facebook, you first need to switch to the new design. Bear in mind, that Facebook will allow you to choose between old and new designs until later this year (2020). At some point (not a specific date) the new design will become the default.
Step 1: On the top right corner, click the arrow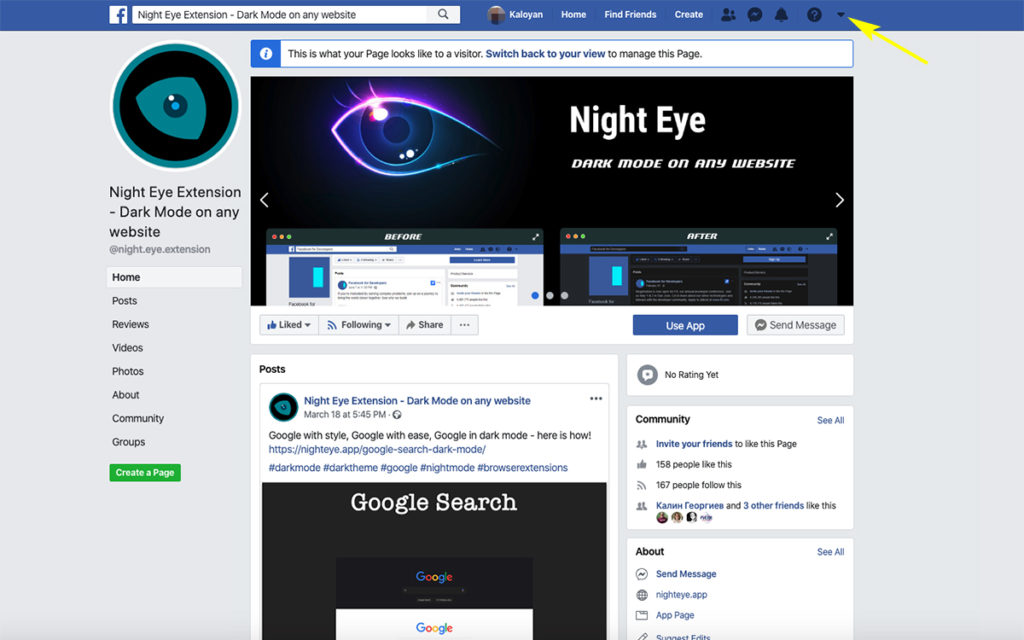 STEP 2: From the dropdown menu, click on Switch to New Facebook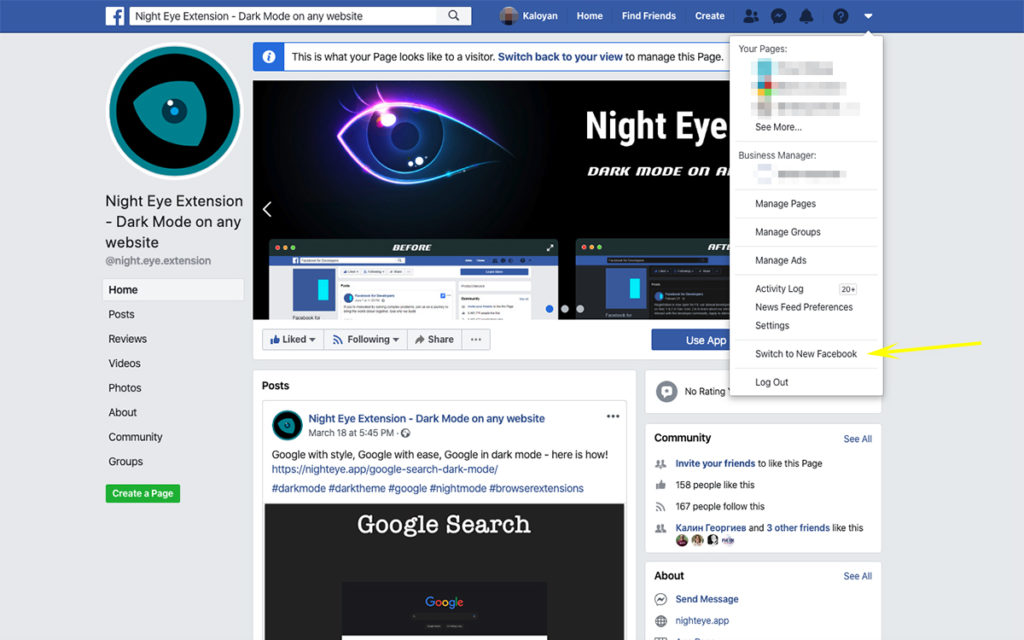 Enable Facebook night mode (desktop) on the new Facebook design
Once again, it is important to remember, that if you want to use the built-in dark mode by Facebook, you need to switch to the new design first:

STEP 1: On the top right corner, click the arrow.
STEP 2: From the dropdown menu, click Dark Mode.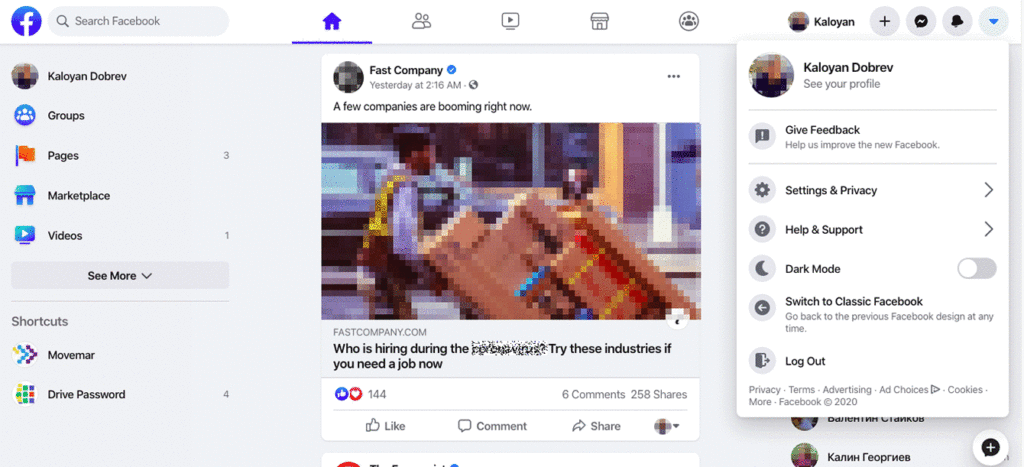 How to enable Facebook dark mode on android and iPhone
Update 30.09.2019
The long waited Dark mode for Messenger (iOS and Android only!) is already here! You probably heard of it because you received a crescent moon emoji from a friend. The dark mode setting no longer needs to be unlocked by simply sending a crescent moon emoji.
Once you send the emoji you will be prompted to enable dark mode.
The dark mode is becoming a norm for any mobile app, web app, or website. It is no surprise that the interest in dark UI has skyrocketed since 2018. As we are spending more and more time staring at screens, our eyes are paying the price for screen addiction. The dark mode reduces the glare and is mostly useful at night or in a low-light environment.
A step-by-step guide how to enable the hidden Facebook Messenger Dark Mode
STEP 1: Open the Facebook Messenger app (iOS or Android only).
STEP 2: Send crescent emoji ( no longer needed, you can skip it. )
in a random chat with a friend.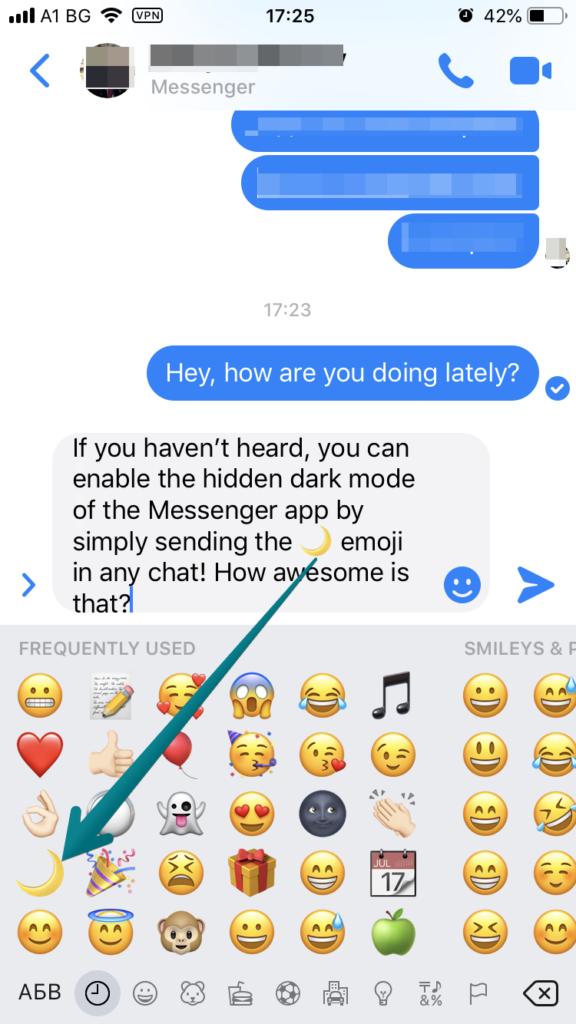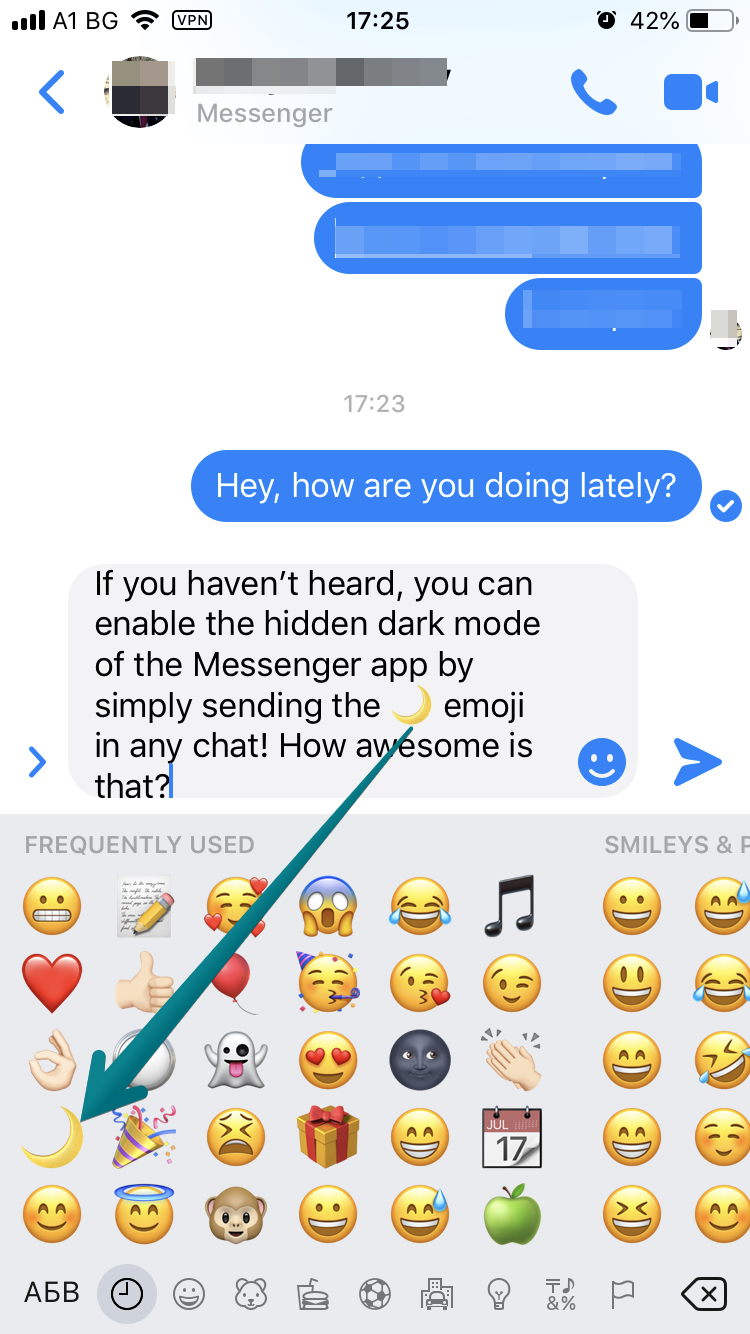 STEP 3: The dark mode feature will appear automatically in your Messenger app settings. From this point onwards you can enable/disable the dark mode whenever you like. There is no need to send the crescent emoji anymore.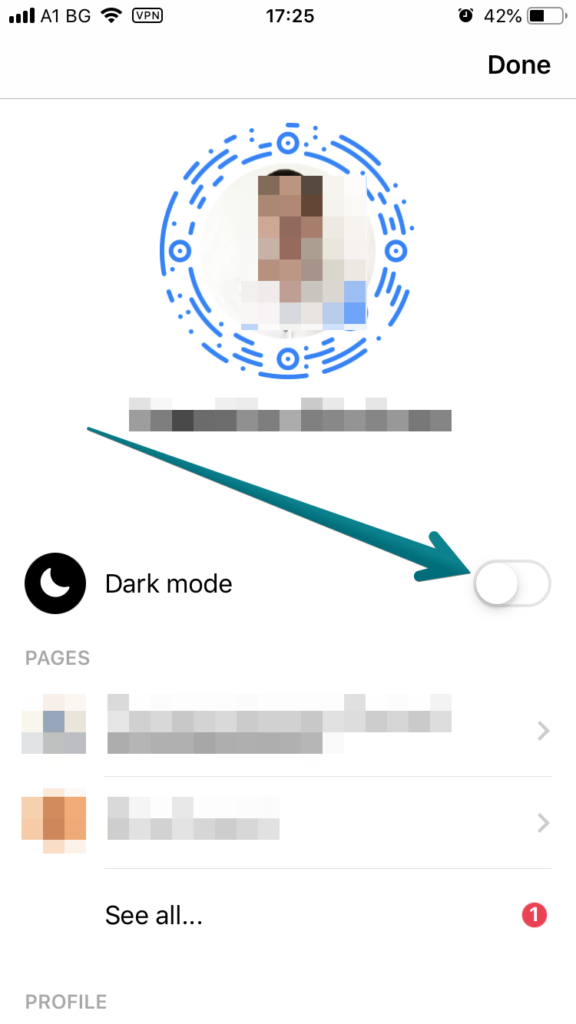 STEP 4: Enjoy the awesome dark mode in the Messenger app. This guide will be irrelevant at some point as Facebook will most likely remove the necessity of sending the crescent emoji. Dark mode will be a standard feature with the upcoming updates.
We hope that this article was helpful and you were able to enable Facebook dark mode on your preferred device!