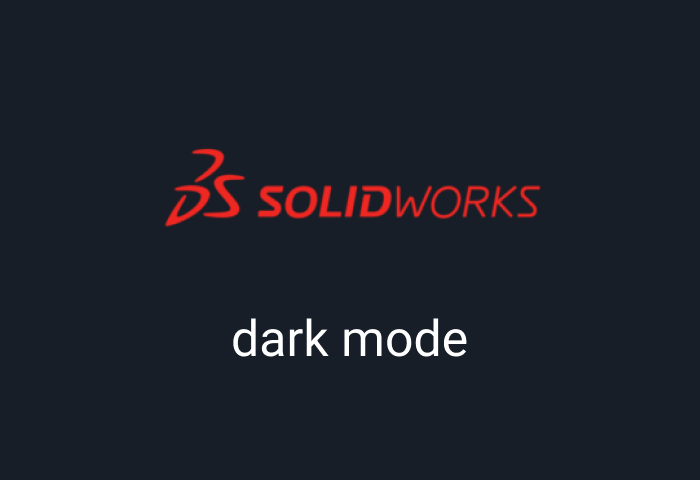 Solidworks eliminates the stress of 3D modeling by allowing you to simulate design aspects in 3D and make all your adjustments immediately. Engineers and 3D designers alike love that Solidworks shortens design cycles by boosting the process while enchanting creativity, collaboration and productivity. Furthermore, thanks to Solidworks dark mode, you can further improve the appearance of your Solidworks interface, by enjoying a soothing dark environment that is pleasing to the eyes. This guide will share with you the quick and easy steps to enable Solidworks dark mode.
Is there a dark mode on Solidworks?
Solidworks comes with a built-in dark mode for the desktop program. This interface quickly inverts the default light theme of your Solidworks interface into an almost black environment. That said, this dark theme is a work in progress, so it does not offer a completely black environment. It might take a lot of tweaks to customize the color settings to a near-perfect dark theme for your design pleasure.
How to enable Solidworks dark mode on desktop
The Solidworks dark mode is so easy to enable. All you need do is open up your Solidworks program on your desktop and follow the instructions below to allow the Solidworks dark mode on your desktop:
On your Solidworks dashboard, head over to Systems Options

Now tap on Colors which opens up a dialog window to the right side of your screen.

Go to the top and right next to Background, click the drop-down arrow, and select "Dark"; you are ready to go.

The default dark theme is actually gray, so you can return to the Color options and choose how dark you want the Background, fonts and buttons to appear until you have the perfect Solidworks dark mode that works for you.

Finally, click "Ok".
Not everyone has the time to tweak and customize until the "right setting". So here are our recommended options when using the Solidworks dark mode:
After selecting the Dark, go to Viewport Background and click edit

Now choose your color; black is the better option

Next, under the Background appearance, choose Plain (Viewport Background color above)

Finally, select "Ok".
What are the benefits of using Solidworks dark mode?
One of the most notable benefits of the Solidworks dark mode is that it minimizes digital eye strain caused by the combination of a bright screen and harmful blue light rays. However, besides reducing eye strain, dark mode has other significant benefits. Below, you will find other excellent benefits of using dark mode:
Dark mode promotes better melatonin levels.
Melatonin is the hormone your body secretes when it's time to sleep. Exposure to bright blue screens all day and night stop this hormone's secretion, making it harder to fall asleep at night. Research has further shown that lower melatonin levels are also significant culprits in anxiety, obesity and cancer.
Dark mode gets rid of all kinds of discomfort.
Dark mode not only alleviates painful, dry, itchy eyes but also influences our posture in more ways than you realize. For example, when you no longer squint or strain your eyes, you find it easier to maintain the correct posture, which minimizes the risks of neck and shoulder pain.
Dark mode may help improve eye symptoms.
Dark mode may help protect the eyes, especially when you are dealing with vision problems such as myopia and astigmatism. While it isn't a cure or treatment, it goes easy on the eyes, so you can focus on your work without struggling with increased tension headaches or migraines.
Dark mode may promote productivity.
Undoubtedly, it gets tiresome staring at that bland white look all day long. The white background might equally cause a lack of coordination, especially when dealing with graphic content within the 3D environment of Solidworks. Using the Solidworks dark interface can help fade all distractions, thereby improving your focus and coordination on the task before you.
Enable dark mode on any website
Sadly not all websites have built-in dark mode. Luckily Night Eye is here to help. Protect your eyes, enable dark mode on any website!
Smart conversion, no ads, no data mining, helpful support!
Install Night Eye dark mode extension