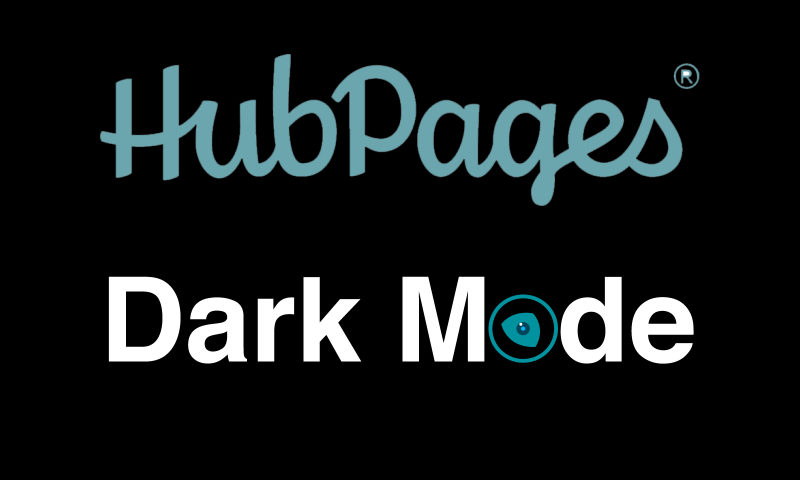 Like many websites and platforms, HubPages does not offer a built-in dark mode. Thus, browsing through articles, creating content, or engaging with the community on HubPages can be straining on your eyes, especially after long hours. With Night Eye, you can easily enable HubPages dark mode in just a few clicks. The dark mode not only adds an elegant and modern look to the website but also provides numerous benefits for your overall well-being.
In this article, we will explore the advantages of using HubPages dark mode and guide you on how to enable it using the Night Eye browser extension.
How To Set-Up HubPages Dark Mode
For frequent HubPages users, the dark mode is a much-needed alternative to the default white theme. Night Eye provides a free dark mode solution that is compatible with any browser you prefer.
Follow these steps to enable the HubPages dark mode on your favorite web browser:
Find the download links for the Night Eye browser extension at the end of this article.
Click on the link corresponding to your browser. For instance, if you use Firefox, click on the Firefox icon.
This will take you to your browser's extension store, where you can install the Night Eye extension.
Simply click on 'Add' to install the HubPages dark mode on your browser.
Night Eye will immediately start working in the background, transforming all open websites into a stylish dark theme.
Now, visit https://www.hubpages.com/ and witness the transformation from the default white theme to the eye-catching black display.
Why Is It Important To Use Dark Mode On HubPages
HubPages is a popular platform for content creators and readers, hosting a vast array of articles on various topics. Spending hours on the platform can cause eye strain, headaches, and discomfort. The dark mode provided by Night Eye can alleviate these issues, offering a more pleasant browsing experience.
Founded in 2006 by three founders, Paul Edmonson, Paul Deeds, and Jay Reitz, all former employees of Microsoft, HubPages is a user-generated content and revenue-sharing website. In 2014, by acquiring Squidoo as the main competitor of Hubpages, the site evolved to a multi-site business model in 2016, with the introduction of separate "vertical sites", containing articles covering a group of broadly related subjects. The site includes "membership" option and anyone may contribute Hubs but to earn income, members must hold a valid Adsense account. Hubpages members retain all intellectual property rights to their "Hub Content". They can delete their Hubs at any time, but content as questions, answers, forum posts, ratings, votes, comments on other Hubs, and photos (defined as "Author content") cannot be deleted.
What Are The Health Benefits Of Dark Mode
Dark mode on HubPages not only makes the content more visually appealing but also has numerous health benefits. Here are some advantages of using the HubPages dark theme:
Dark mode reduces glare and blue light exposure, making your eyes less tired during extended browsing sessions.
By minimizing high-energy blue light, dark mode helps prevent computer vision syndrome or digital eye strain.
Using dark mode can alleviate symptoms of short-term memory loss, anxiety, brain fog, and insomnia.
It helps maintain a healthy circadian rhythm, potentially improving sleep patterns.
HubPages dark mode ensures text readability, reducing eye strain and discomfort.
When To Use HubPages Dark Mode
Dark mode is not only visually pleasing but also energy-efficient, enabling you to browse content for longer periods. Some users prefer to keep dark mode enabled at all times, while others switch between light and dark modes depending on the time of day. Here are some situations where using HubPages dark mode can be beneficial:
Dark mode is ideal in low-light environments or dark rooms.
When watching videos or engaging with media content, dark mode provides a more immersive and enjoyable experience due to improved contrast.
Notifications are more visible in dark mode, ensuring you stay informed while browsing the web.
For users who read or browse before bedtime, dark mode creates a relaxing atmosphere.
Night-time users can benefit from reduced eye strain, allowing for longer and more comfortable browsing sessions.
Experience the soothing and comfortable browsing experience on HubPages with the Night Eye browser extension. Enable the HubPages dark mode today and enjoy the benefits it brings to your eyes and overall well-being.

 
Get started for free today!
Just install it and feel the difference!
We are at your disposal! If you have questions, simply send them through the built in support system!!
The HubPages dark mode, enabled by the Night Eye browser extension, provides an improved browsing experience by reducing eye strain, enhancing visual appeal, and conserving battery life. Whether you are a content creator or an avid reader, the dark mode can significantly improve your experience on the platform. Download and install the Night Eye browser extension today and transform your HubPages experience with the soothing and comfortable dark mode.