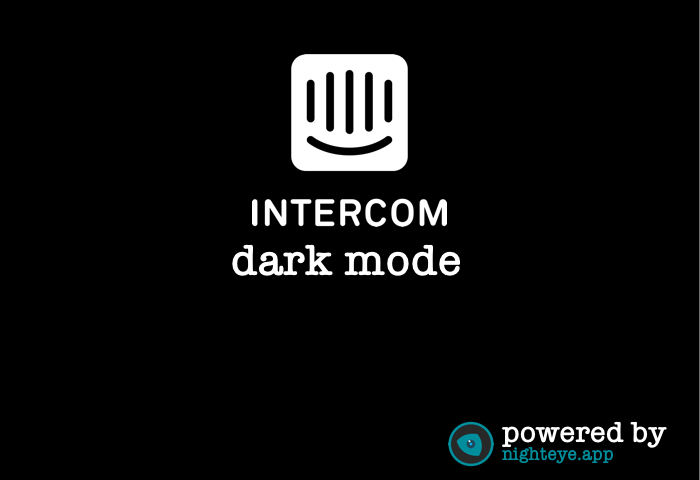 Nowadays the cyberspace is expanding at an unseen higher rate. The direct client communication is slowly but surely being replaced by the virtual contact. The e-business is becoming the number one choice for entrepreneurs as the online shopping and services are thriving like never before. But what is the key element for a successful online business? The answer is clear - good customer service. In the next lines we will present the #1 business messenger up to date called Intercom, and how combined with dark mode, you may gain even more benefits while using it.
Intercom history
The American software company Intercom was founded in 2011 by four Irish designers and engineers, Eoghan McCabe, Des Traynor, Ciaran Lee and David Barrett. They were previously owners of Contrast, which made Exceptional, a bug tracking tool. After selling Exceptional, they used the funds to start Intercom. As of today, 30,000+ companies use Intercom.
Intercom users
Companies like Unity, Sotheby's, New Relic, Atlassian, Shopify, Bitly, Envoy and many more are Intercom users.
Purpose of Intercom
The platform has several features which help businesses to track and filter customer data as conversation history, product usage behavior, past purchases and payment details. This can be used to trigger personalized, automated marketing emails and in-app messages to company's clients. The main purpose of Intercom is to increase the growth at every stage of the customer lifecycle.
Intercom plans
For basic chat and messaging:
Start - basic live chat and outbound messaging.
Grow - chat, targeted email, and self-service support.
For automation and messaging at scale:
Accelerate - automated workflows, bots, and reporting.
Scale - advanced workflows, permissions, and security.
Interesting facts about Intercom
The company has own academy called "Intercom Academy" which is offering deep-dive courses from Intercom experts. The academy is designed for both team members and managers of the support teams.
Help your business grow with Intercom dark mode
As modern-day clients of products of all sorts we like or are interested in, surely we all had that one-time bad user experience from a live chat with an incompetent customer support representative that actually drove us away from the company's products and services which we were so keen to pay for and use just a few minutes earlier. From the client's perspective, such events are not crucial, as he will probably turn to one of the many other concurrent companies offering similar (if not the same) product or service and eventually, he will find what he is looking for out there on the e-market. But from business owner aspect, such interactions are vital, as bad customer service directly leads to lost clients, which in the end results in huge losses for the whole company. Even if you provide the best product or service on the market, successful business cannot exist without building strong customer relationships. With Intercom you can do that. As the #1 messenger made for business, this all-in-one tool is designed for faster and more personalized answers for your customers, and fewer questions for your team. With it, you can provide real-time, personal help with a collaborative inbox, automation, and self-service support. In addition, your customers will be able to see their order status, pay their invoice, read help articles and more right inside the messenger.
And with dark mode it is even better!
As the customer service is a proven key factor for your successful business development and profit, you need to make everything to ensure its smooth process. Apart from using the Intercom platform and all of its benefits, there is an additional step you can take in order to provide and deliver exceptional customer service – installing the Night Eye dark mode browser extension. One of the first things you need to do is to take care of the well-being of your customer service agents as they are the ones who represent your brand image, mission and values in front of your existing and potential clients. If you are an employee, you may want to improve your working capacity and productivity which would increase your overall performance and contribution to the company. In both cases, enabling the Night Eye extension while using Intercom will give you huge advantage when it comes to you or your business. Our dark mode browser extension will reduce the eye strain and the dry eyes effect, headaches and blurred vision for your employees and team members, which will directly lead to a positive impact on their focus, their productivity and most importantly, the CSAT (Customer Satisfaction Score). Well-known fact is that the CSAT is your main benchmark of whether your customers have positive experience when contacting your agents. If you manage to deliver such experience to them, you will surely set a positive trend concerning your business development and the profit of your company. Customer service matters so much to your clients that if you are doing it the right way, they would literally pay more to interact with your brand. So, let's not waste a minute more! Install Night Eye dark mode extension and alongside the Intercom platform, you'll soon begin to reap the benefits from this decision! The installation process will take just a few seconds and you will be able to use our Pro version free-of-charge for the first three months. Afterwards the price will be a little over 2 CENTS PER DAY and also, you would be able to choose our forever free version of the extension.
Enjoy Intercom dark mode!
Start your FREE 3 month trial
No credit card, no names, nothing is required - install on your preferred browser and enjoy completely for free for 3 months. After that, you can stick with the free forever Lite version and subscribe for $9 per year.
See by yourself how this dark mode browser extension improves the skills and boost the productivity of your team members and enjoy your company's success!