Dark Mode on macOS
It really got our attention and stood out. Although it cannot be labelled as serious functionality, we are eagerly waiting for its arrival. "Does this add real functionality? No. Does it look great? Yes. And that's all dark modes have ever been about."
The Verge
Nailed it! Yes, Dark Mode can and will be considered as "cosmetic" improvement, but if you watched the WWDC 2018 event live, you heard the crowd cheering its announcement. This is a clear sign for major approval. With a single click, you will be able to invert the colors of pretty much everything (well, not really), but here are some examples:
Finder (thank god!), Photos, Dock and etc.
Photos
Calendar and Mail (looks awesome)
Xcode
iMessages
I don't know about you, but I am more than excited about this.
If we put aside the excitement, there is one HUGE con with the Dark Mode. Imagine - everything is dark on your mac and than BANG, you open Facebook and your eyes start burning, tears rolling down your cheeks. Why…
What about
Safari Dark mode
, guys? 
This is where Night Eye come in aid to Apple (yes, they seem to need our help and we are happy to offer it).
Night Eye is browser extension that enables dark mode on pretty much any website you visit, without ruining the browsing experience. If this is not the perfect companion to Apple's Dark Mode…
Here is how Night Eye saves helps you save your tears for better occasions and enable dark mode on Facebook for example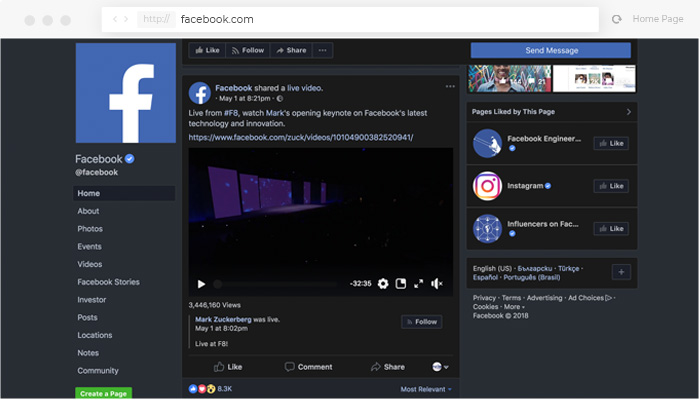 When will Mojave be available? Fall 2018. Finally some love to macOS!