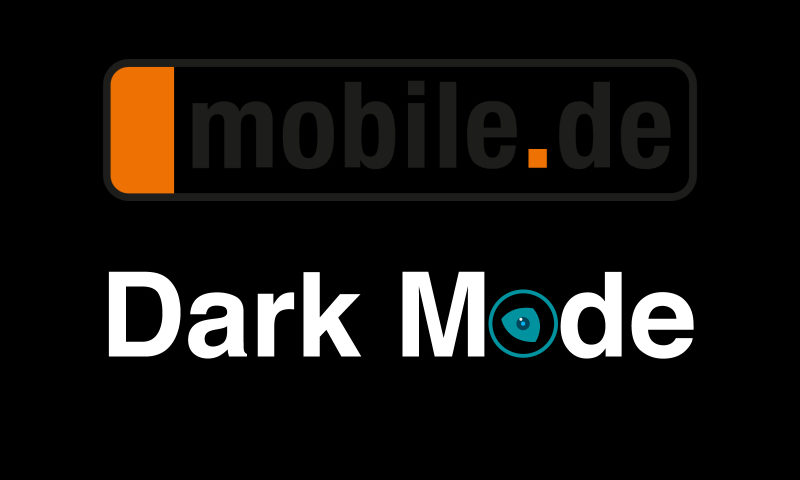 Car lovers, enjoy this blog made just for your as we will take a closer look at the all familiar marketplace network for vehicles called Mobile, and how combined with the dark mode you can boost your user experience while browsing on their official website. 3,2,1… GO!
Mobile is the largest web network in the world and is the #1 option for those who are looking to buy a new vehicle or wanting to sell their old one. As Germany's biggest vehicle marketplace online, Mobile.de has been up and running since 1996, mainly focusing on private customers and car dealers by enabling the purchase and sale of new and used cars. Vijay Sapre and the programmer Ralf Prehn developed one of the first car databases on the Internet and this was the very beginning of Mobile. The number of advertisements grew rapidly in the first few years until April 2004 when the company was taken over by eBay. The following year the company headquarters moved to Berlin. In September 2006, Mobile.de and eBay Motors merged under a new company name - Mobile.de & eBay Motors GmbH until January 1, 2015, when the company was finally renamed to Mobile.de GmbH. In September 2015, Mobile.de bought MOTOR-TALK, Europe's largest online car community. The aim is to simplify the purchase of used cars for private individuals and to enable retailers to buy a new source. Nowadays, Mobile.de is the most visited German vehicle marketplace online ahead of its main competitor.
With the help of special software, used car dealers can search through the offer to be notified immediately of cheap offers and to be able to make a purchase. According to GfK, vehicles worth around 35.9 billion euros were sold via Mobile.de back in 2011 (GfK, 2012).

In the next few lines, we will list the key benefits of dark mode and how you can enable Mobile.de dark mode with Night Eye browser extension.
Either you are a car dealer, looking to buy a new car, or wanting to sell your old one, Mobile.de dark mode can vastly improve your ways of doing that. Widely recognized as a healthier option with better interface design in comparison to the standard light mode most of the sites on the web use, including Mobile.de, dark mode is gaining more and more recognition among web surfers. Night Eye browser extension can deliver you dark mode you haven't seen before, with customization options as a color changer, brightness, contrast, saturation adjustments, and most importantly, blue light filter. Considered as the main source of negative impact on our eyes, blue light is extremely harmful, and minimizing it should be one of the priorities for every digital user. By applying negative polarity on your desktop and laptop screen, the harmful blue light will be negated alongside the complete removal of screen flickering (if existing), thus preventing you from symptoms like eye strain, dry eyes, headaches, blurred vision, etc. And all of this combined with a new, more stylish dark version of the biggest marketplace for vehicles in Germany – Mobile.de.
Preview of Mobile.de with Dark Mode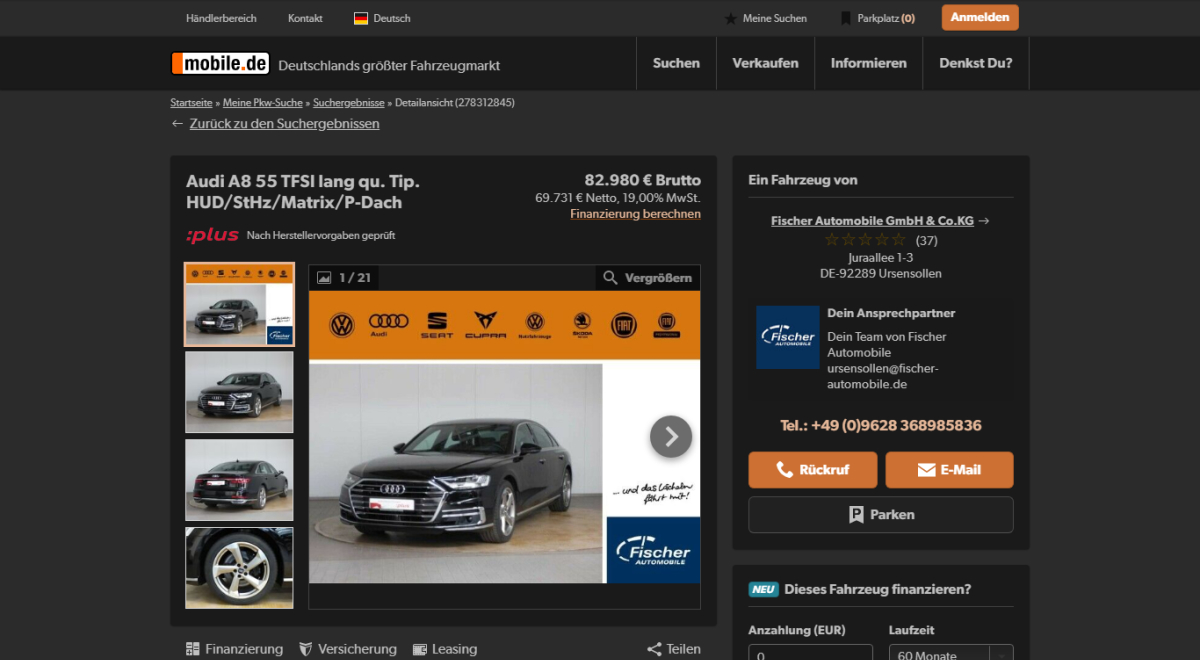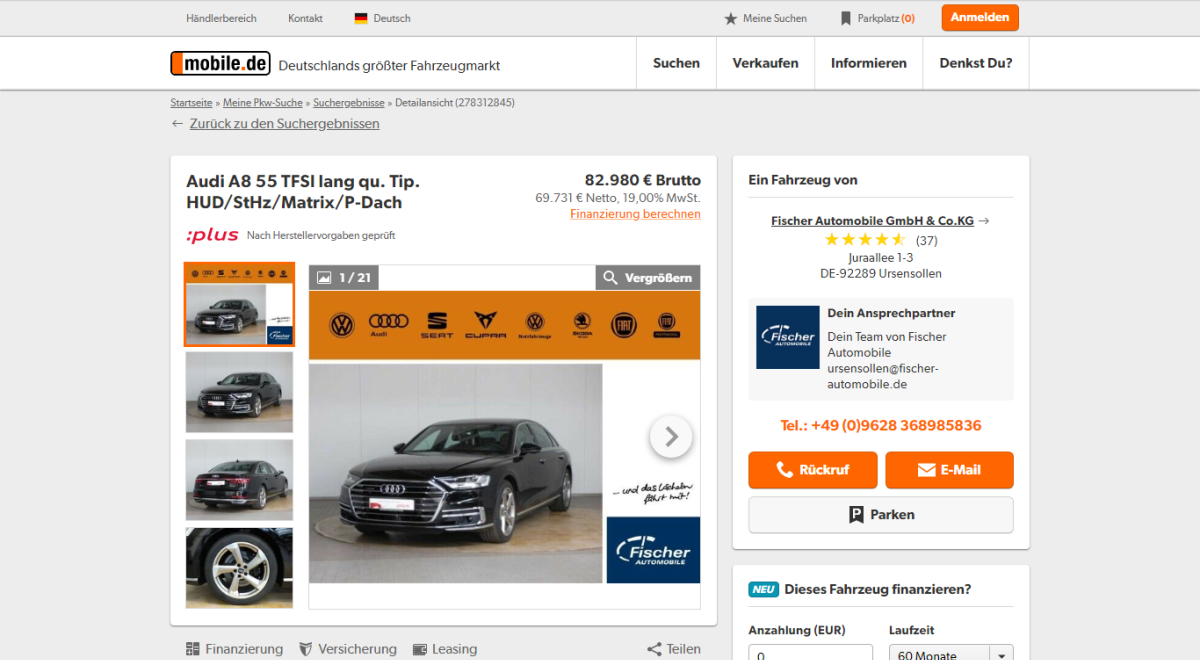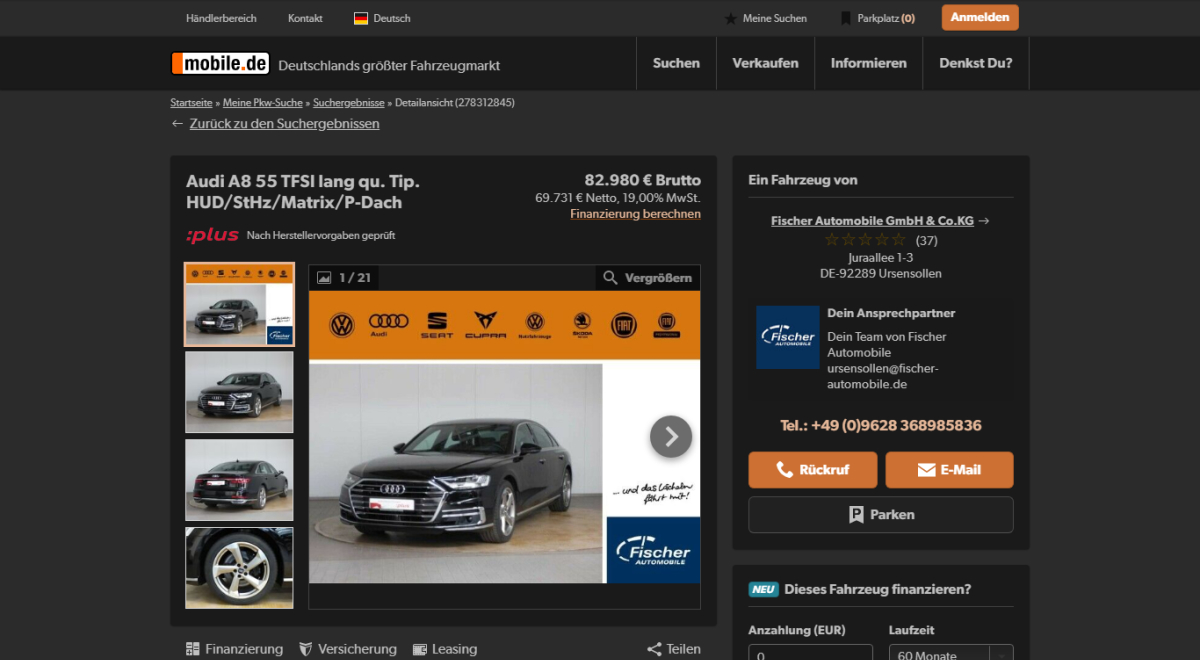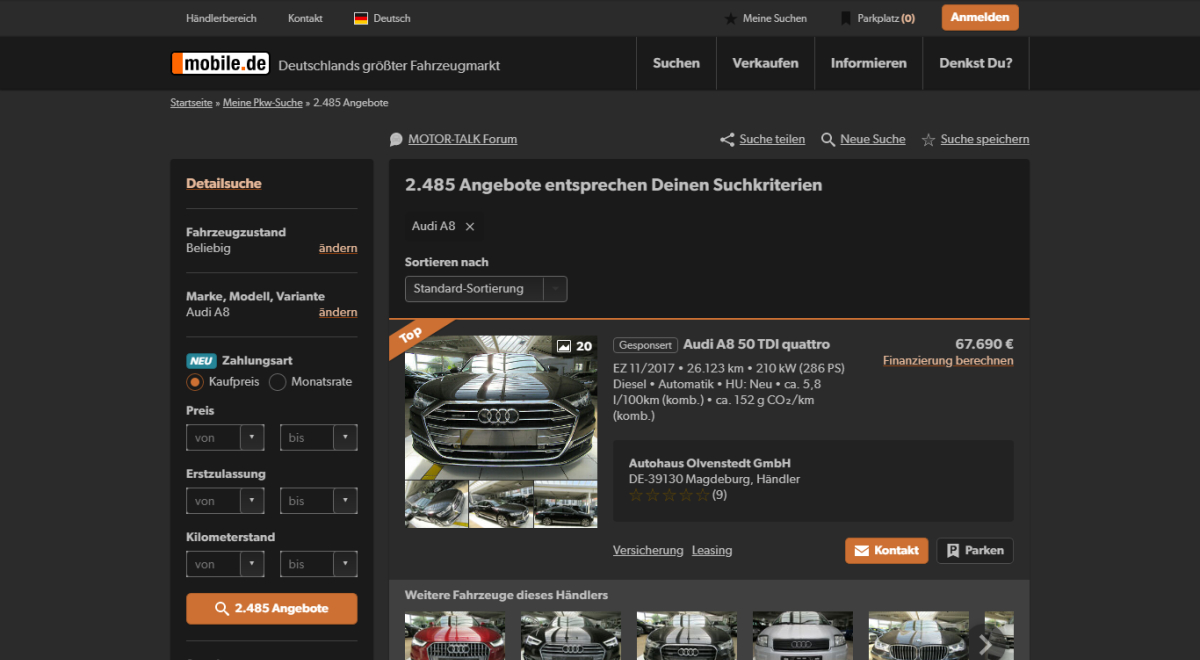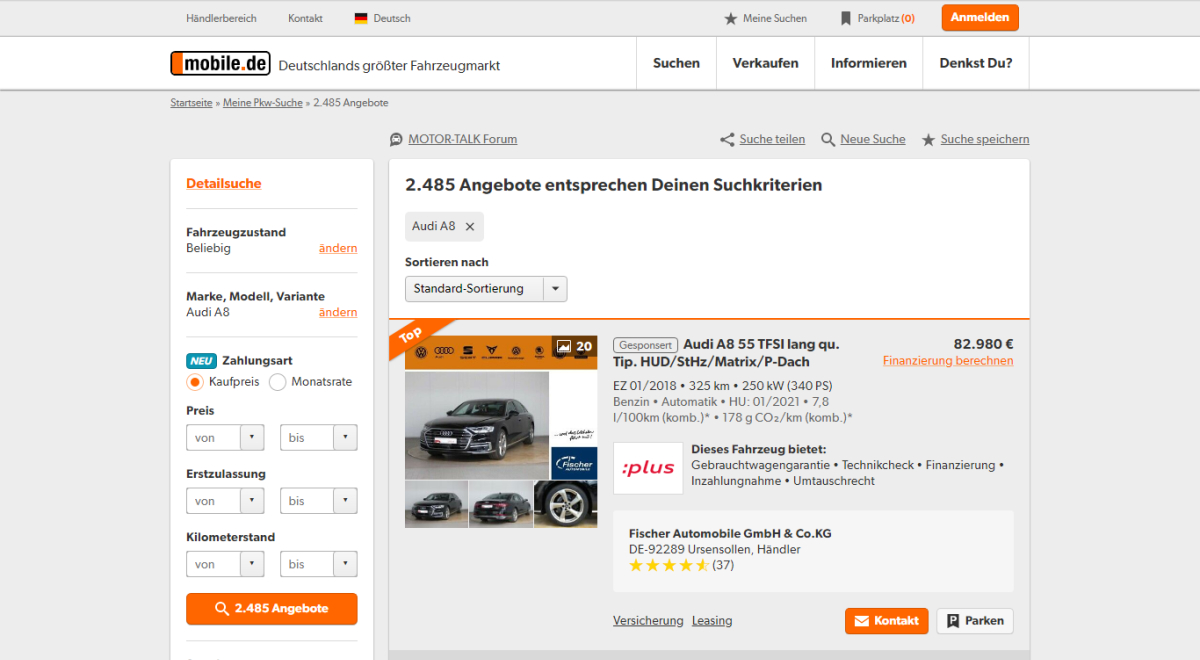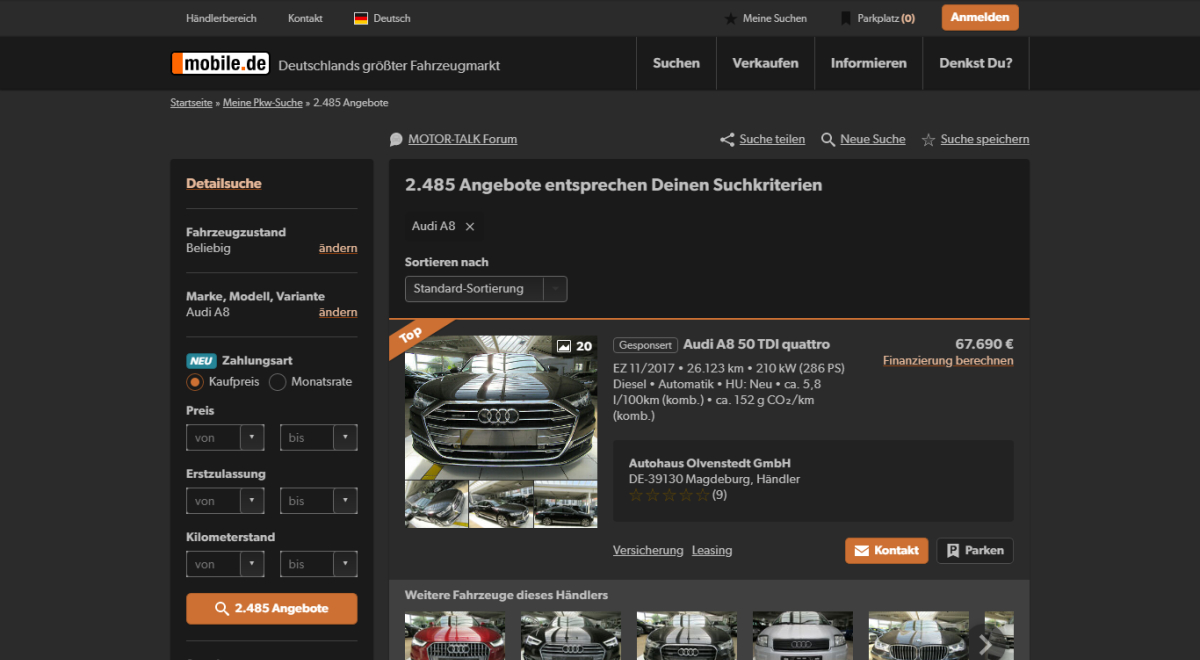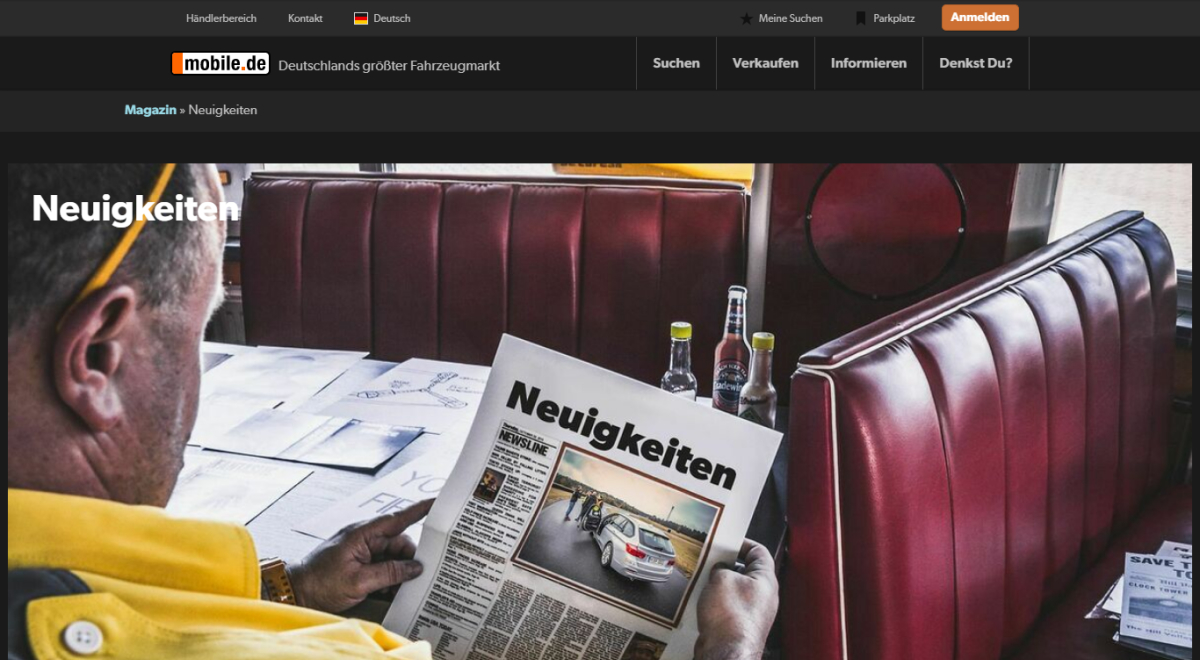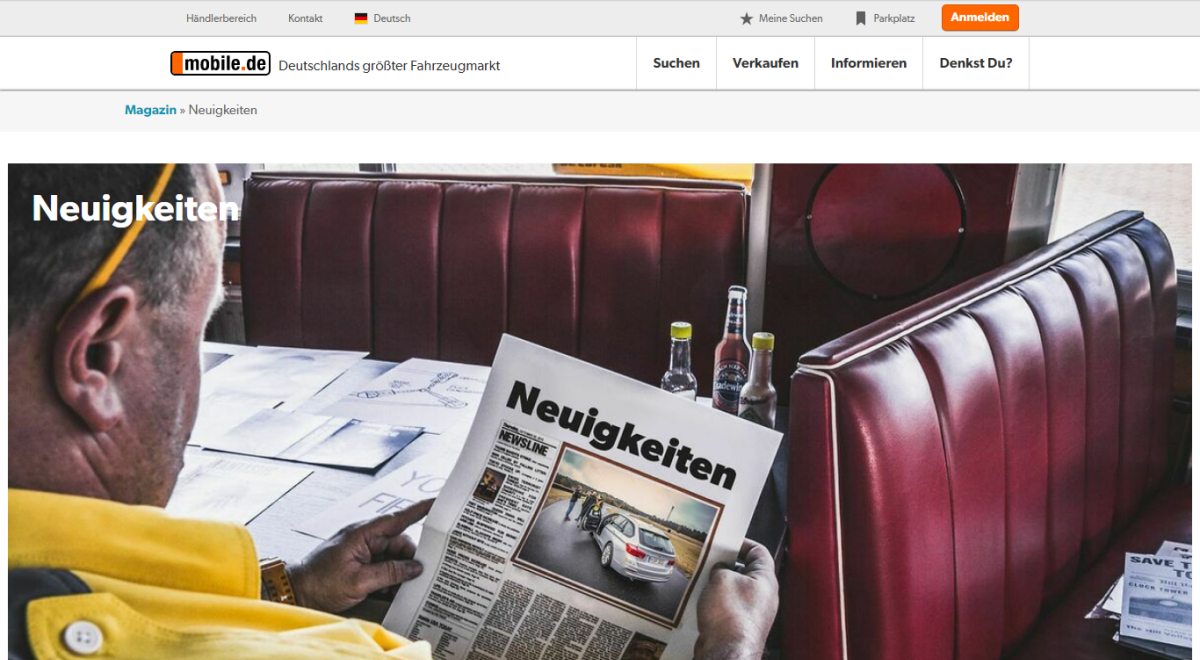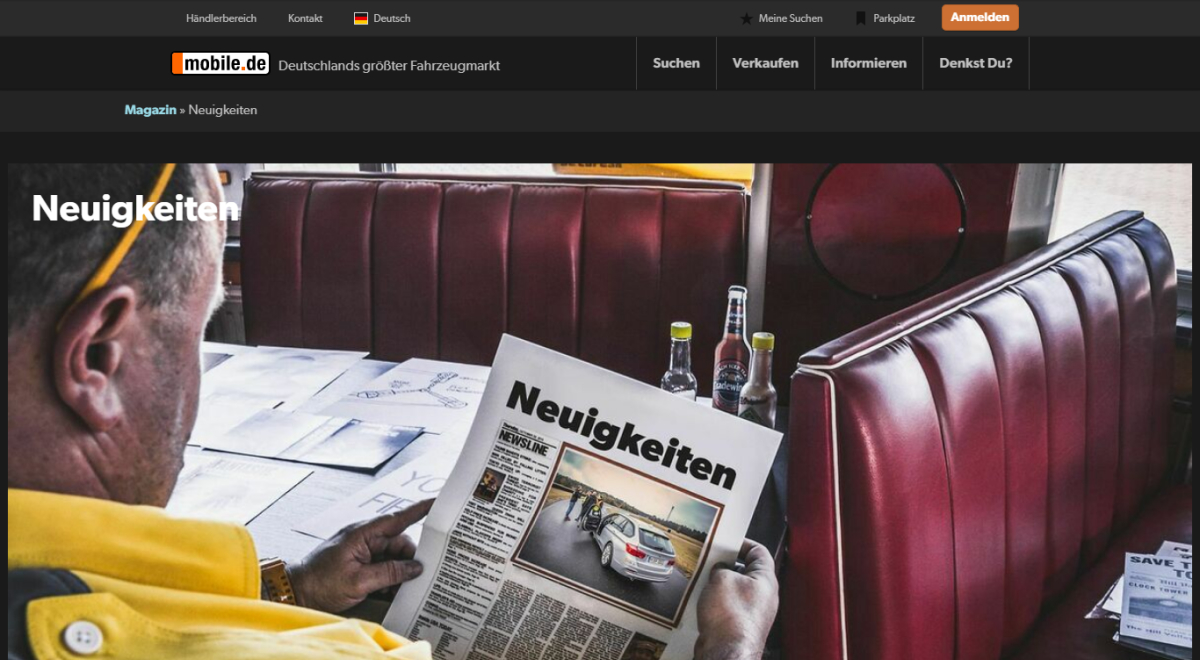 A healthier way for browsing compared to the standard light mode.
Less blue light and screen flickering.
New and modern stylish look.
Improved readability of text.
Better contrast.
Energy-saving mode.
Get started for free today!
Just install it and feel the difference!
We are at your disposal! If you have questions, simply send them through the built in support system!!