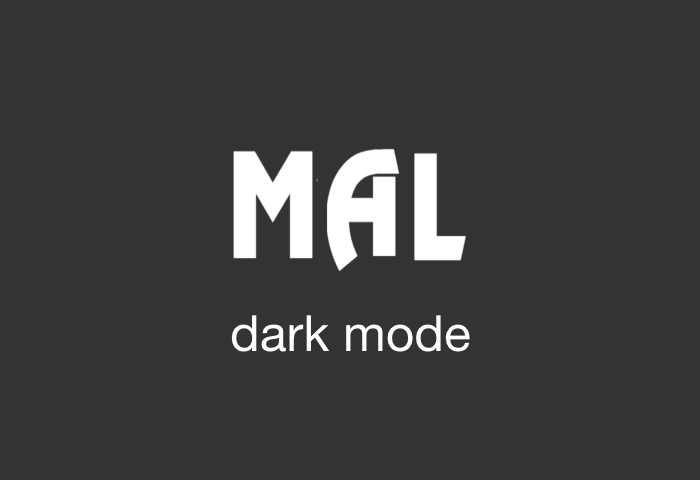 Myanimelist is an excellent website for watching thousands of anime and interacting with the world's most active manga community. However, like most websites, MyAnimeList lacks a built-in dark mode. Thanks to Night Eye, this can no longer be a problem.
Night Eye grants you free access to enjoy a gorgeous dark theme that transforms your viewing pleasures. Besides being stunning, the Myanimelist dark mode has many other superb features. This article is focused on revealing to you how simple it is to enable a dark theme on MyAnimeList, the importance of having dark mode on MyAnimeList, and the various benefits of using this fantastic dark theme.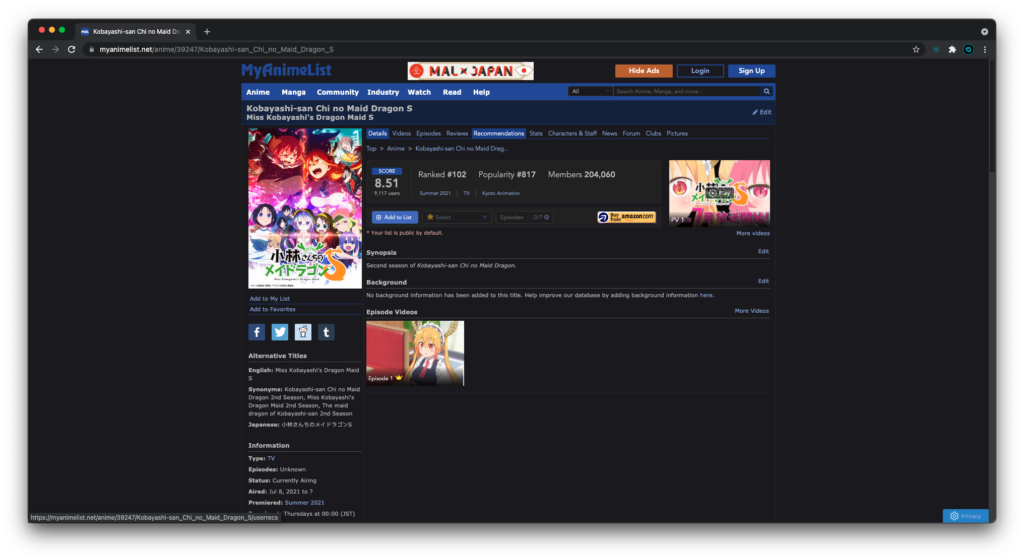 How to enable dark mode on MyAnimeList
For all lovers of the MyAnimeList website, you only need a few simple steps to enable the Night Eye extension on your browser. Once enabled, the dark mode automatically starts working on their background. Therefore, we have outlined the steps below to help you access the immense benefits of this gorgeous free dark mode solution:
As you navigate to the end of this article, you will discover some symbols representing the Night Eye extension for different browsers. Another way to get to the Night Eye is through your browser extension store.
To begin the enabling process of dark theme on your web browser, you will have to select the icon that fits your browser.
Once you tap the icon representing your browser, you will be referred to your browser extension store.
Click on "Add," and the installing process would be completed. In few seconds, your web browser would be transformed into an excellent dark background.
To have a glimpse of it, go to https://myanimelist.net and get the fantastic feeling of having a cozy dark theme running on your web background.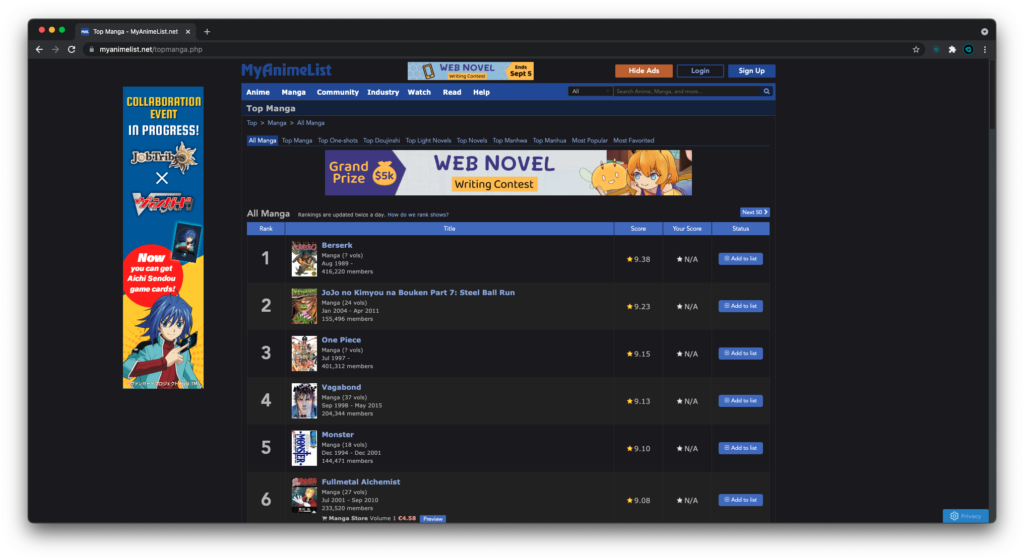 Why It is important to have a dark mode on MyAnimeList
Myanimelist is one of the most active anime and manga social networking and social cataloging applications globally, run entirely by volunteers. So, there are different sets of users on the platform, networking, reviewing, watching, and carrying out other fun activities. When asked how long they spent on the forum, many MyAnimeList website users talked about averaging six to eight hours per day.
That's a whole lot of hours spent staring at a harsh white platform with an intense glare that makes the eyes water only after a few hours of staring at it. Many users have complained about this blinding white screen, leading to tons of headaches, migraines, swollen eyes, and lots more.
Fortunately, Night Eye is here to take away every form of eye strain and migraines. No more squinting because the calm dark theme background would be very comforting to your eyes. Interestingly, the dark theme is entirely free and straightforward to enable.
What are the health benefits of a dark mode?
Surfing on your computer for so long can cause redness and itching eyes. That is why it is necessary to enable a dark theme on your web browser to protect your eyes. One of the most incredible benefits of using the Myanimelist dark mode is to say goodbye to itchy and painful eyes. Besides this powerful eye-protecting ability, there are other notable benefits of using dark mode; they include:
Say goodbye to annoying headaches: The soothing dark space that the Myanimelist dark mode creates takes away pressure from the brain and eyes. In turn, you would no longer feel annoying headaches when surfing, watching, or interacting on the Myanimelist website.
Helps you build better posture: When the harsh glare no longer blinds your eyes, you won't also have to squint or come too close to your screen. This saves you from assuming incorrect postures leading to backaches and shoulder pains.
More focus on your viewing pleasure; There's nothing quite like watching a movie from a dark room. You will also get a feel of this when using the myanimelist thereby, heightening your anime experience.
Build better sleeping habits; Night Eye reduces exposure to harsh blue light, which means you can look forward to healthier melatonin levels. Healthy melatonin levels mean you can enjoy your beauty sleep.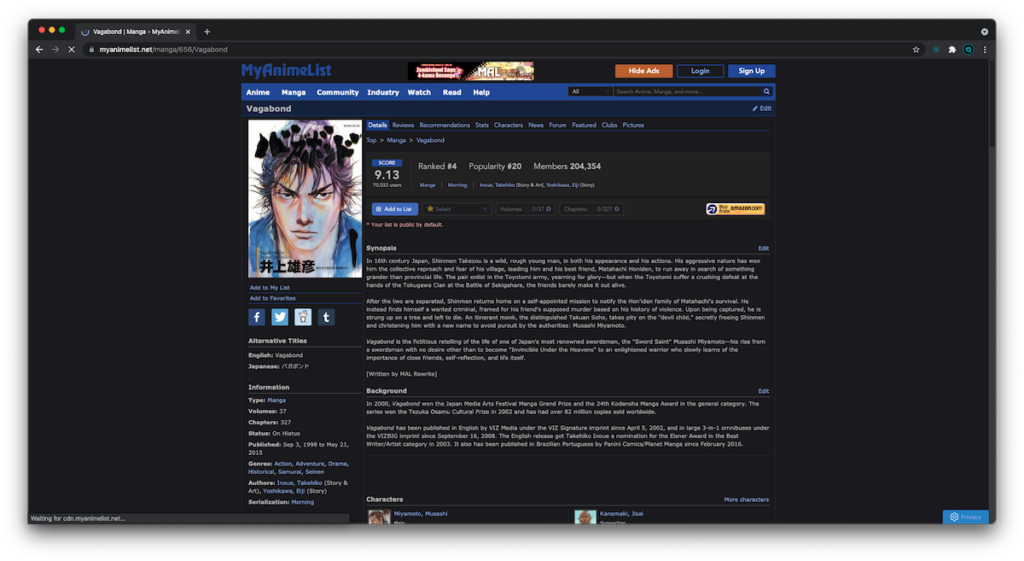 When to use dark mode
Dark mode can also help in preserving your battery. Being among the millions of people that regularly surf the MyAnimeList website, you may want to use dark mode because it saves battery life. This is perhaps one of the strongest reasons for the widespread dark mode acceptance, making many users stick to using dark mode all day and night. However, a few others would love to use dark mode at specific times of the day. If you are one of those, we have put together inspiring situations to guide you.
If you are working or surfing the web at night, it would be great to use a dark theme on your web browser.
If you are very sensitive to bright light or are naturally photophobic, the dark mode is just what you need.
The dark mode is also perfect to use if most apps on your device use dark themes.
If you are in a room with sufficient lighting, then dark mode would be cool to use.
Install Night Eye
No credit card, no names, nothing is required – install Night Eye on your preferred browser and enjoy it completely for free for 3 months. Subsequently, you can stick with the free Lite version or subscribe for $9 per year. You can see for yourself how this dark mode browser extension can help you fight eye strains.