Like most websites and search engines, Naver does not have a built-in dark mode. Therefore, spending long hours surfing the internet through this search engine can become painful. Enabling Naver dark mode has never been easier. Thanks to Night Eye, you can enjoy eye soothing dark mode on Naver in just couple of clicks.. Unlike the bland white look, Naver's dark mode feels mysterious and spectacular.
But aside from being visually attractive, there are other rewards of using the Naver dark theme. This article offers insights on those fantastic benefits and how to use the Naver dark mode.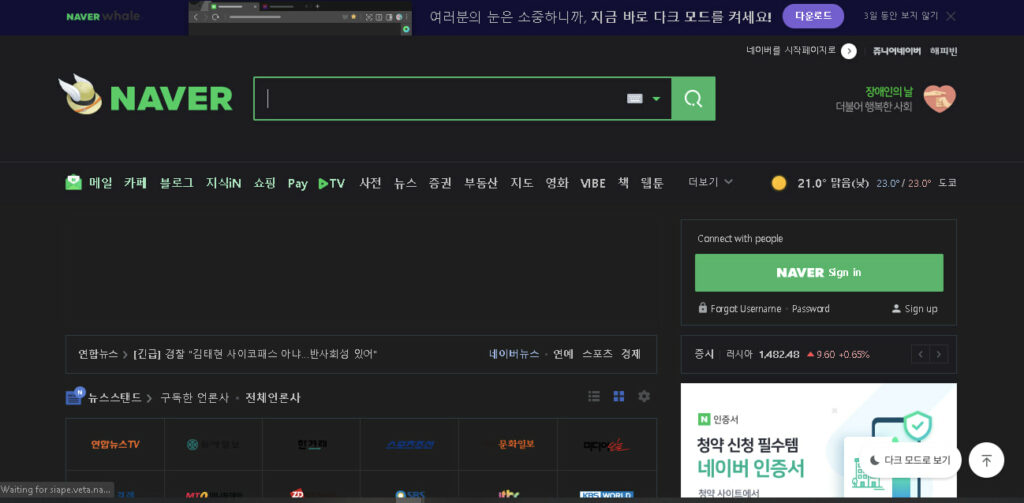 How To Set-Up The Naver Dark Mode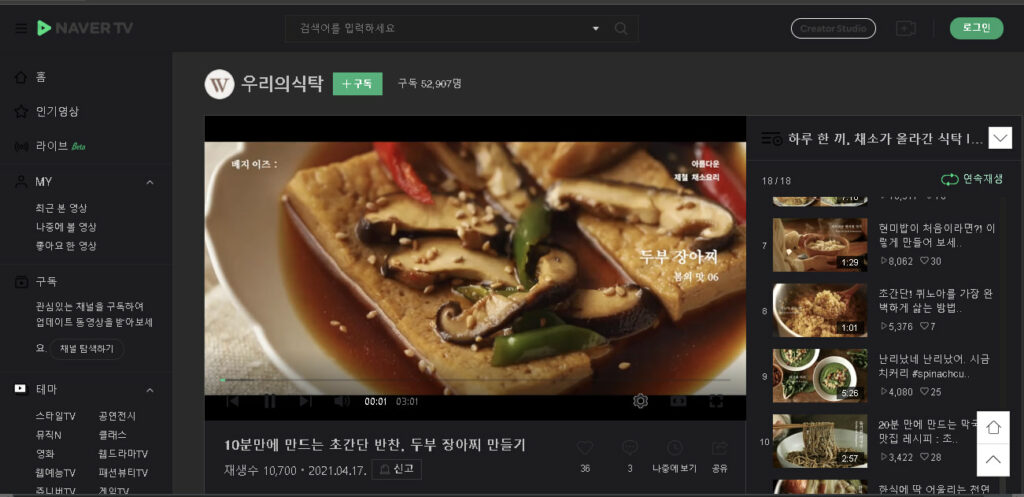 For regular Naver users, the dark mode is a welcome alternative to using the default white theme. The Night app extension offers an excellent free dark mode solution that works on any browser of your choice.
Follow the prompts below to start using the Naver dark theme on your favorite web browser:
At the bottom of this article, you will find links to download the Night Eye app extension.
Click on the link that signifies your browser to proceed. For example, if you use the Brave browser, choose the symbol representing the Brave web browser. 
Clicking on that icon takes you straight to your Brave web browser extension store
Here you can install the Naver dark mode on your browser by simply selecting 'Add,' and that's all. 
Night Eye instantly starts working in the background transforming every website open in your browser into a sleek dark environment.
Now visit the https://www.naver.com/ and watch the bland white on green background become a stunning black display that works pretty well.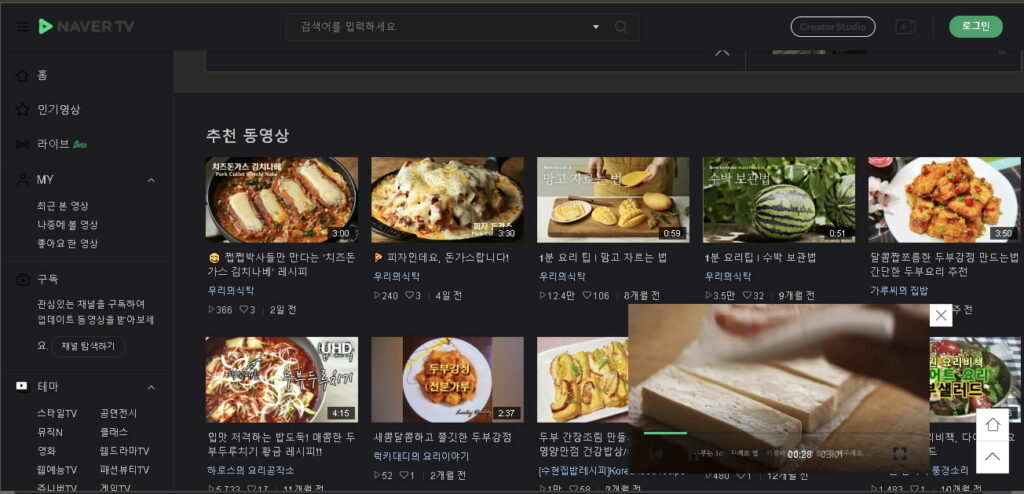 Why Is It Important To Use Dark Mode On Naver
Thousands of Koreans use the Naver search engine for everything from checking out the local news, mail, shopping, images, streaming videos, and lots more. Naver has a tremendous influence on the daily lives of many Koreans. 
It's no wonder we often find ourselves forgetful, depressed, and stressed-out after hours on the Naver search engine. It gets even worse as that throbbing headache, and blurred vision prevents us from having a satisfying surfing experience. If you find yourself in this situation, then it's time to make a deliberate switch to the Naver dark mode. Night Eye app extension forges a sleek and black background that feels new and makes it easier to consume content without having a painful experience. The dark mode also triggers a good and comforting feeling helping you feel less anxious while surfing across the internet.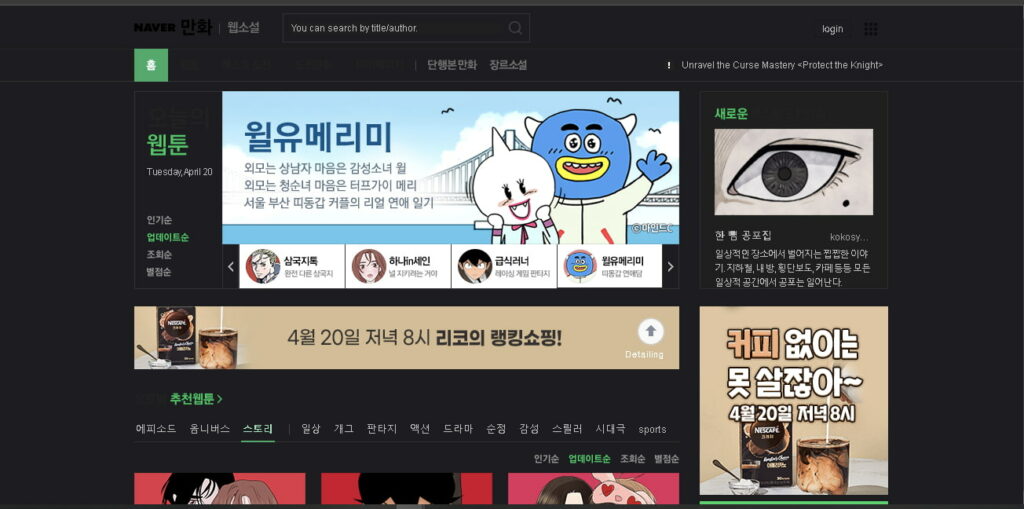 What Are The Health Benefits Of Dark Mode
Colors feel and look better on dark backgrounds giving you a vibrant and beautiful radiance that goes easy on the eyes. Therefore, a unique advantage of using Naver dark mode is that you can protect your eyes even after spending long hours on the platform. However, it doesn't end there. Below are other tremendous advantages of the Naver dark theme:
Dark mode reduces glare and blue light. This, in turn, makes your eyes less tired after a few hours on your favorite search engine.
By reducing exposure to high-energy blue light, you can alleviate computer vision syndrome or digital eye strain
Dark mode helps you combat symptoms of short-term memory loss, anxiety, brain fog, and insomnia.
It also helps you maintain a well-honed body clock and can improve your sleep patterns
The Naver dark mode is carefully designed to make texts readable, thereby preventing undue pressure to the eyes.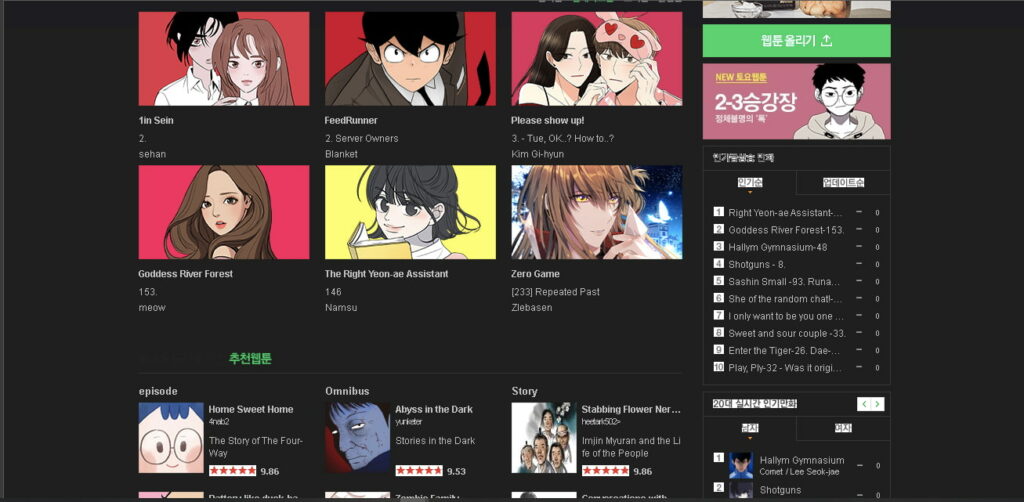 When To Use Naver Dark Mode
Dark mode saves battery power helping you enjoy your content for longer hours. This is why thousands of internet users turn on their Naver dark mode at all times; others switch between dark and light mode at night and day time, respectively. However, this might not work for everyone. If you wish to learn more about the perfect times to use the Naver night mode, these fine examples below are suitable for everyone:
Naver night mode is highly valuable in dark environments or dark rooms. 
It is an intelligent choice when you want to stream videos ranging from games, news, sports, etc. The beautiful contrasting colors help you enjoy a truly immersive and satisfying experience.
Dark mode makes it easy to see notifications at any time. Just as a flashlight works in a dark room, the dark mode allows notifications to shine radiantly, so you can stay informed while surfing the internet
For those who love reading or surfing the web before going to bed, dark mode helps you relax and enjoy yourself.
It's also an excellent choice for night users because your eyes get less tired, helping you consume content for extended periods without hassles.
Install Night Eye
No credit card, no names, nothing is required – install Night Eye on your preferred browser and enjoy it completely for free for 3 months. Subsequently, you can stick with the free Lite version or subscribe for $9 per year. You can see for yourself how this dark mode browser extension can help you fight eye strains.