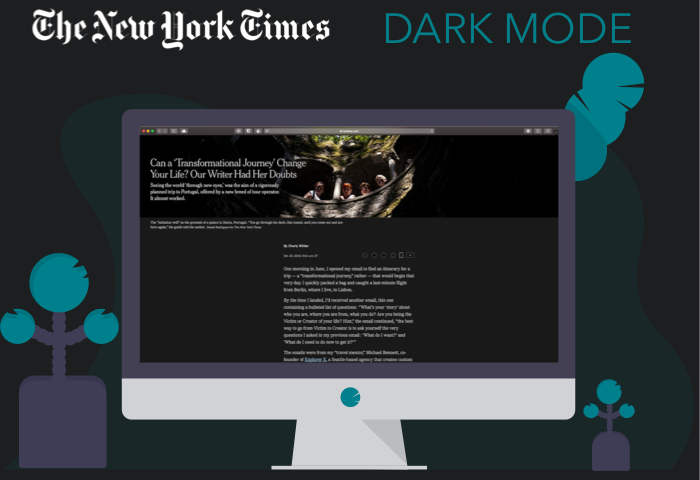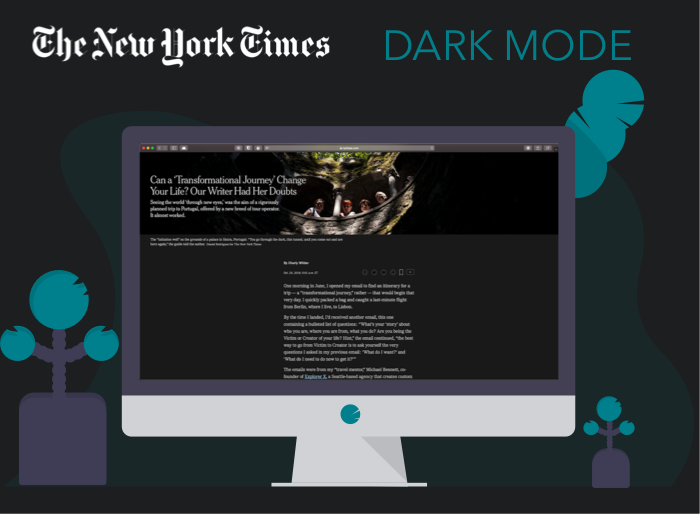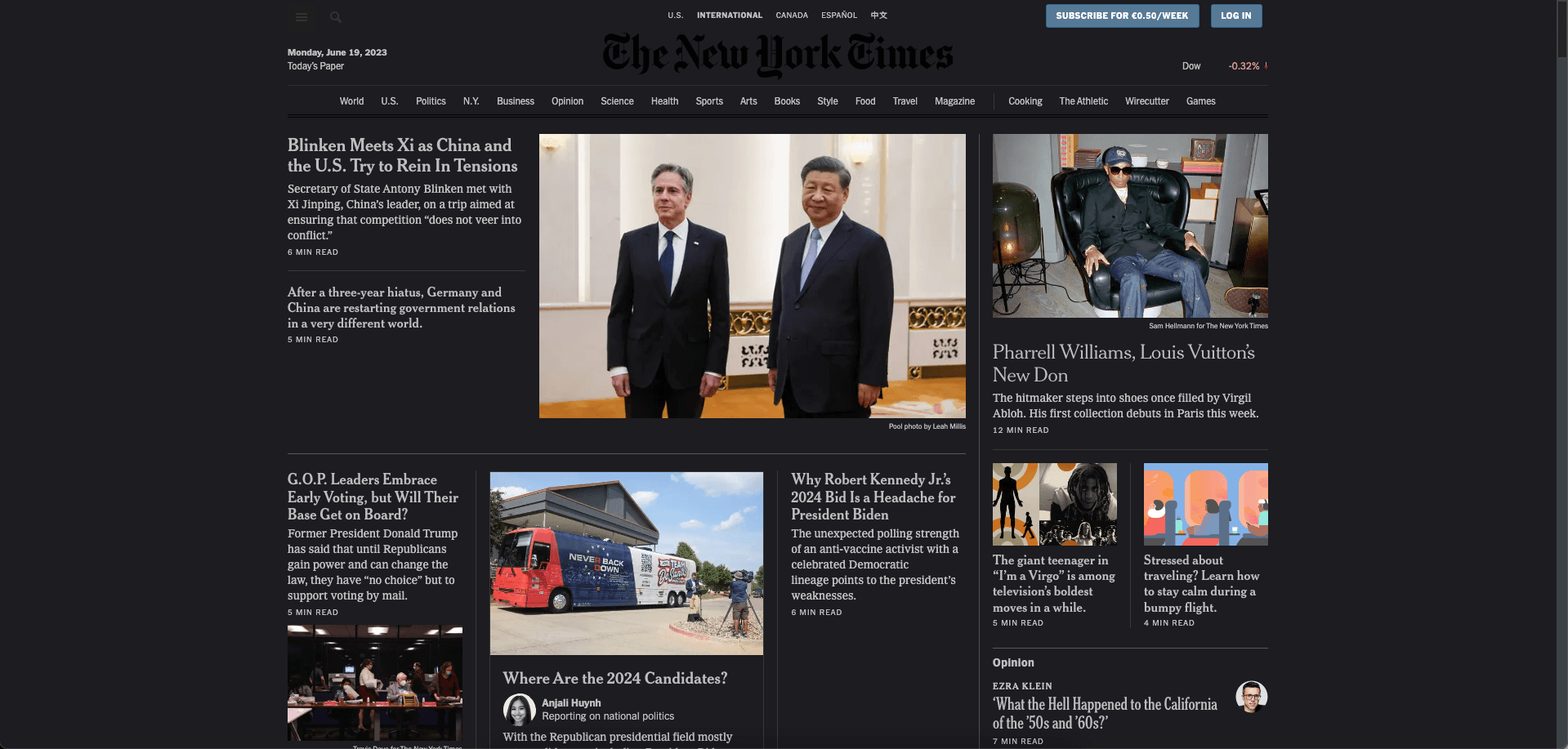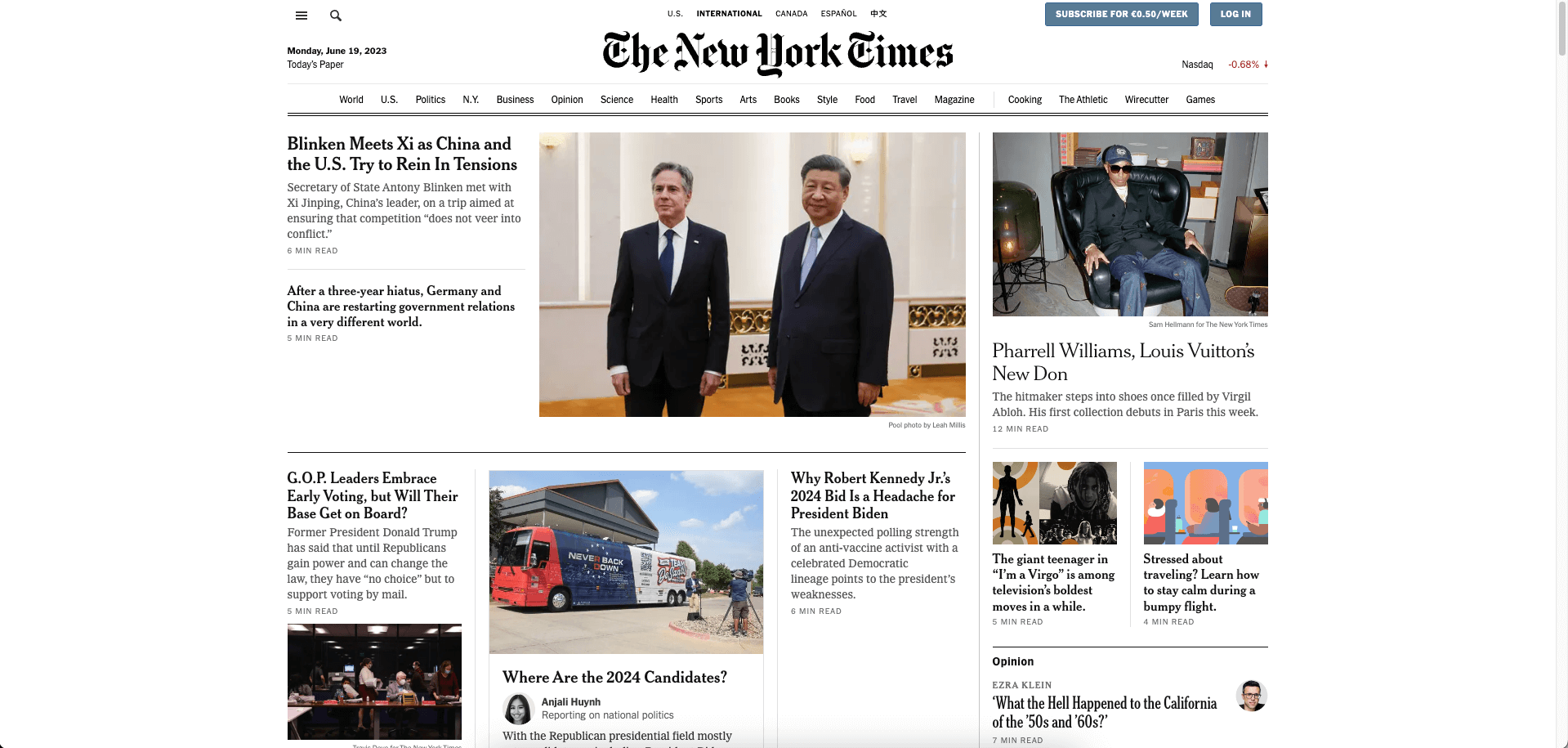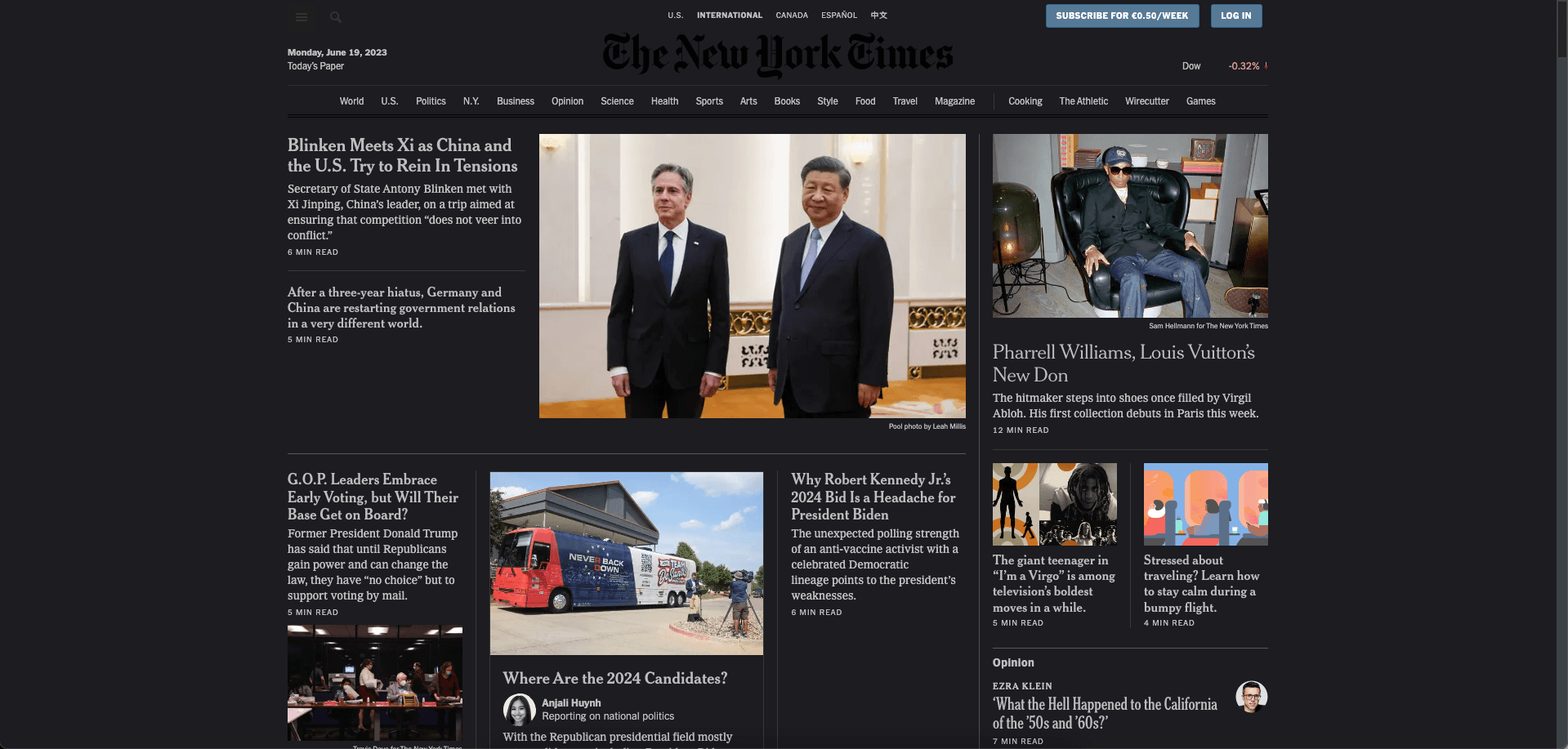 How to enable New York Times dark mode
As said earlier, New York Times for desktop has no native dark theme. But you can still enjoy a flawless dark mode using the Night Eye browser extension. Unlike many other dark mode extensions, Night Eye carefully transforms the New York Times interface, offering a gorgeous dark theme that's easy on your eyes.
Even so, activating New York Times dark mode with Night Eye is easy. Here's how to do it:
- Click on the button below to Install the extension on your preferred browser
- After it is installed, it automatically begins transforming any open websites and pages.
- Now visit the New York Times and start reading articles with an eye-soothing dark mode ON
- You can also further customize your dark theme, by clicking on the Night Eye icon (eye icon) in your extension toolbar to adjust brightness, dim filters, and a host of other filters.
What Night Eye users are saying
@nighteye_ext is easily one of the best tools out there. As someone who is slowly losing their sight, being able to get all my work done on any website that doesn't have a dark mode option is worth more than I can put into words I love Google sites like Calendar and email in dark

— Sh!t You Hear As A Tattoo Artist (@17magmatt) May 20, 2022
What are the benefits of enabling New York Times dark mode?
It reduces eye strain and enhances reading comfort by providing a dark background with light-colored text. This is especially beneficial for those who spend extended periods reading articles on the platform.
You will especially love how it soothes your eyes in low light conditions, where your screen blends with the surroundings, providing comfort while you read. When you can read without discomfort for longer periods, there's no doubt your productivity will soar.
That said, there are many other solid arguments why it is a great idea to use the New York Times Dark mode.
Heightened focus
Distractions remain the bane of our existence. Even our digital screens can become distractions, especially when every visual element, advertisement, notification, and bright interface screams for our attention. Thereby, they tend to make it more challenging for you to focus on accomplishing important work. Dark mode can reinvent how you work. Through its muted color schemes and dark backgrounds, most visual elements seem to fade into the background while the most vital information takes center stage. The dark mode also offers a sense of calm, thereby helping declutter your mind so you can focus on the task at hand.
Improved readability
The higher level of contrast between the dark backgrounds and texts is a unique advantage for you. This means that texts become more legible, making them easier to read and comprehend. So, whether you are poring over marketing data, testing campaigns, reviewing codes, and more, dark mode will help you maintain focus and absorb information effectively.
Energy efficiency
When doing deep work, the last thing you want to worry about is the next time you need to charge your device. Dark mode predominantly uses black backgrounds, which require less energy to power. This is because screen technology uses a lot more energy to display colored pixels than black pixels. Even so, the resulting energy savings mean your battery will last longer, thereby allowing you to enjoy extended uninterrupted hours of work.
Delightfully pleasant workspace
Finally, you shouldn't forget just how aesthetically pleasing a dark interface can be. Think about the stylish and sophisticated appeal, and you realize that it's a great addition to make your work more enjoyable. Hence, HubSpot dark mode can supercharge your work in more ways than you can ever imagine.
Video guide how to enable New York Times dark mode by using Night Eye
More images of the New York Times dark theme by Night Eye
FAQ
Night Eye works only on desktop browsers and Safari iOS
2
Is there dark mode for the NYT iOS and Android apps?
The New York Times recently (in 2023) rolled out the long-awaited dark mode functionality for iOS and Android news apps.
You can enjoy the Night Eye Pro plan fro as little as $9 per year. Find out more about our
Pricing
4
Can I enable New York Times dark mode for free?
Absolutely. You can enjoy a free 3 months trial - no account or credit card are needed. If you don't want to subscribe, you can still enjoy the New York Times dark mode for free by using the Night Eye Lite plan.
5
Can I customize the New York Times dark mode?
There are many customization options such as a blue light filter, contrast filter, brightness filter, and schedule dark mode for those who only want dark mode enabled during night hours. For most people, the default settings are satisfactory enough, so don't bother with them at the beginning. Night Eye will automatically enable dark mode on every website you visit.