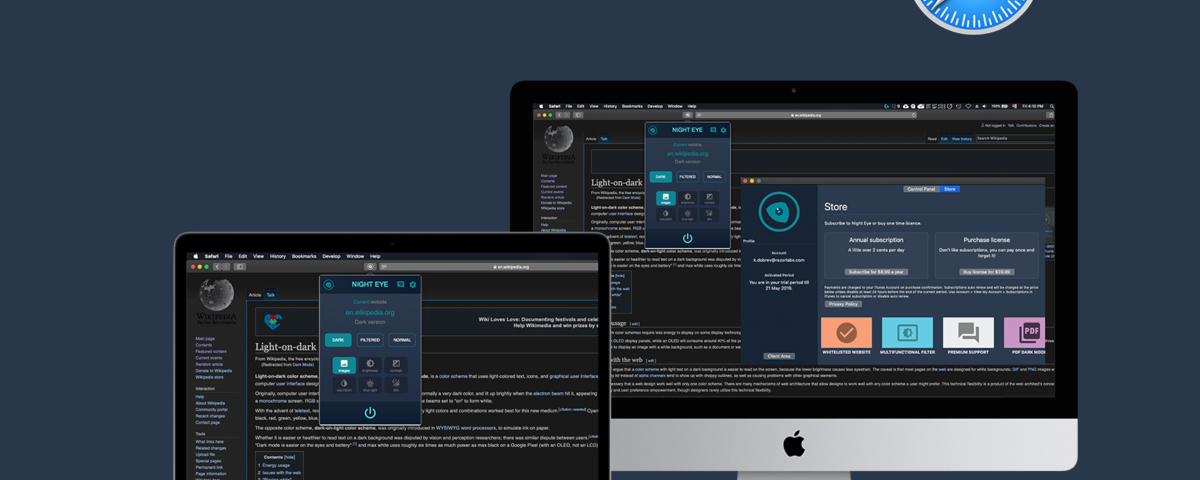 First and foremost a big THANK YOU to all of you who have been patient enough to wait for the latest an by far the most anticipated Night Eye extension. .

It took us more time than we initially thought. The two main factors that affected and prolonged the time we needed to publish it were - pretty big part of Night Eye had to be rewritten from scratch; we still had to update regularly the other browser extensions (Chrome, Firefox and Edge). The testing phase also took serious amount of time. Although we took in consideration all of the described above, we failed to deliver as quickly as we wanted.
The biggest surprise?
Once we started working on the Safari version of Night Eye, we made a simple landing page. The sole purpose of it was to inform everyone that we were doing our best to launch it as soon as possible. From the very first day people started joining the waitlist by subscribing on the landing page. The form was simple - leave your email address, we will notify once the extension is launched. Not even in our wildest dreams we imagined that more than 2200 people will fill out the form to be notified once the extension is live on the macOS store.

Although the thrill of seeing dozens of people subscribing daily was big, our concerns grew as well. We felt responsible to ship a high quality extension that will enable dark mode on nearly any website. We wanted the conversion of any website to become unnoticeable, like the website has its own built-in dark mode.

One of the coolest thing that happened was that many people were reaching out to us ready to become beta testers. The number that actually participated was really low, because we wanted to have deeper and more meaningful connection with the testers. The goal was to get feedback that goes beyond fixing bugs, but rather to improve the whole software. This led to temporary removing one of our core features. The color changing system although powerful was really hard to use and time consuming even for the biggest customisation fans. It was completely removed from all versions of Night Eye and will be introduced back - better and more user friendly than ever.
What lies ahead for the Safari Version of Night Eye?
Although we attempted to launch clean version without any bugs, there are still some small issues to be solved. Some silly typos to be fixed. Some websites to be polished as they are not converted the best possible way.

The next big feature that will be launched in couple of weeks is the support of macOS dark/normal settings. If you're using macOS dark mode - the default mode in Night Eye will be also Dark Mode. If you are going for Light Appearance on your mac - Night Eye will run in Normal mode as default.