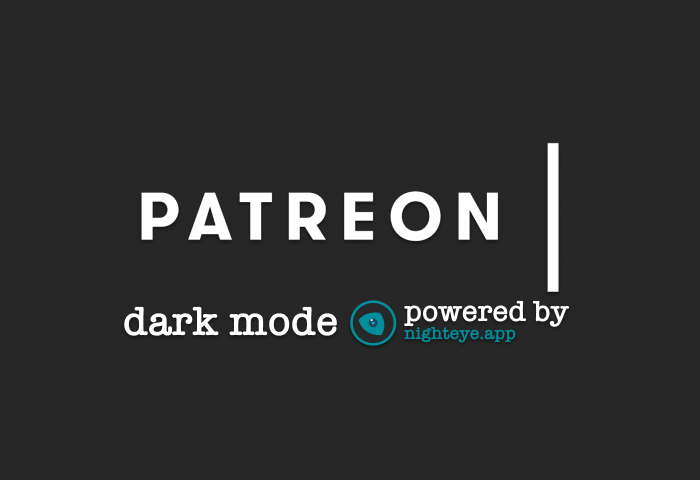 Patreon was founded as a membership platform in 2013 by the American musician
Jack Conte
, who was at that time looking for a way to make a living from his YouTube videos. Alongside Sam Yam, a developer, they created a platform which provides business tools for creators to run a subscription content service and to earn a monthly income by providing exclusive rewards and perks to their subscribers (the so-called "patrons"). The "patrons" have the option to pay a set amount of money every time an artist creates a work of art. More than 125 000 "patrons" signed on the website in the first 18 months. With a small commission from 5% up to 12% of creator's monthly income, Patreon.com is a lucrative funding option for artists around the globe.
TLDR
If you are an avid user of Patreon and wondering if there is dark mode - you are at the right page. After the short info about Patreon, you will find out how Patreon dark mode looks and how to enable it.
Patreon.com users
Patreon.com users have one common feature – creativity. They are grouped by content type: video creators (commentary and comedy, independent projects), podcasters (storytellers, discussions), musicians, visual artists (illustrators and comic book creators, fan artists), writers (journalists, novelists, bloggers), gaming creators and much more… If creativity is your super power, Patreon.com is your place!
The purpose of Patreon.com
The platform allows artists to receive funding directly from their fans, or "patrons", on a recurring basis or per work of art. Patreon.com builds strong relationship between the creators and their supporters. It also provides more time for creativity and guarantees reliable monthly income to the artists.
Patreon.com product benefits
Patreon Lite: hosted creator page, communication tools, workshops.
Patreon Pro: hosted creator page, unlimited membership tiers, communication tools.
Patreon Premium: early access to new features in development, identification of the right joint marketing opportunities, invite-only events.
Be creative and be responsible to your eyes with Night Eye
In order to be 100% focused on your work and to be successful on freelance websites such as Patreon.com, to maintain and even to increase your creativity, you need to be in full harmony – both physical and mental. Night Eye dark mode extension is a tool that can help you minimize the risk of disturbing this fragile but essential bond between these two. Enabling this browser extension will apply negative polarity (dark mode) on your screen which will instantly reduce the harmful blue light to your eyes. You may ask yourself "Why is it harmful?". Laboratory studies have shown that too much exposure to blue light can damage light-sensitive cells in the retina, as it easily passes through the cornea and lens and reaches the core of our eyes. Unfortunately, this may lead to a condition called "digital eye strain" with symptoms like sore, tired, burning or itching eyes, headache and even blurred or double vision. As a consequence, this may reduce your focus and concentration, which we can all agree is essential for your creativity and overall success as a freelancer on
Patreon.com
or similar sites. Fortunately, the Night Eye dark mode extension can not only prevent this, but can even improve your skills.
It is safe to say that creativity can sometimes come with a cost, but we cannot make compromise with the health of our eyes. More than 100 000 users seem to agree about that and are already using Night Eye. Install the Pro version of this dark mode extension with just a few clicks and reinvent your browsing experience with a defensive shield that will guard your eyes, free-of-charge for a 3-month period! Afterwards the price is a little over 2 cents per day or you can choose the free version - Night Eye Lite.
Patreon dark mode preview by Night Eye
Start your FREE 3 month trial
No credit card, no names, nothing is required - install on your preferred browser and enjoy completely for free for 3 months. After that, you can stick with the free forever Lite version and subscribe for $9 per year.