Reading PDFs at night can be a real pain. You're most likely familiar with the situation - it is late at night, you have to go through a pdf file that is 20-30 pages long and the bright background is simply not helping. Your eyes are already tired from spending you whole day in front of the monitor and now this...

If you are familiar with those circumstances, you probably have already searched for "reading pdf at night" or "pdf dark mode". The results are pretty outdated - 2010 (Lifehacker) and 2016 (MakeUseOf) also not really useful as they require you to adjust some settings in Adobe Reader.

The good news is that there is a solution that requires minimum efforts from you and will offer good enough solution, that will help you fight eye strain when reading pdfs late at night.
It is called Night Eye - a browser extension that enables dark mode on any website AND pdfs.
There are 2 major ways you can read PDFs at night using Night Eye.
PDFs with dark mode
First, install Night Eye on the browser (or multiple browsers) you use every day. You can always find on which stores Night Eye is available by checking out our front page -
www.nighteye.app
After installation, every website including PDFs that you open on the web will be automatically converted to dark mode. One limitation that Night Eye simply cannot overcome with PDFs, unlike websites, is the inversion of the images.
Sadly, it is technically impossible to exclude images from being converted and the result can be really scary.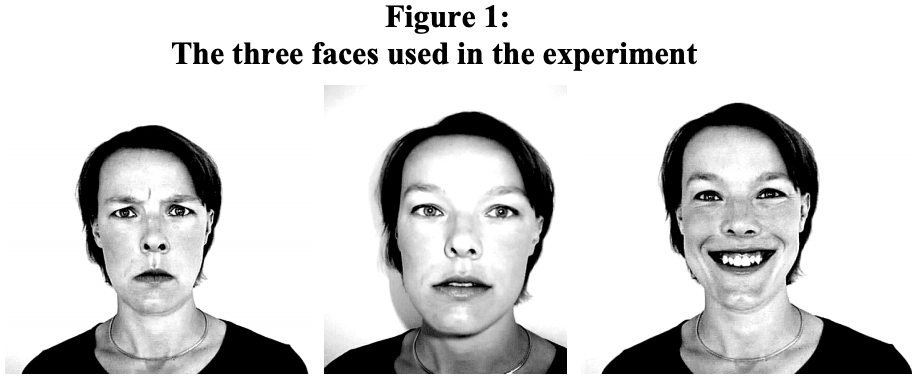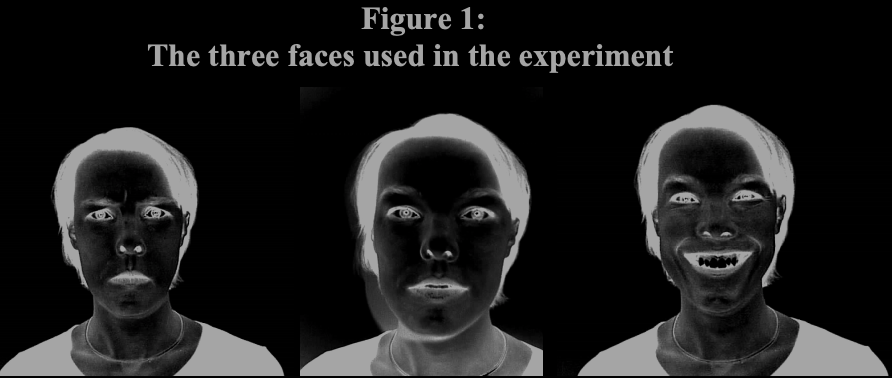 If you put the images aside, the converted text comes really easy on your eyes and will allow you to read without getting too much headaches.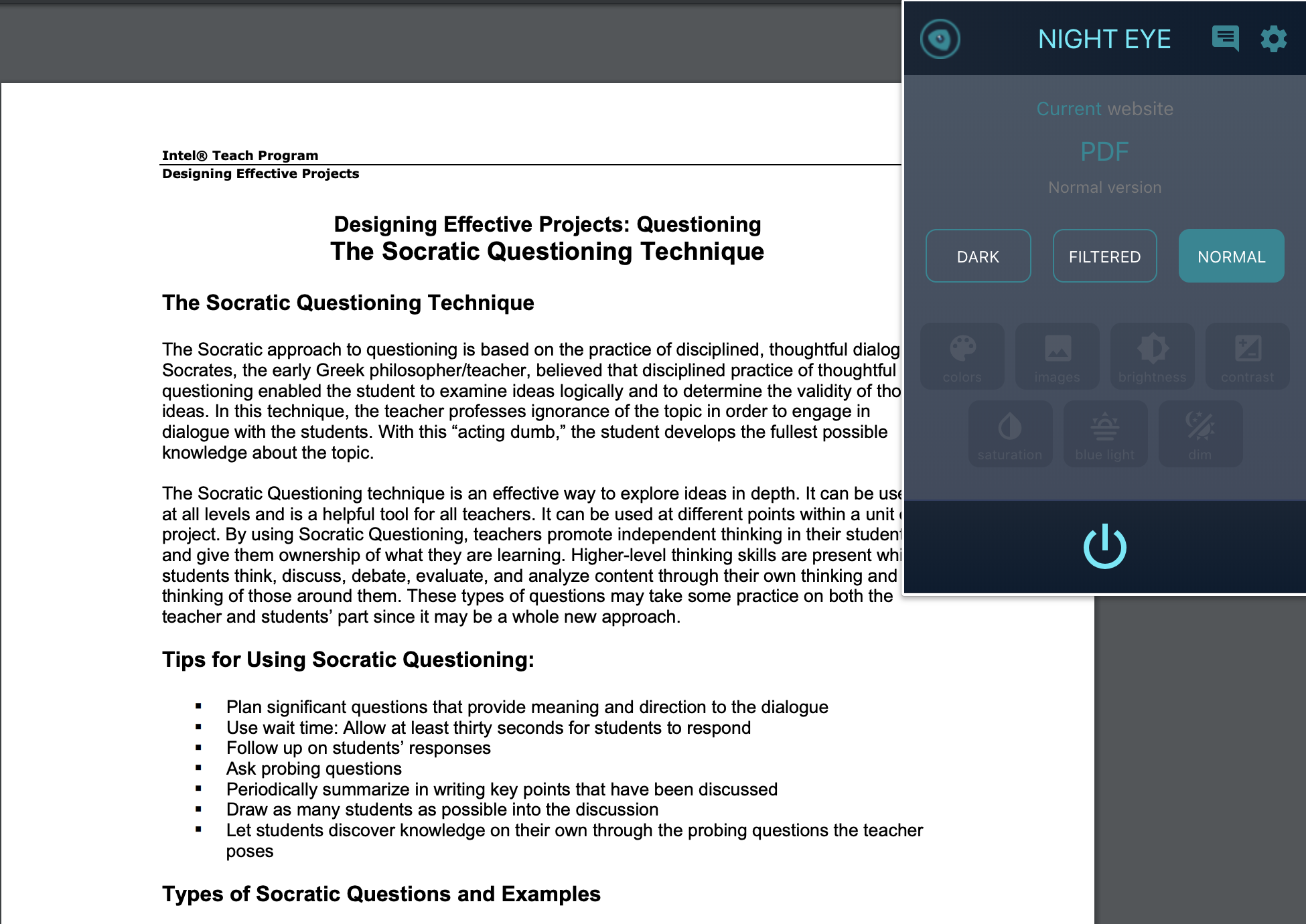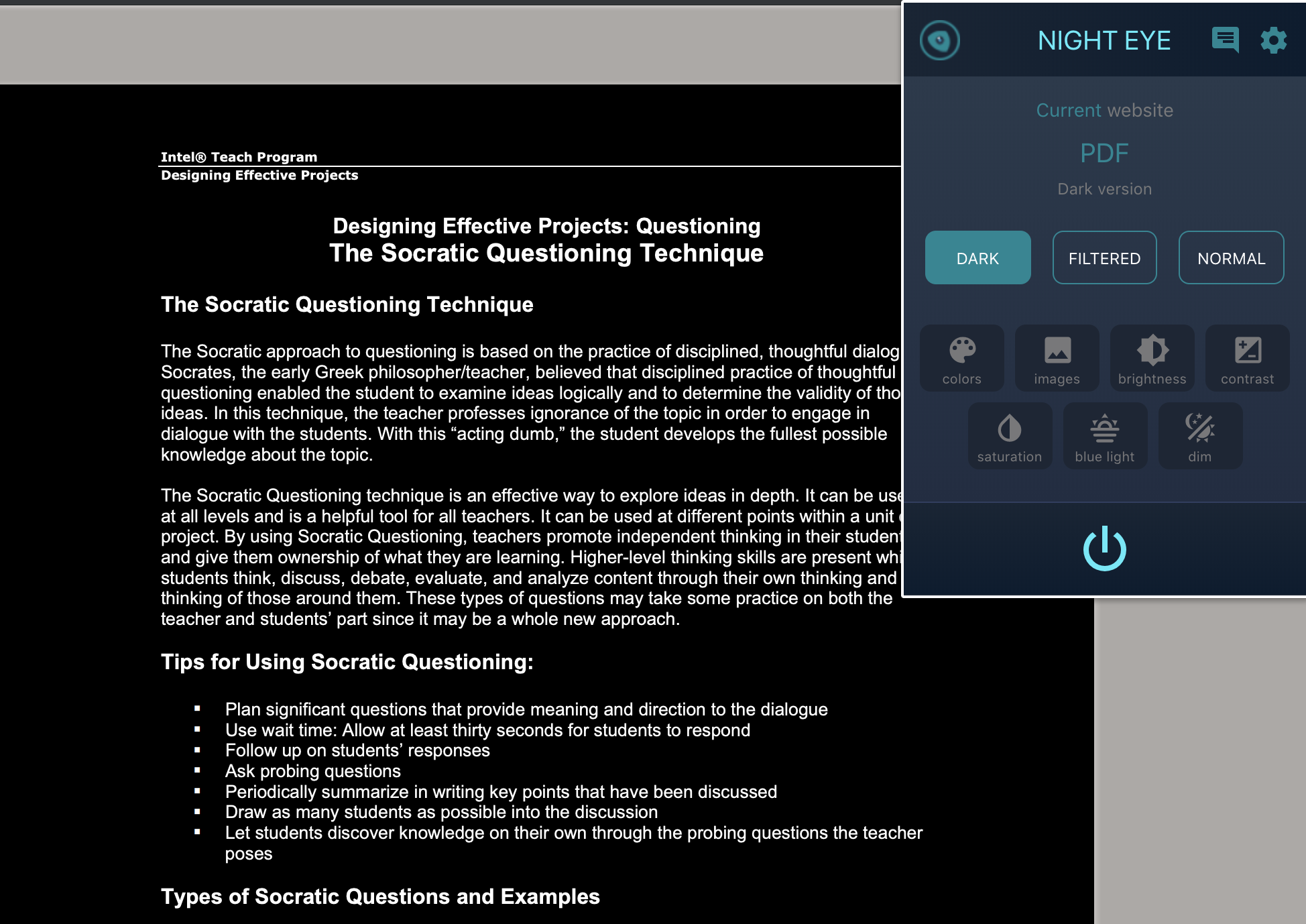 PDFs with filtered mode
If the PDFs are full of images, at some point, you can get dissatisfied with the whole experience. If you reach that state, but still would like to reduce the negative effect of the bright white screen - Filtered mode is the way to go. The following filter levels can be adjusted to suite your personal needs at best.
Brightness
Contrast
Saturation
Blue light
Dim
Here is an example of how would it look if you first apply dimming and afterwards reduce the blue light.
PDFs with dark mode + filters
If you fancy even more customization, you can try throwing some filters while reading the PDFs in dark mode.
Here is an example of dark mode with dimming - before the filter and after its application. It is even better for the tired, of whole day work, eyes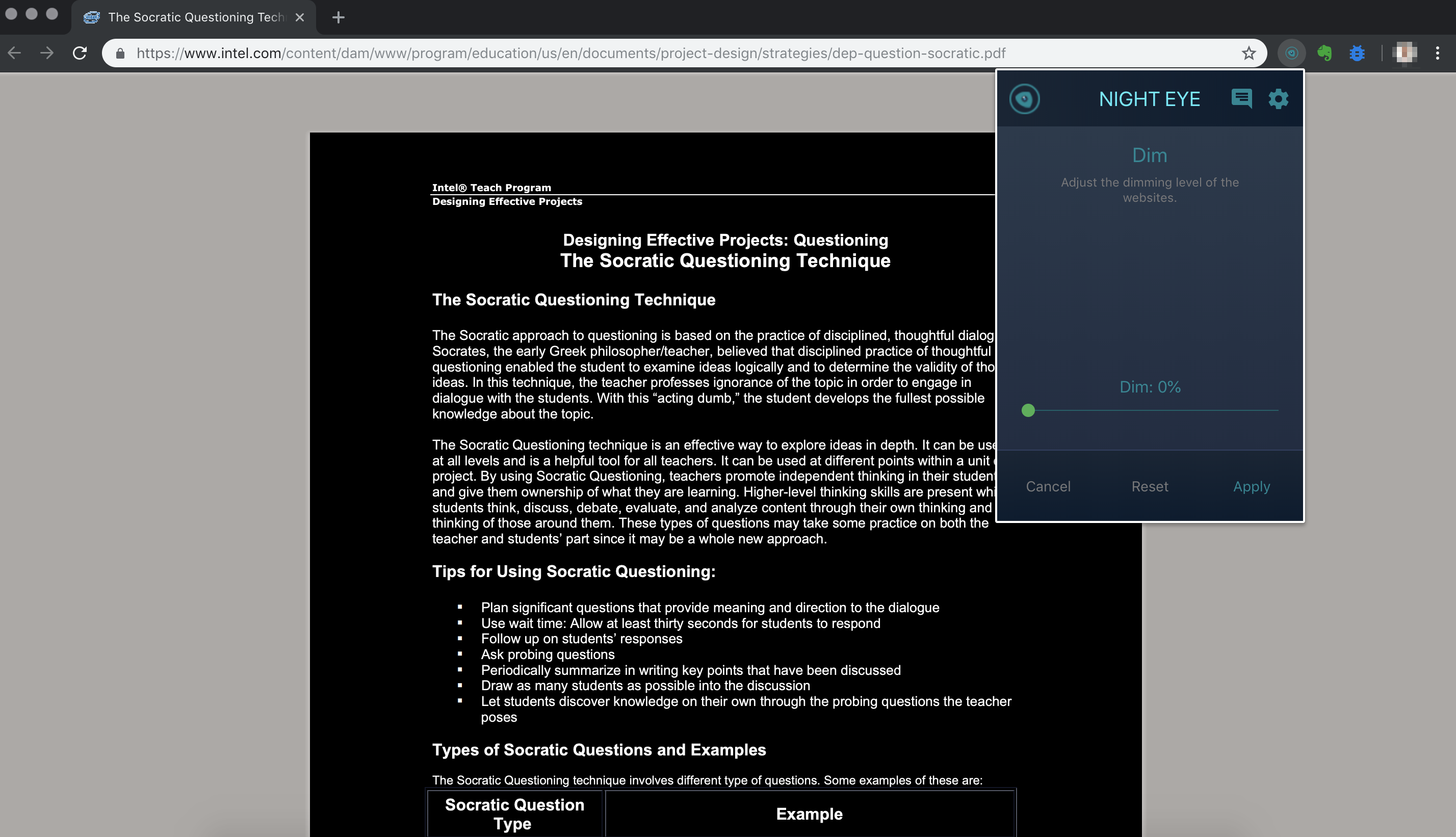 Can I load local PDFs in the browser and have dark or filtered mode enabled for them?
Yes and no. In most cases it will work, but there are still some technical limitations that we cannot overcome causing some PDFs to remain unaffected by Night Eye.
Set preferred settings for PDFs only
You can customise the way Night Eye works per website, per all website you visit and also on PDF level. In other words, you can set certain modes/filters to be applied only when you are opening PDFs in your browser. For example you can have Dark mode as default for every website you visit, but to have extra filters when opening PDFs.
Your feedback is precious to us!
This feature is yet another one inspired by our community. If you have any suggestion on how to provide you a better dark mode experience, contact us via the built-in support chat