Experience the future of browsing with Night Eye's Safari Dark Mode in 2023! This cutting-edge browser extension, designed to enable dark mode on nearly any website, is now accessible to all Safari users, whether you primarily or occasionally use this browser. To get started, simply click the "Add to Safari" button below and enhance your browsing experience with Safari Dark Mode.
Ever since macOS Mojave's announcement in 2018 sparked widespread interest in dark mode, the appeal of dark UI has continued to expand. While numerous mobile apps now offer dark mode options, websites have been lagging in adopting this trend. A handful of sites, including Reddit, YouTube, and Twitter, stand out as notable exceptions among the predominantly white backgrounds of the internet.
That's where Night Eye steps in, propelling Dark Mode Safari into the limelight and enabling users to browse the web with a sleek, eye-friendly dark theme. Don't miss your opportunity to reap the benefits of Safari Dark Mode – just click the "Add to Safari" button below and witness your digital landscape transform into a visually captivating, dark-themed space.
Preview of Night Eye - Dark Mode extension for Safari.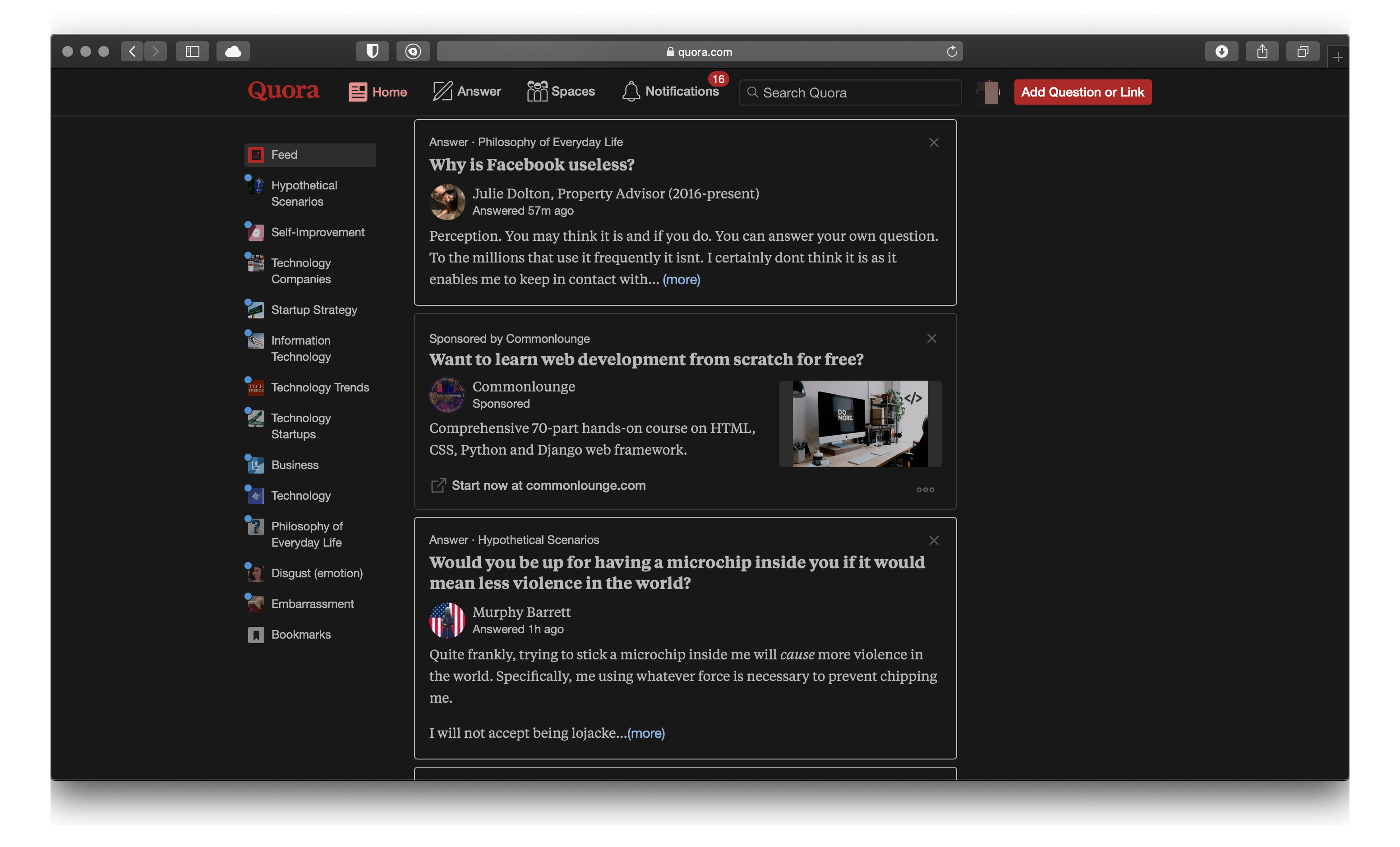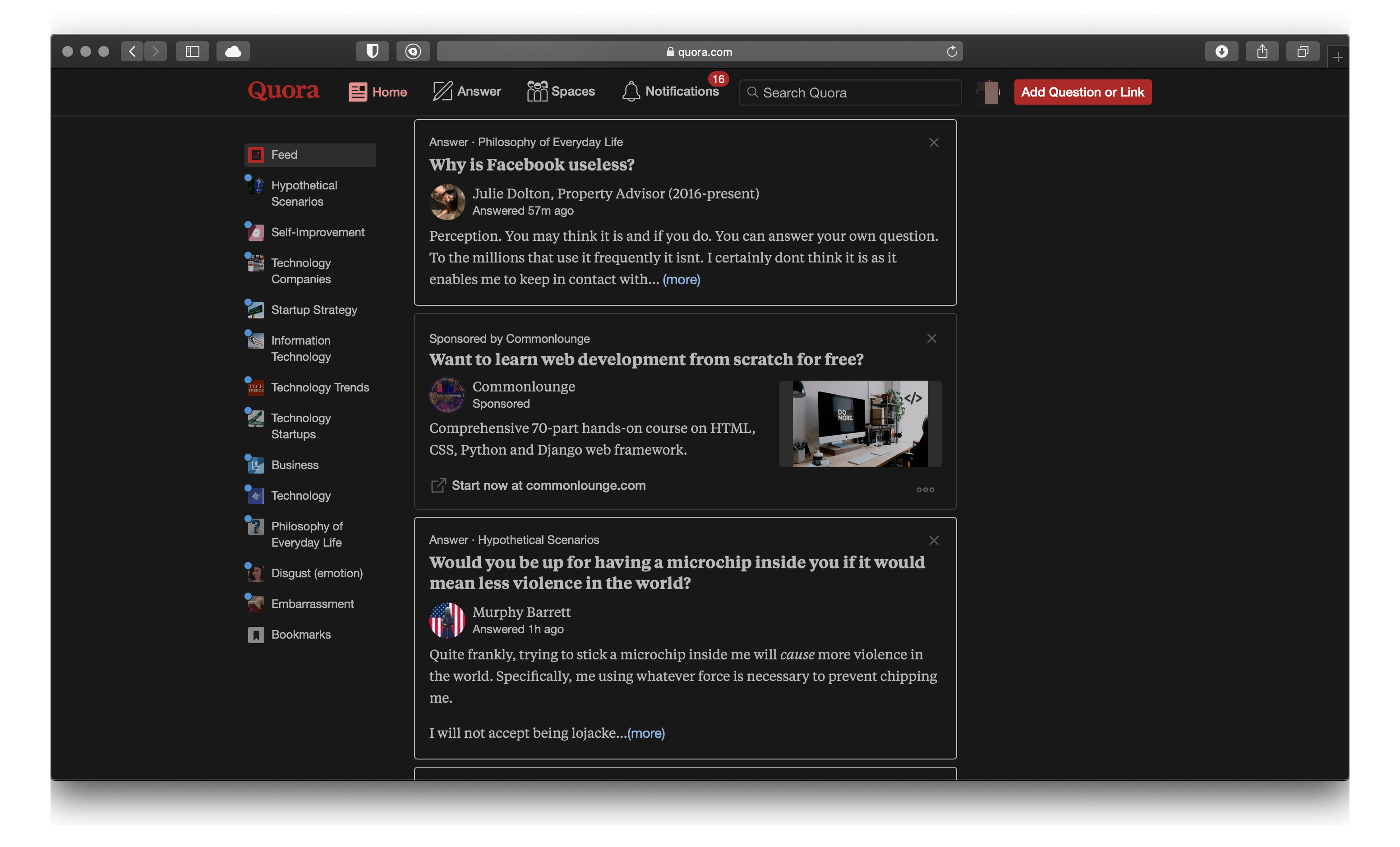 Quora Dark Mode on Safari by Night Eye
Night Eye - Dark Mode extension for Safari
Night Eye has been recognised across the internet and stands out from other similar extensions for 2 main things - it offers smooth dark mode across wide spectrum of websites and offers user support to anyone using it. Usually our users report websites that are not properly converted to dark mode and we fix them within a week or so. Besides enabling dark mode, Night Eye offers other customisation tools such as Blue light filters, screen dimming, contrast level adjustments, scheduling dark mode and whitelisting specific websites.
What is Safari dark mode?
Dark mode is a setting that changes the appearance of a device display from light to dark. The setting reduces the amount of blue light emitted by the screen, which may help to reduce eye fatigue. When enabled, it turns the default white background into black, which makes reading text easier on your eyes at night or in low-light environments.
Why should we use Safari dark mode?
The dark mode is a new feature in Safari that can help you get a better night's sleep. This is because the dark mode will automatically adjust your screen to be less bright and easier on your eyes. It also saves battery life and reduces eye strain. There are many reasons why we should use the Safari dark mode. For example, it makes reading more comfortable on the eyes, it saves battery life, and it reduces eye strain.
How does Safari dark mode work?
Safari dark mode is a new feature in the latest iOS update. It changes the background of your phone from white to black and makes it easier for your eyes when you are browsing the web. The dark mode can be customized in two ways:
You can change your default browser settings by using NightEye.
You can turn on dark mode for individual websites.
What are the benefits of using Safari dark mode?
The benefits of using Safari dark mode are that it saves battery life, reduces strain on your eyes, and conserves power. Is there a way to turn off or disable Safari dark mode on your device? The Safari dark mode is a new feature which allows you to browse the web in a darker environment. It is designed to make it easier on the eyes and it also saves battery life. If you are not happy with this feature, there are two ways to disable this feature.
You can toggle the dark mode by opening Settings > Display & Brightness > Dark Mode and then turn off Dark Mode.
You can toggle the dark mode by opening Safari > Preferences > Advanced and then change "Safari's appearance" from "Use dark appearance" to "Use light appearance"
Why to choose Night Eye for the ultimate Safari dark mode experience?
Choose the mode for every page separately: Dark Mode, Filtered mode or Normal mode
Automatic image conversion in dark mode
Custom control for brightness, contrast, saturation and blue light
Scheduling timer for when to activate the extension
OS Color Scheme Integration - Syncs Night Eye with your current OS color schema.
Support built-in dark mode themes of sites
Night Eye is available in 11 languages and more
How to enable Dark Mode on Safari macOS
Visit your Mac's App Store and download Night Eye.
Activate the Extension from the Night Eye app or Safari Preferences Panel
Tap on the Night Eye extension in Safari and choose the dark mode option. If there's a website you'd like to view without dark mode, simply tap the extension again and choose "Normal."
Enjoy delightful Dark Mode for every page in Safari macOS
(Optional) Enable Dark Mode on your macOS for full Dark Mode experience. Night Eye can be enabled to be controlled from the macOS appearance setting.
How to enable Dark Mode on Safari iOS 15
Visit your App Store and download Night Eye.
Activate the Extension in Safari

Open Settings
Scroll down to Safari and tap
Under the General heading, tap Extensions
Tap on Night Eye
Check the box for Night Eye to allow it
Set permission "All Websites" to Allow

Tap on the Night Eye extension in Safari and choose the dark mode option. If there's a website you'd like to view without dark mode, simply tap the extension again and choose "Normal."
Enjoy delightful Dark Mode for every page in Safari iOS 15

TIP: Read how to enable Google Sheets Dark Mode