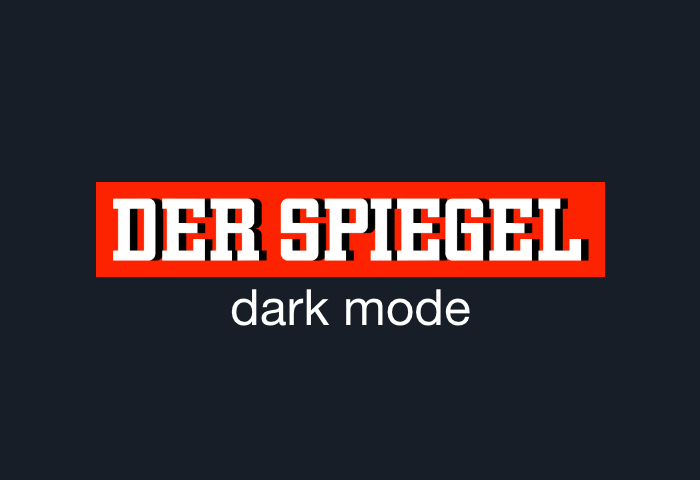 Spiegel is one of the most prominent weekly news magazines in Europe. But just like many websites, it lacks a built-in dark mode. 
Thanks to Night Eye, you now have the choice to switch from the stark white default theme on Spiegel to a beautiful dark theme. Besides being aesthetically pleasing, there are many other reasons to choose the Spiegel dark mode. This guide will share those advantages and how you can enable the Spiegel dark mode on your browser.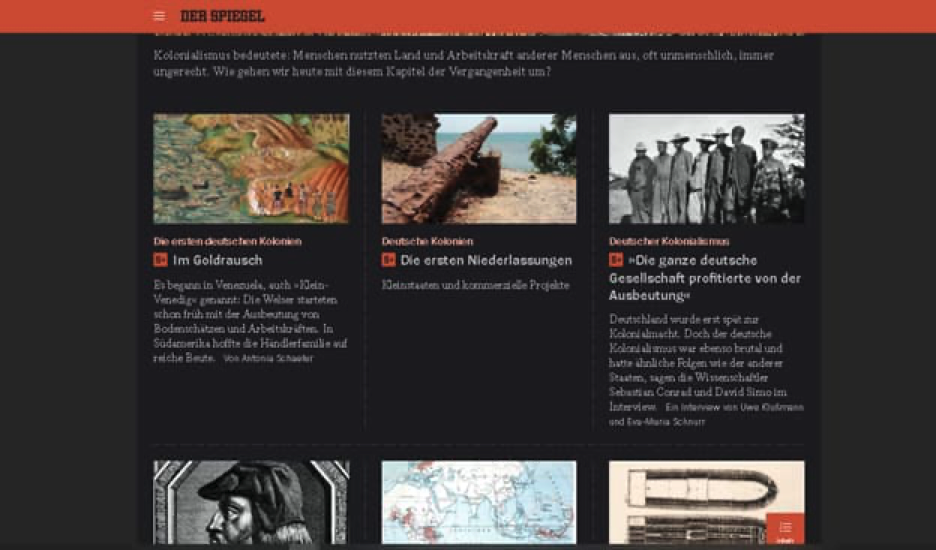 How To Enable The Spiegel Dark Mode?
As a devoted Spiegel user, you can get the Spiegel dark theme for your favorite browser. Night Eye extension can work effectively on any browser, giving you a perfectly dark background that is a glorious sight for sore eyes. \
Follow these steps here to get through the process of enabling the free dark theme on your browser:
Go to the bottom of the article to find download links for enabling the Night Eye extension on your browser.
The next thing to do is select the icon that represents your preferred browser, which will instantly redirect you to your browser extension shop.
Then click 'Add,' and Night Eye rapidly starts converting every web page you open.
You can now visit https://www.spiegel.de/ to appreciate the beautiful background.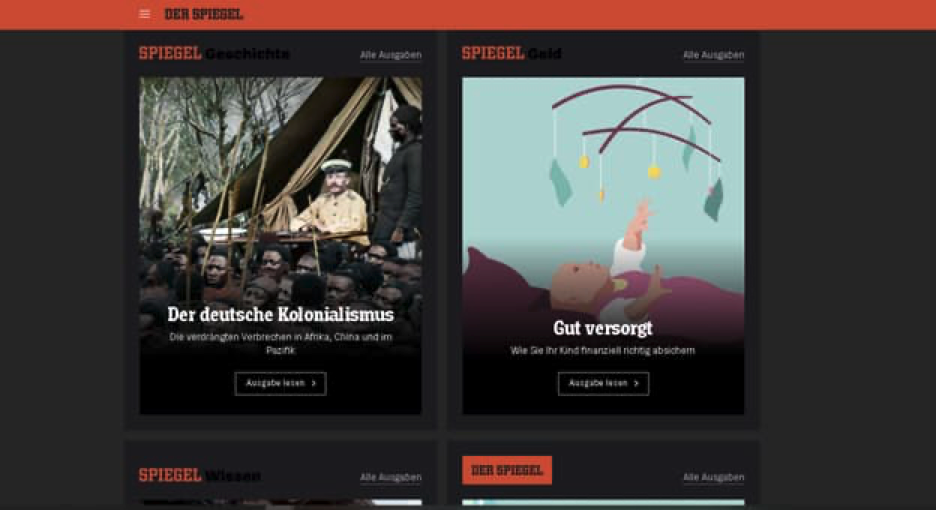 Why Is It Important To Have Dark Mode On Spiegel?
On Spiegel, users spend extended hours checking out news daily. Due to the amount of real-time and authentic information on the platform, Spiegel.de witnesses over 23 million unique visitors monthly. There is a fascinating list of contents to explore on Spiegel.de from sports news, real-time affairs, documentaries, and other curated content. Suppose you are a regular visitor on Spiegel. In that case, you might often spend hours going through a tremendous amount of new information. Trying to enjoy your news content on the bright theme that comes with Spiegel by default is a challenge. Due to the harmful exposure to white light, we often find our visions blurring after several minutes. Before long, the cranky headache sets in, and our mood plummets. There's nothing fun about struggling to enjoy your reading time. 
Fortunately, Night Eye can make your experience different. Night eye offers an enriching dark theme that will go easy on your eyes. This means you can spend as much time as you like on the platform without worrying about eye-sight issues and headaches.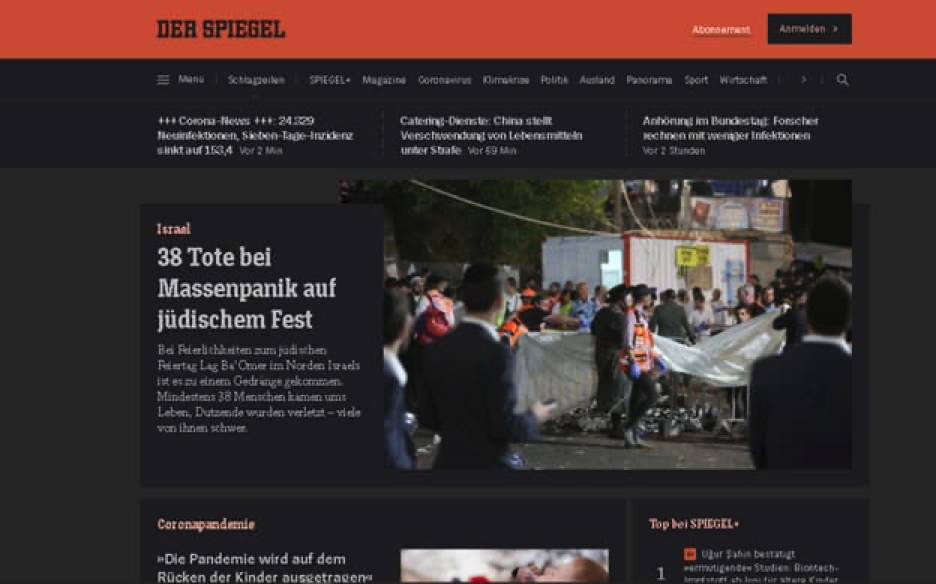 What Are The Health Benefits Of Dark Mode?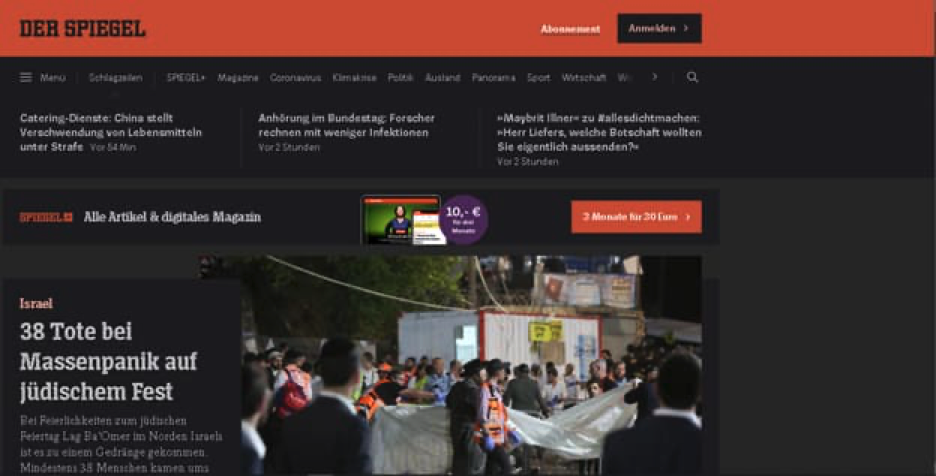 The principal benefit of enabling dark themes on your browser is to safeguard your eyes from unwanted pressure. But notwithstanding, other benefits come with choosing the Spiegel dark theme. Let's look at some of them below:
With Spiegel dark mode, you will not experience red puffy eyes, irritation, dryness, and eye aches associated with looking at a bright screen for so long.
Dark mode enables you to get rid of insomnia by helping you build better melatonin levels.
Spiegel's dark theme would indirectly reduce the shoulder and neck pains usually caused by squinting at a bright screen. Because, with the Spiegel dark mode background, you can sit as upright as possible without straining your eyes.
Night mode alleviates anxiety and irritability, common among avid computer users, often following the frustrations and confusion from eye fatigue.
Spiegel.de dark mode is also an excellent addition for those who have photophobia.
When To Use Dark Mode?
Studies show that a dark theme can boost your battery's power. Most dark mode devotees make use of it all day and night because it increases their device's battery life. But, some other people do not use dark mode all through the day. Below are the various moments to use dark mode, so go through and pick the one that suits you.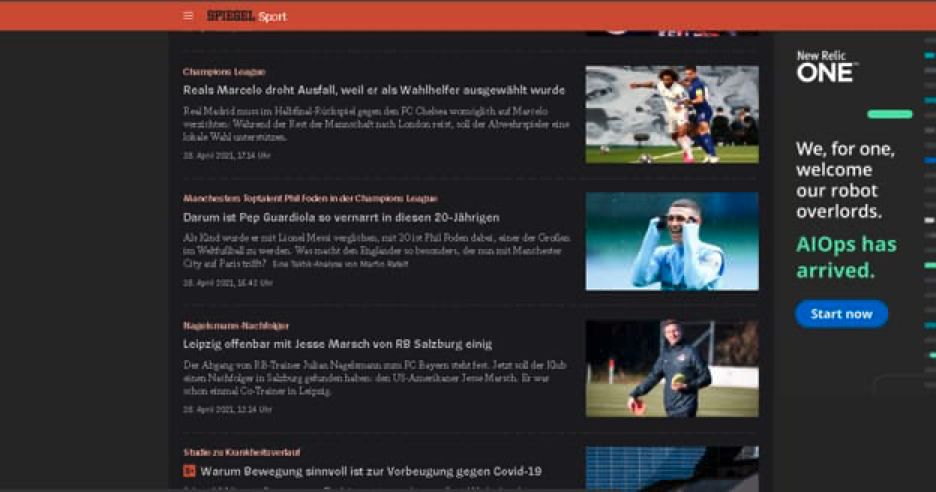 If you love going through the magazines on Spiegel before your good night's sleep, then using the Spiegel dark theme would be great for you.
Spiegel dark theme is impressive for night readers or those that like to read in a dimly lit environment
It's an excellent choice if you've got highlights, photos, and other curated content to enjoy. Spiegel dark mode enhances the readability of texts giving you softer colors that will expand your focus.
Those that have light sensitivity issues would love using Spiegel night mode.
Install Night Eye
No credit card, no names, nothing is required – install Night Eye on your preferred browser and enjoy it completely for free for 3 months. Subsequently, you can stick with the free Lite version or subscribe for $9 per year. You can see for yourself how this dark mode browser extension can help you fight eye strains.