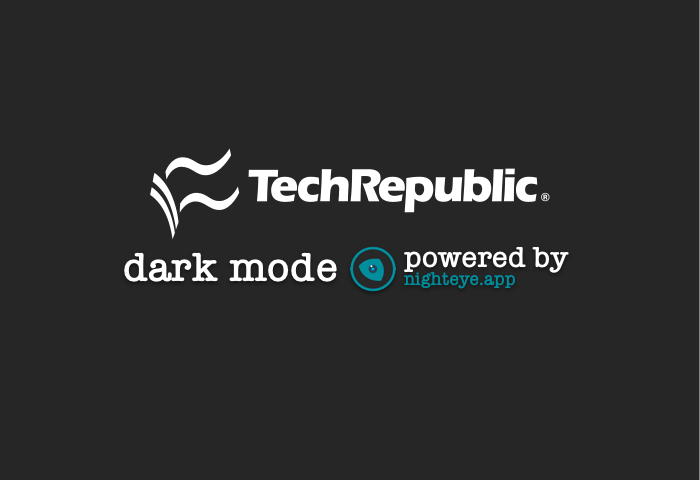 TechRepublic was founded in in 1997 in Louisville, Kentucky, United States by Tom Cottingham and Kim Spalding. The site came online in May 1999 and was later purchased by CNET Networks in 2001 for $23 million as an addition of the CBS Interactive business portfolio alongside ZDNet, BNET, SmartPlanet and CBS MoneyWatch.
TechRepublic
is a rich and resourceful tech website on which you can spend literally hours if you are a tech savvy person. One big drawback is the lack of built-in dark theme. The lack of dark mode becomes increasingly important topic which needs to be addressed. Night Eye can help you overcome that and enable dark mode on TechRepublic. Bellow you will find more details, previews and interesting facts.
Who reads TechRepublic
TechRepublic.com is the leading online destination with the largest community of IT leaders, developed exclusively for IT professionals, by IT professionals. TechRepublic.com is established as an online trade publication and social community for IT professionals, with advices on best practices and tools for their day-to-day activity, focused on IT solutions.
TechRepublic offerings
There are 2 main products that are offered by the tech website.

1. TechRepublic free resource library - IT white papers, webcasts, case studies, and much more.

2. TechRepublic Premium content - rich selection of content from tech experts, industry analysts, and real-world IT professionals. Library of exclusive content, including research reports, customizable policies and templates, ready-made lunch-and-learn presentations, ROI calculators, and eBooks containing the best content from TechRepublic, ZDNet, and CNET.
Read TechRepublic with dark mode on
Nowadays people want to dive into the depths of modern technology and stay in touch with all the latest updates in the IT industry. It seems TechRepublic.com is the right place to do so. But what is the best and safest way to get our "daily dose" of IT knowledge? As an IT professional or just as a tech-savvy person, the time spent on sites such as TechRepublic.com can take several hours per day, which may cause severe side effects such as the "digital eye strain" condition, blurred vision, burning eyes or headaches. In fact, nearly two thirds of American adults now experience such symptoms due to prolonged use of electronic devices. (
source
)
Thankfully, there are ways to minimize the harm from our digital lifestyles and that's when Night Eye comes into use. Enabling this dark mode extension on your browser will reduce the eye fatigue from the blindingly bright user interface of most sites on the web by eliminating the blue light coming from your screen.
It is scientifically proven that negative polarity (dark mode) is way less harmful to human vision in the long run than the ordinary light mode, so you should probably consider it as an option. Feel free to install the Night Eye extension and start exploring the endless depths of IT knowledge on TechRepublic.com with additional eye protection. The installation process will take just a few seconds as no registration information is required. The first three months are totally free! Afterwards the price will be a little over 2 cents per day and also, you would be able to choose our forever free version of the extension. With Night Eye, it is a win-win situation!
TechRepublic dark mode preview by Night Eye