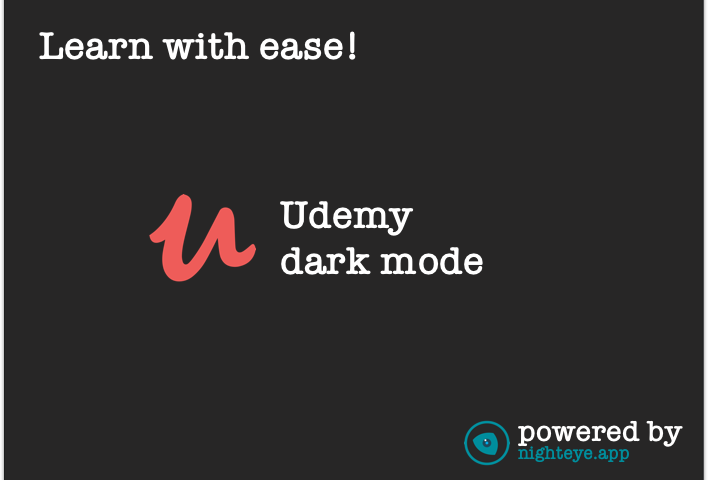 In today's guide, we will discuss everything about Udemy like the history of the website and the short profile of the visitors. We will also throw light on its content, interesting facts along with the dark mode of Udemy using the Night Eye extension.
The History of the Udemy
Udemy is an online educational platform that facilitates learning by providing various online courses. The famous American entrepreneurs, Eren Bali, GaganBiyani and OktayCaglar laid the foundation of this educational technology platform back in the year 2010 on May 11. The headquarters of Udemy is in San Francisco, CA. It offers a variety of courses in a total of 65 languages. More than 50 million students have enrolled in the courses that Udemy offers. With the help of Udemy, you can explore thousands of courses that start from only $10.99.
The founders of Udemy,
Gagan Biyani
, Oktay Caglar, and Eren Bali made efforts in February 2010 to increase the capital funding of this project. But they could not impress their investors with the idea of increasing the capital. The investors rejected the Udemy funding venture for almost thirty times. This rejection did not discourage the Udemy founders and they self-started the process without external input. Due to these efforts, they became successful in launching Udemy – "The Academy of You"!
Who is using Udemy?
Udemy targets students and instructors from all over the globe. The students can enroll in the courses and the instructors from around the world can teach millions of students. It also offers various tools and skills to the instructors to teach what they love.
What kind of content can be found on Udemy
Udemy is an online learning platform, so it provides a variety of courses in several languages. These courses are available in many domains. The students can also raise their doubts and queries and can contact trainers using online discussion boards. It also offers various course development tools. These include PowerPoint presentations, video, audio, zip files, documents, and PDFs.
Interesting facts about Udemy
This leading global marketplace has recently launched its mobile app due to which you do not need to carry your laptop everywhere to learn. With the
Udemy mobile app
, you can learn at any time and any place.
With its 30-day money-back guarantee, if you have joined the course and in a few days, you have realized that you are not satisfied with it, you can get your money back.
Udemy Dark Mode
Use the Night Eye extension to enable Udemy dark mode. There are a lot of benefits to dark mode. It helps a lot in
protecting your eyes
when you are studying or simply browsing the site late at night. The latest update fixed small iFrame issue and improved the page loading speed. More than one 80 000 people use this Night Eye extension to customize their browsing experience completely.
How to enable Udemy dark mode
Install Night Eye on your browser
Night Eye automatically converts ever site to dark mode. Enjoy the Udemy dark theme.