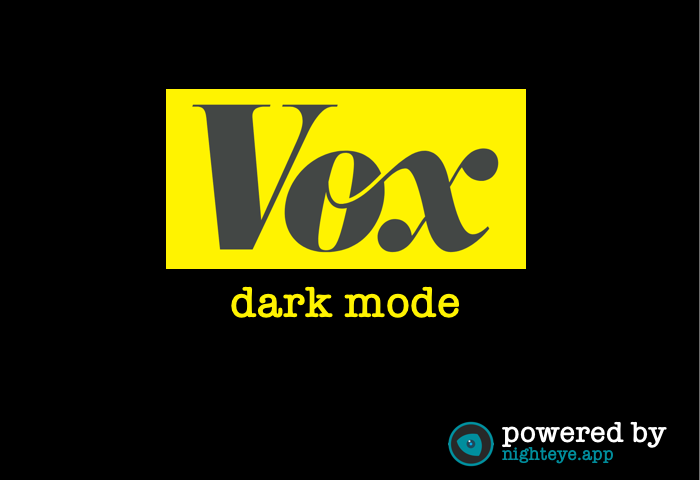 Each and every second the global situation is changing and for better or worse, it is the world we live in. From domestic, international and political news to sports coverage and entertainment activities, every one of us needs a reliable source of information which can guide us like a compass in the present-day full of dynamic events. As one of the most famous and trusted news sites on the web, millions of readers are visiting Vox in search for the latest news and trusted reviews. In the next lines we will present Vox for those of you who are unfamiliar with it, and how combined with dark mode, you can visit your favourite news site on the Internet in more stylish and healthier way!
History of Vox
Vox is a liberal-leaning American news and opinion website owned by Vox Media. The website was founded in April 2014 by Ezra Klein, Matt Yglesias, and Melissa Bell, and is well-known for its concept of explanatory journalism.
Vox Media, Inc. is an American digital media company based in Washington, D.C. and New York City. Founded as SportsBlogs Inc. back in 2005 by Jerome Armstrong, Tyler Bleszinski, and Markos Moulitsas, the company was rebranded as Vox Media in 2011. It operates additional offices in San Francisco, Chicago, Los Angeles, Austin, and London. As of June 2010, the network featured over 300 sites with more than 400 paid writers. Today, Comscore ranks Vox Media as the 26th-most popular media company among users from the United States. Vox Media presence also includes a YouTube channel, several podcasts and a show presented on Netflix.
Vox visitors
Vox has millions of loyal visitors around the globe. At this website you can find reliable information for basically everything that matters - through politics and policy, business and pop culture, food and science, to sports and entertainment.
Purpose of Vox
To deliver trusted reviews and insights to its visitors in a "world of too much information and too little context." (Source)
Vox mission is to explain the news in every aspect of life – health, politics, public policy, world affairs, pop culture, science, business, entertainment and more…
Interesting facts about Vox
Vox version 1.0 took exactly nine weeks hard work to launch. We can now say that it was really worth the time!
Vox with dark mode on – try it!
Whether you are a long-time Vox visitor, or you just found about this amazing news website, enabling Night Eye on it will surely suit your taste! Apart from the new and modern stylish look that Vox will instantly gain, your eyes will enjoy this dark mode extension, as the negative polarity will eliminate the harmful blue light which is otherwise emitting from your PC or laptop screen. The blue light is the main source of symptoms like eye strain, the dry eyes effect, headaches and even blurred or double vision.
Night Eye offers you a simple and quick resolution to prevent these negative effects. Maybe it is just about the right time to take care for your eyes?
With Night Eye, the standard blindingly bright user interface on Vox will be replaced with a new modern looking and more stylish dark mode version of the site which is also way less harmful to your vision!
Try Night Eye and see the effects after just 20-30 minutes browsing with dark mode on!
Start your FREE 3 month trial
No credit card, no names, nothing is required - install on your preferred browser and enjoy completely for free for 3 months. After that, you can stick with the free forever Lite version and subscribe for $9 per year. See by yourself how this dark mode browser extension can help you fight with eye strain caused by our modern life