Like many websites, WeChat has no built-in dark mode. However, Night Eye makes it easy to enjoy a smooth and feature-rich dark theme on the WeChat web app. 
Having WeChat dark mode on, you can expect properly converted font, icons, colors, and images. The result is both a crisp and smooth dark interface that you would absolutely adore.
The aesthetic design isn't the only reason you should choose the WeChat dark theme; you have many fascinating health benefits. Here, we will talk about those excellent benefits, set up the WeChat night mode, and when to use it.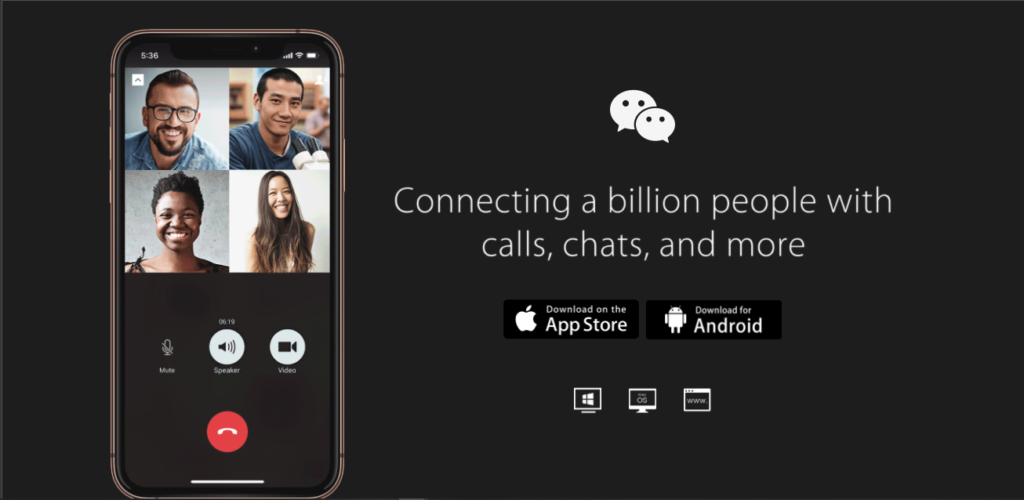 How to Setup the WeChat Dark Mode
You can start using the WeChat dark theme on your favorite theme as fast as possible. The Night app works perfectly In any browser of your choice, transforming your WeChat and every other web page you visit.
Here are the steps you need to enable the dark mode on your browser:
Go to the bottom of this article to find download links for the Night Eye app. 
Tap the icon representing your browser to kick-start the process. If you use a Chrome browser, then you should select the symbol representing that browser.
Once you click on the icon, you will be redirected to your browser extension store.
Tap 'Add' and the Night Eye seamlessly produces a browser-wide dark color scheme automatically.
Visit the https://web.wechat.com and start enjoying that stunning dark surface that transforms the ambiance and color palette of WeChat into a deeply satisfying dark environment.
Why is it Important to have Dark Mode on WeChat?
Millions of people worldwide use WeChat for messaging, shopping, meeting new friends, making audio and video calls. A good number of us literally can't go a day without going on the platform. 
On average, we spend about one-third of our total time interacting on WeChat. This does not bear in mind the amount of time we spend exploring photos, videos and making endless calls. Looking at the amount of time spent, there's nothing to be gained staring at a bright background for hours and hours. It's no wonder we often find ourselves angry, depressed, and struggling with endless headaches and migraines. 
However, WeChat recently released a dark mode which doesn't work well on websites. This dark screen doesn't come with a true dark theme's full effect and renders texts challenging to read, which is why thousands of WeChat users have complained about it. Fortunately, Night Eye is a feature-rich dark theme extension that completely revamps your WeChat, making it not just dark but perfectly legible. WeChat dark theme is tailored for your comfort, with perfectly contrasting colors that will protect your eyes and improve readability while making the interface elements clear and distinct. In turn, your WeChat will stop producing too much glare, making WeChat more comfortable in lowlight conditions.
What are the Health Benefits of Using a Dark Theme
Protecting your eyes when interacting on WeChat is the most significant benefit that makes the WeChat night mode awesome. Below you will find other excellent reasons to choose the dark mode at any time.
The dark mode fosters health and well-being by minimizing eye fatigue and getting rid of the blinding white screen.
It also cuts down your exposure to white and blue light, thereby getting rid of eye strain, and may help you build sleeping patterns.
It helps you get rid of dry, painful, and teary eyes as the dark mode go easy on the eyes.
Dark mode helps reduce tension headaches and migraines.
It also gets rid of visual disturbances and frequent dry eyes.
The dark mode also helps you develop better melatonin hormone levels to eliminate insomnia.
It also stops you from stimulating the ganglion cells in the eyes to an excessive degree. That way, you can limit the chances of developing eye issues such as myopia. 
When to use the WeChat dark mode
Dark mode makes everything else fade into the background to craft a movie theater experience when exploring WeChat in dark environments. Some people love having that movie-like experience all round the clock. But when's the perfect time to turn on your Wechat dark theme. Below you will find insights on the ideal time to use the WeChat night mode.
As a night owl, you can give your eyes a rest while chatting with your friends and loved ones all night long.
It is excellent for video calls at night when you don't want a stark white light illuminating your face.
It is easy to focus on what's most important in front of you, especially when you are in a dimly lit environment or a dark room.
Ideal for streaming pictures and video contents with a vibrant contrast and intense colors.
The dark mode is excellent for low battery mode, making it easier to conserve your battery. That way, you interact with family and friends for hours without worrying about your battery.