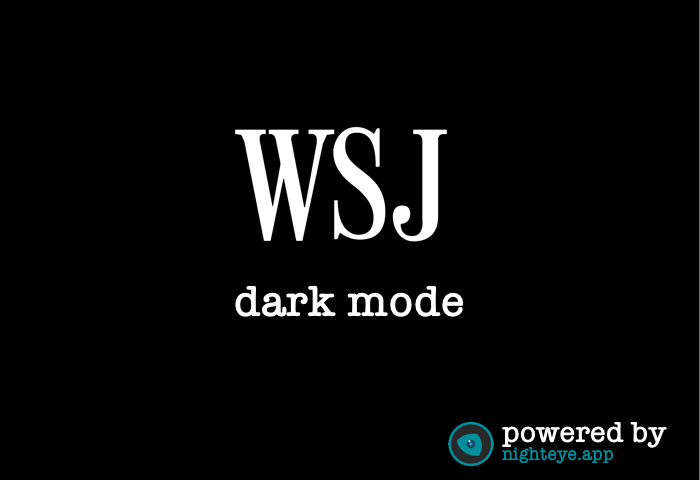 Knowledge is power and nowadays verified economic and political information can really give you the cutting edge on your competitors. In a world of mass media and misinformation, you need a reliable and trusted source on the Internet. And in case you are an investor or entrepreneur, The Wall Street Journal is your must-have daily business-focused newspaper. In this blog we will review the history of this journal, and how combined with our Night Eye dark mode browser extension, you can read the news on their official website with even greater pleasure in a healthier way!
The Wall Street Journal history
Known also as The Journal, The Wall Street Journal is an American business-focused, English-language international daily newspaper based in New York City with international editions also available in Chinese and Japanese. It is published six days a week by Dow Jones & Company, a division of News Corp. The newspaper is also published in the broadsheet format online and has been printed continuously since its inception on July 8, 1889, by Charles Dow, Edward Jones, and Charles Bergstresser.
With a circulation of about 2.834 million copies (including nearly 1 829 000 digital sales) as of August 2019, The Wall Street Journal is one of the largest newspapers in the United States. Its magazine edition is publishing the luxury and lifestyle news and was originally launched as a quarterly but expanded to 12 issues as of 2014. The online version was launched in 1996, which has been accessible only to subscribers since it began. As of 2019, the newspaper has won 37 Pulitzer Prizes.
The Wall Street Journal readers
The Journal and its official website is for everyone interested in political and science news and is especially useful for entrepreneurs and investors with daily financial and real-time coverage of the economy.
The Wall Street Journal mission
The main purpose of The Journal is to cover business and financial news and to be fair, objective and mostly factual in providing them.
Interesting facts about The Journal
The Wall Street Journal is regarded as a forum for climate change deniers, publishing articles by individuals that reject the common position on climate change. These columns frequently attack climate scientists and accuse them of engaging in fraud. A research from 2015 showed that The Wall Street Journal was the newspaper that was least likely to present negative effects of global warming among several newspapers. Another major American daily newspaper, The Washington Post, even characterized the Wall Street Journal's editorial pages as "the beating heart of climate-change skepticism".
The Wall Street Journal subscription plan
With The Journal subscription you can get the latest trusted reviews and facts - from economics and politics news, to culture and daily life information. That would cost you €1 for the first 2 months and €9.99 per month thereafter. By subscribing you will be able to stay in-touch with the latest reports in every point in the world with the complete suite of digital products. More details about the offer - here
Unlimited access to WSJ.com across any device
WSJ mobile app.
WSJ tablet app.
Informative podcasts, featuring interviews with WSJ editors and notable influencers.
WSJ+ Premium Benefits Program, with complimentary access to an unmatched selection of events, offers and experiences.
The Wall Street Journal dark mode is here
The Wall Street Journal is indeed one of the most respected and trusted daily business-focused newspapers. But have you tried reading the official website and online version of The Journal in dark mode? If the answer is no, then you should really consider it.
Previews of WSJ dark mode powered by Night Eye
Install Night Eye extension and reinvent your browsing experience on your laptop or PC screen while gaining the priceless knowledge including in-depth analysis on daily basis, management and leadership advices, global markets and tech news, 24/7 U.S. and world news coverage and far more.
Why dark mode is better than the standard blindingly bright interface on ? We will highlight three reasons among the countless more. First, from health perspective, there may be negative long-term effects associated with light mode and the continuously starring at our monitors can actually damage our eyes. Unfortunately, symptoms like the Digital Eye Strain, the dry-eyes effect, blurred vision and headaches are well-known amid the digital users.
The main cause of this is the harmful blue light emitting from the screens.
By enabling Night Eye, you will replace the positive contrast polarity (light mode) with negative contrast polarity (dark mode) and completely eliminate the blue light. This way you will reduce to minimum the above-mentioned negative symptoms and can even exclude them forever!
Second, it is scientifically proven that for people with visual impairments dark mode will do better as the eyes are way less stressed while looking at a screen applied with negative contrast polarity. And last, but not least, some users simply like dark mode better. And there is a reason for this as dark mode is way more modern and stylish looking than the ordinary light mode of most websites.
Start your FREE 3 month trial
No credit card, no names, nothing is required - install on your preferred browser and enjoy completely for free for 3 months. After that, you can stick with the free forever Lite version and subscribe for $9 per year. See by yourself how this dark mode browser extension can help you fight with eye strain caused by our modern life