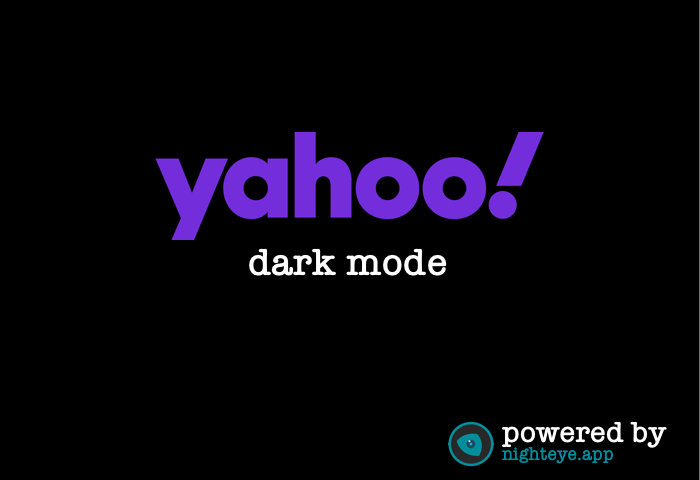 In this article, we will take a glimpse of one of the pioneers of the early Internet era in the 1990s, the notorious Yahoo!, and how you can use the services of this widely recognized web provider in dark mode, for increased eye-care and better visual experience.
What is Yahoo!
Yahoo! is an Internet portal with an implemented search engine and a directory of World Wide Web sites organized in a hierarchy of topic categories. Yahoo! provides Web users the reassurance of a structured view of hundreds of thousands of Web sites and millions of Web pages and also one of the best ways to search the Web for a given topic. This Internet portal is associated with the most popular Web search sites, making it easier from a user perspective to search and find results from the six or seven most popular search engine sites Yahoo links to.
History of Yahoo!
Originally founded by Jerry Yang and David Filo back in 1994, Yahoo! provides numerous services such as a web portal, search engine named Yahoo! Search, including Yahoo! Directory, Yahoo! Mail, Yahoo! News, Yahoo! Finance, Yahoo! Groups, Yahoo! Answers, advertising, online mapping, video sharing, fantasy sports, and a social media website. Formerly Yahoo! was one of the most popular sites not only in the United States but also in the world with over 7 billion views per month – ranking as the sixth-most-visited website worldwide in 2016. In the late 2017s the company's success slowly declined but despite that, Yahoo! domain websites are still among the most popular, ranking it 12th globally according to the Alexa rankings as of June 2020
As an American web services provider based in Sunnyvale, California, Yahoo! is currently owned by Verizon Media who acquired most of the company's Internet business for $4.48 billion in 2017.
Interesting facts about Yahoo!
The word "yahoo" may refer to "Yet Another Hierarchically Organized Oracle" or "Yet Another Hierarchical Officious Oracle". The term "hierarchical" described how the Yahoo database was arranged in layers of subcategories. The term "oracle" was intended to mean "source of truth and wisdom", and the term "officious", rather than being related to the word's normal meaning, described the many office workers who would use the Yahoo database while surfing from work. Founders Filo and Yang explained that they mainly chose this name because they liked the slang definition of a "yahoo" (used by college students in David Filo's native Louisiana in the late 1980s and early 1990s to refer to an unsophisticated, rural Southerner): "rude, unsophisticated, uncouth."
Yahoo! products and services
Yahoo Mail
Ymail, also known as Yahoo Mail, is an electronic mail service offered by Google. Providing four different email plans from which three are for personal use (Basic, Plus, and Ad-Free) and one for businesses, Yahoo Mail has more than 300 million user base connected which makes it one of the largest web-based email services across the Internet.
Yahoo Search
The self-named search engine is owned by Yahoo and is the third-largest search engine in the US, just behind Google and Bing. With an implemented directory of World Wide Web sites organized in a hierarchy of topics and categories, Yahoo Search provides an efficient way to search the Web on any given subject.
Yahoo Search Marketing
As a PPC advertising service, Yahoo Search Marketing offers the keyword-based search Internet marketing services to help promote your business beyond the conventional ways of search marketing. Yahoo's income is mainly generated from advertising and it is not a coincidence that Yahoo Search Marketing has a list of services such as local advertising, sponsored search, and Yahoo Publisher Network. This feature also enhances the Search Engine Optimization and gets a better SE ranking for your website.
Yahoo News
Yahoo News is not a typical news site. It was made to gather articles from various news services at one single place for the sole purpose of easy reading and viewing. In the beginning, this service had incorporated the feature of commenting on the news articles but later this feature was removed due to glitches.
Yahoo Maps
Yet another great feature, Yahoo Maps is a free online mapping portal which includes useful functionalities like providing local weather information, local search maps. Yahoo Maps can be also embedded and integrated into other web pages which is helping these sites to display content from other sources, provided by various mapping portals, ensuring information sharing with ease.
Yahoo Video or Yahoo View
Launched as a video-on-demand service, at the very beginning, Yahoo Video facilitated the uploading process of various video content which was later on removed. Now, this feature streams the latest television series from numerous networks in the US and few archived channels from other distributors.
Yahoo Mobile Services
To keep in touch with the present, nowadays Yahoo provides a variety of mobile services such as Messaging, blogging, New Digest, Yahoo Sports, Flickr, weather, and more of similar products, all available and accessible on smartphones. Yahoo Messenger was created to enable the chatting facility for its users.
Yahoo Groups
Recognized as one of the largest online discussion boards or forums where conversions are held online using message posts, Yahoo Groups is allowing group admins to post some informative message they want to share with the members, whenever they want to. Group members can also filter the daily news or special emails with the help of this service.
Yahoo Answers
The idea behind Yahoo Answers is to be a top-quality Q & A website that can help users to facilitate the posting process of questions for which they are seeking an answer and even answer questions posted by other users in the community. With Yahoo Answers, you can post any query related to anything and everything, and you will get useful replies to your queries by not just one but multiple people with different opinions and experiences, thus reassuring an almost endless source of information.
Yahoo Finance
Yahoo Finance is the largest business news website in the US in terms of monthly traffic. As a part of the Yahoo network, this website provides news related to stocks, sales and finances, financial reports, press releases, and useful online tools for personal finance management.
In case you were not already convinced of how useful Yahoo! services may prove for you, now you almost certainly are. Let's see how we can benefit from these unique products in a more sophisticated and healthier way by enabling Night Eye dark mode browser extension.
Yahoo! dark mode ON
Using products of a top web service provider such as Yahoo! is incomparable to billions of users around the globe. If you are one of them, now you can benefit from probably the largest database in the world in a modern and most importantly, healthier way. Meet Night Eye browser extension with which you can instantly reinvent not only your Yahoo! experience but improve the overall quality of the web surfing in just a single click. By installing this dark mode browser extension, you will apply negative polarity on your desktop and laptop screen, ensuring the maximum layer of protection to your eyes.
We do spend a lot of time in front of our monitors, and unfortunately, as a result, the number of people complaining of symptoms such as headaches, eye strain, blurred vision, and sometimes even conditions like insomnia, is only ever increasing. That is caused mainly due to two factors, negatively impacting our eye health – blue light and screen flickering. Night Eye will help you eliminate both of these sources from your digital screen, by protecting your eyes even if you continuously stare at blindingly bright website interfaces, which in most occasions is the case. The harmful blue light will be minimized and controlled via the implemented Blue Light filter provided by Night Eye, alongside many other customization options for colors, brightness, contrast, and saturation. If existing, screen flickering will be also eliminated from your display, ensuring your eyes are well and safe. Try Yahoo! dark mode and you will never want to return to the blindingly bright backgrounds of most websites and services, as it will be replaced by a more stylish dark version, massively improving your visual experience.
And in case you prefer the good old
Google search
- we got you covered, as well.
Preview of Yahoo dark mode by Night Eye
Install Night Eye dark mode now
Install Night Eye and enjoy a completely free 3-month trial period. Then, if dark mode suits you, subscribe for just $9 per year, or choose our forever free Lite version. Already used daily by more than 118 000 users, Night Eye is available on all platforms and modern browsers. Now, it is time to relish Yahoo! dark mode.