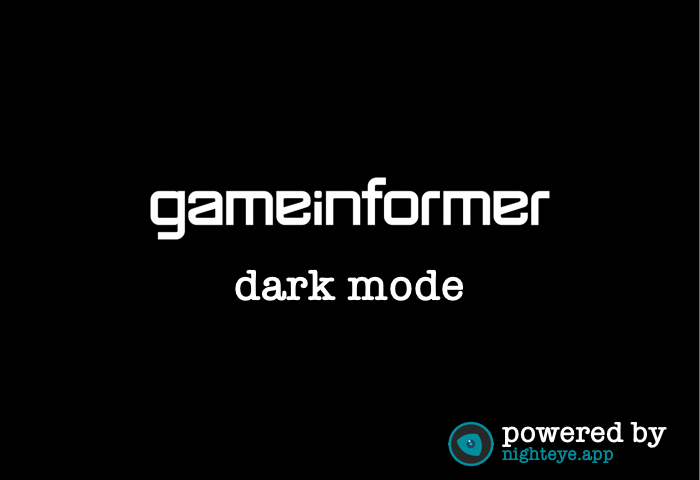 For every true gamer some sites are at the top of his bookmark list. These websites deal with gaming-related news, reviews of the most exciting releases, hardware reviews, interviews with the industry's biggest names, and more. In this article we will take a closer look at one of the most notorious of them all – gameinformer.com, and how combined with a dark mode, you can enter the gaming world in a cooler, modern-looking, healthier way. Let's begin!
History of Game Informer
Originally launched in August 1996 as the online version of the famous Game Informer (GI) American monthly video game magazine, Game Informer Online ( https://www.gameinformer.com/ ) featured daily news, updates, and articles. Justin Leeper and Matthew Kato were hired on in November 1999 as full-time web editors. Both of them were eventually hired also as part of the editorial staff of the magazine.
In 2003, GI Online was revamped with a full redesign of the site alongside many additional features as a review database, daily news updates, and exclusive content for subscribers.
In March 2009, the coding process for what would be the latest GI Online redesign to date began. The idea of this update was to be released hand-in-hand with the magazine's redesign. On October 1, 2009, the newly redesigned website was live and many new features were introduced, such as rebuilt media player, a feed highlighting the site activity of the website's users, and the option to create user reviews. At the same time, the famous magazine's podcast called "The Game Informer Show" was also launched.
Game Informer's editors round up to count and judge the "Top 50 Games of last year". The games are sorted in order of release date. They do not have rankings, but they do praise special games with awards like "Game of the Year". Mini Top 10 charts of various categories are also available, both in the Top 50 games section of the website and in the magazine edition.
In August each year, Game Informer includes an "E3 Hot 50", a special section that reviews the year's E3 (Electronic Entertainment Expo event) and most to all of its games, which also temporarily replaces the "Previews" section.
Game Informer visitors
Game Informer publishes the 4th largest consumer magazine in the United States and the largest digital magazine in the world. With over 3 million monthly unique visitors, Webby award-winning gameinformer.com maintains the fastest growing online community for gamers.
Purpose of Game Informer
GameInformer.com provides gaming-related news, reviews of the most exciting releases, hardware reviews, interviews with the industry's biggest names - everything a true gamer wants! Game Informer currently reviews games on all platforms - PC, PlayStation 4, PlayStation Vita, PlayStation VR, Xbox One, Nintendo Switch, Nintendo 3DS, Android, iOS.
Interesting facts
Game Informer Australia has been closed down as of April 18, 2019 as a result of cost-cutting measures from its parent company EB Games. By August 2010, it had become Australia's biggest selling video games publication and has picked up three Australian Magazine Awards for best in the category, multiple nominations in the Lizzie awards and the 2013 MCV award for Print Publication of the Year.
Game Informer dark mode – only for true gamers!
True gamers spend a lot of time not only playing their favorite releases but reading sites like Game Informer. They have to stay up-to-date with the latest gaming-related news, reviews, and events. At the same time assimilate useful tips and playing strategies to beat every opponent in the virtual world. We can say that this is not just a hobby, it is a way of life! Meet Night Eye dark mode browser extension with which you can instantly reinvent your browsing experience and read your favorite gaming news on Game Informer in a manner you have not seen before! Cool, dark and stylish, dark mode is way less harmful than the standard blindingly bright mode of most websites. By enabling Night Eye, you will increase your eye-care protection as it will remove the harmful blue light from your PC and laptop screen in a single click! Symptoms like headaches, dry eyes, blurred or even double vision will remain in history, as you will enjoy a safer and cooler browsing experience! Night Eye is the best dark mode browser extension made only for true gamers that play from the HEART!
Preview of Gameinformer with dark mode on
Install Night Eye dark mode now
No credit card, no names, nothing is required - install on your preferred browser and enjoy completely for free for 3 months. After that, you can stick with the free forever Lite version and subscribe for $9 per year. See by yourself how this dark mode browser extension can help you fight with eye strain and start visiting your favorite gaming site the best way possible!