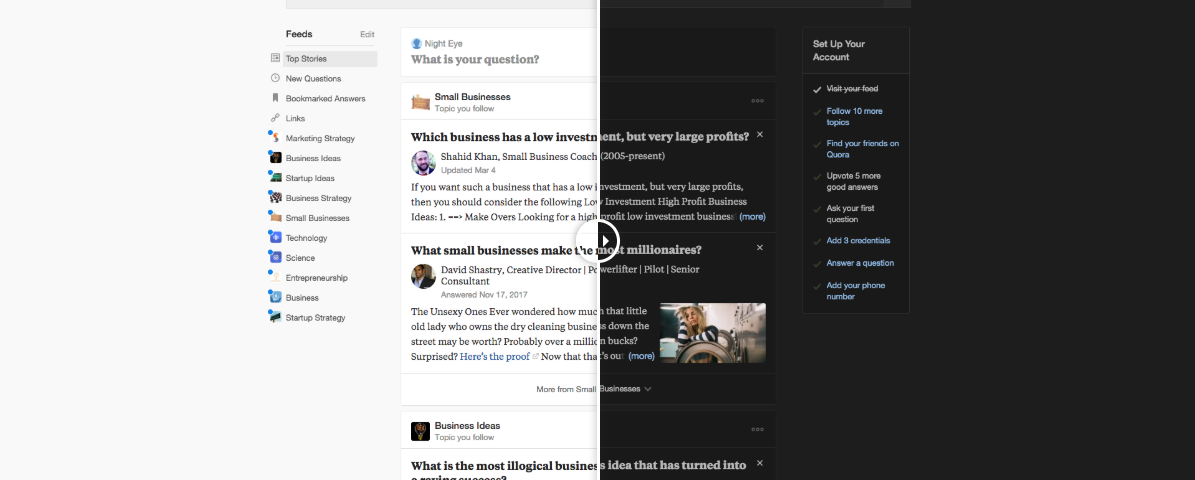 Update 10.03.2020
Quora
plays huge role in the way how questions are asked and answered on the Internet. It is large hub of shared knowledge and opinion. Quora is one of the first places a person would start researching a topic or learning something new. People tend to spend on average 3.04h per day (
source
) browsing the platform. Being that actively engage on the website without having a dark mode can cause watery eyes and headaches and this is the last thing a person would want when researching a topic.
Night Eye is actively trying to keep up with the development of the platform and adapts the dark mode by the extension. Our team is an avid user of Quora and we perfectly understand the importance of having smooth dark theme enabled.
Quora is one of the most fascinating places you could find on the world wide web. On the surface it is pretty simple - it is a question-and-answer platform ran by huge community of people. Beneath this simplistic description lies a the true nature of Quora. There is no place where you can find question like:
Besides having fun or consuming really interesting information, Quora is great place for building up a personal brand.
If you are an expert in a specific field/fields you can help others by answering their question and thus building your online reputation. You can drive traffic to your personal blog and thus grow your online presence.
Businesses also benefit from Quora.
Similar to the personal brand approach, companies can reach out to potential customers by answering questions related to the service or products offered by them.
You can literally get lost in Quora as the platform suggest similar questions that you can answer or see what has been answered by others. Not to mention that discussions can and are being formed around most of the questions, which increase the time spent on the website. Last but not least it seems mandatory that all answers should be long and well structured in order to be accepted by the community.
What all this suggest is that time flies while being on Quora. The time spent there takes serious toll on your eyes mostly because of the bright white background of the platform. Although much requested by the community, neither the website, nor the apps offer its users Night / Dark mode.
2. As soons as Night Eye is installed, Dark Mode is automatically ON on all websites you are visiting, but most importantly Quora
3. Click the Extension Icon to open the menu where you can customise a lot.
4. There are 3 general modes that you would like to explore
Dark Mode - All colors, small images and icons will be converted to give you the smoothest dark experience possible.
Filtered - The websites' colors will not be changed, but you can still adjust brightness, contrast, warmth and more.
Normal - Get back to the normal browsing experience.