Google Calendar is arguably one of the most powerful productivity tools that you can start using right now. In 2017, Google launched an impressive upgrade of the Calendar app (both web and mobile) that brought many improvements.

The result - time management tool that does everything to keep yourself organized. If you ended up here, you are most likely aware of what Google Calendar offers and its capabilities. If you are new or simply want to refresh your knowledge and get more out of it, there is a great guide at the end of the post.

One thing that it lacks and most likely will continue to do so is Google calendar dark mode. Google recently started A/B testing dark mode for Google calendar on search, so who knows, maybe we'll get an official dark mode for Google Calendar in the near future. Thankfully, Night Eye is the browser extension to enable dark mode on Google Calendar with a one-click install.

Why Should You Enable Google Calendar Dark Mode?
Better eye protection

We are constantly spending more time in front of screens, and it affects our eyes negatively. One of the means to protect your eyes is to enable dark mode whenever possible. For example, Twitter, YouTube, Reddit offer built-in dark mode for their websites and mobile apps.

Besides the dark mode, you remove the blue light by enabling Night Shift (macOS and iOS) and Night Light (Windows). Although you can remove the blue light emitted by the screen, Google Calendar does not offer dark UI, which will take some toll on your eyes. Switching to Apple Calendar (it has an awesome dark theme) is often not an option due to its availability and, more importantly, due to lack of features.


Consistency

If you already have enabled the dark mode offered by macOS Mojave and Windows 10, shocking your eyes with a bright white screen might not be so fun.


Looks cool

It simply looks cool. We see a huge spike in people's interest in dark themes, which has already become a norm.

What to Expect if You Use Night Eye to Enable Google Calendar Dark Mode?
At this point, the only downside that can be observed is if you have used yellow color for a specific calendar. It will be converted to brown (when dark mode is enabled). Everything else looks crisp, clean, and of course, dark. If you're looking to use Google Docs, Google Sheets, or any other
Google product in dark mode
, Night Eye can enable it.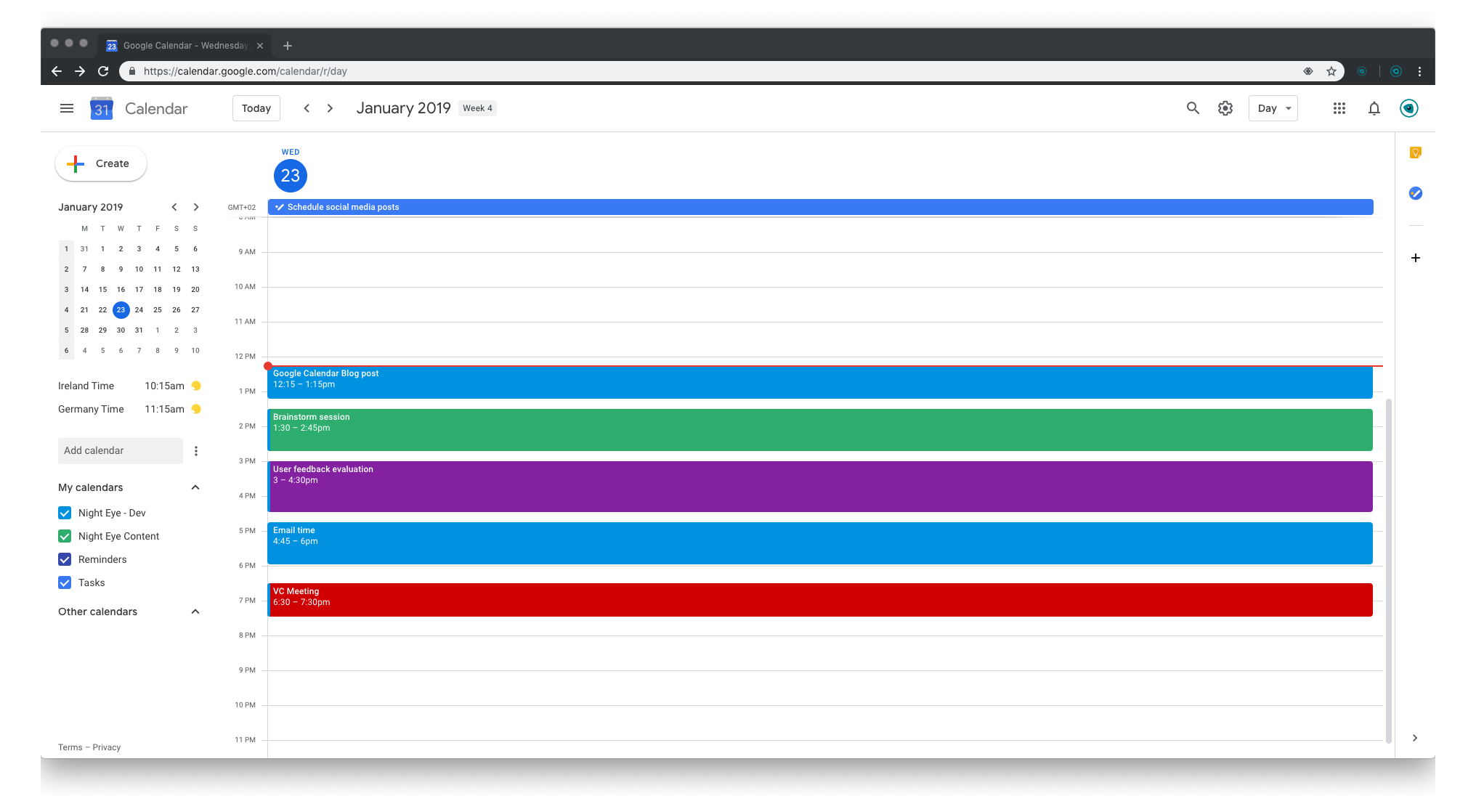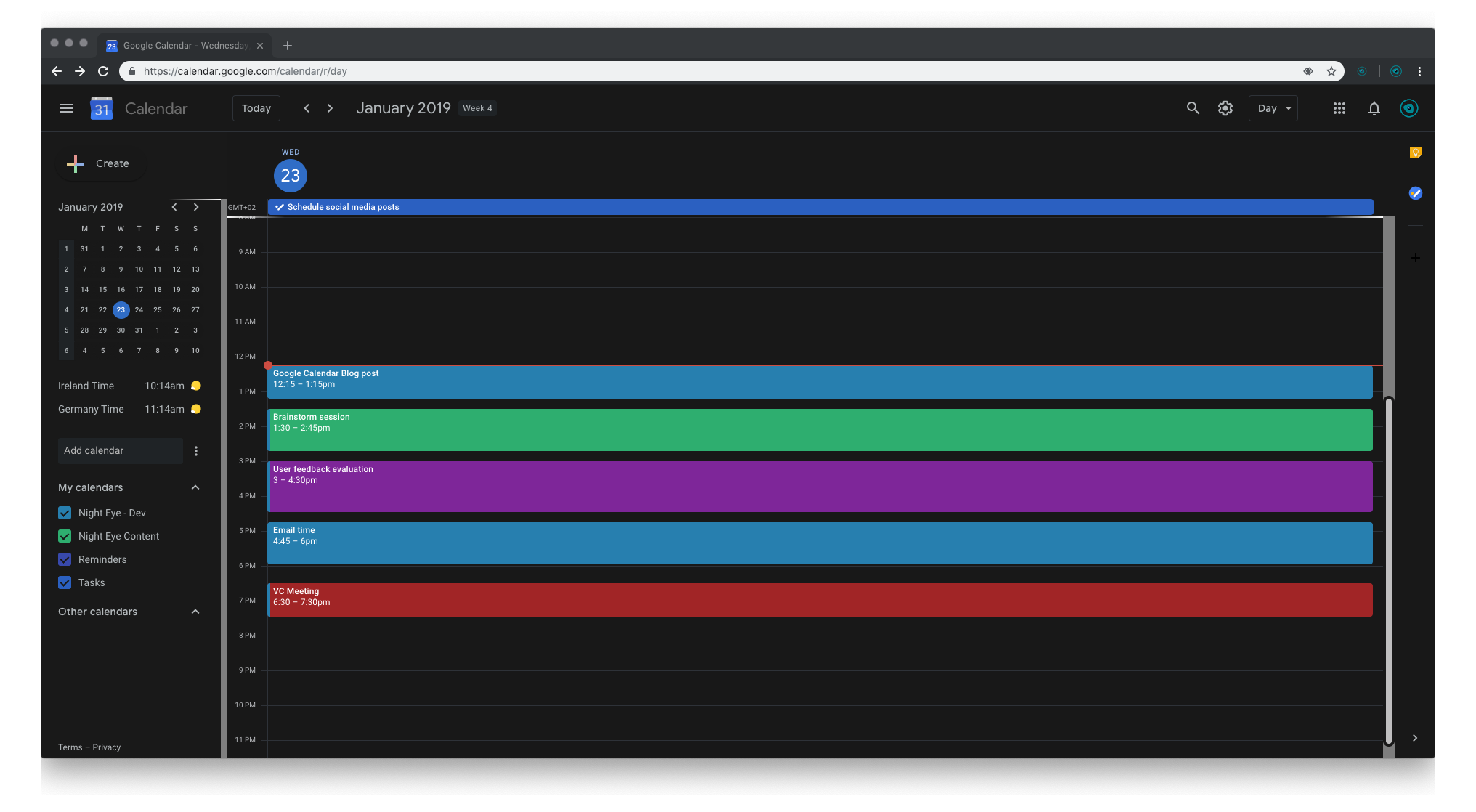 How Do I Get Dark Mode on Google Calendar?
This is a step by step guide on how to turn on a dark mode for Google Calendar:


Install Night Eye for your preferred browser.
Open the extension by clicking on the icon that will appear next to the address bar in your browser.
Pick a preferred language (English is set as default).
Enjoy the dark mode on your Google Calendar, and your eyes will feel much better now.
Night Eye Can Offer More Than Simply Dark UI

There are many customization options such as a blue light filter, contrast filter, brightness filter, color-changing feature, and schedule dark mode for those who only want dark mode enabled during night hours. For most people, the default settings are satisfactory enough, so don't bother with them at the beginning. Night Eye will automatically enable dark mode on every website you visit.


Does Night Eye Enable Google Calendar Dark Mode for Mobile Apps (iOS and Android?
Sadly, but no. Night Eye is available only for the web version of Google Calendar. For the mobile apps, we hope that Google will implement dark mode throughout their whole range of apps at some point.


Enable Dark Mode on Google Calendar Now