Why bothering with Dark mode for Google News
Better eye protection
We are starring more and more at screens. PC, smartphone, smartwatch, tablet, car, refrigerator… everything has screen nowadays and we are spending nearly all awake hours looking at them. The best thing you can do to protect your eyes is to take some rest and not look at screens, BUT this might be hard task for some of us. Enabling dark mode can reduce the negative effect of the screen time and if you manage to remove the blue light emitted by the screens even better. Although some of the most popular websites and apps already offer dark mode, Google News still lacks dark theme for its Web version.

Saves battery
Dark Mode arguably reduces the power usage of your devices. This can be easily observed when you are reading Google News on your smartphone with dark mode enabled. When it comes to the web version, in most cases it is quite the opposite.

Looks cool
It simply looks cool. There is a significant spike in the interest towards dark themes which already transforms into a norm. Most new apps already come with at least two themes - light and dark.


When is it really useful?
Reading late at night - If you are reading late at night, there is a big chance that the screen is one of the main sources of light in the room. This rapidly affects your eyes, especially if you spent your whole day at work staring at screen.
Working in an environment with low-level light - This is a similar setting to the reading late at night. Again, if the screen emits much of the light in the room, this can be detrimental to your eyes' health.

If you are a researcher, journalist, student or a news junkie, reading for long hours can be improved both in quality and length with the right setting. Enable dark mode when possible and remove the blue light emitted by the screen.
How to enable dark mode on Google News for web
Step by step guide on how to get dark mode for Google News for web
1. Install Night Eye for your preferred browser. The complete list can be found on our homepage -
https://nighteye.app/
2. Open the extension by clicking on the icon that will appear next to the address bar in your browser
3. Pick a preferred language (English is set as default)
4. Enjoy the darkness, your eyes will feel much better now
What to expect, if you use Night Eye to enable dark mode?
Google News look crispy and clean when using Night Eye.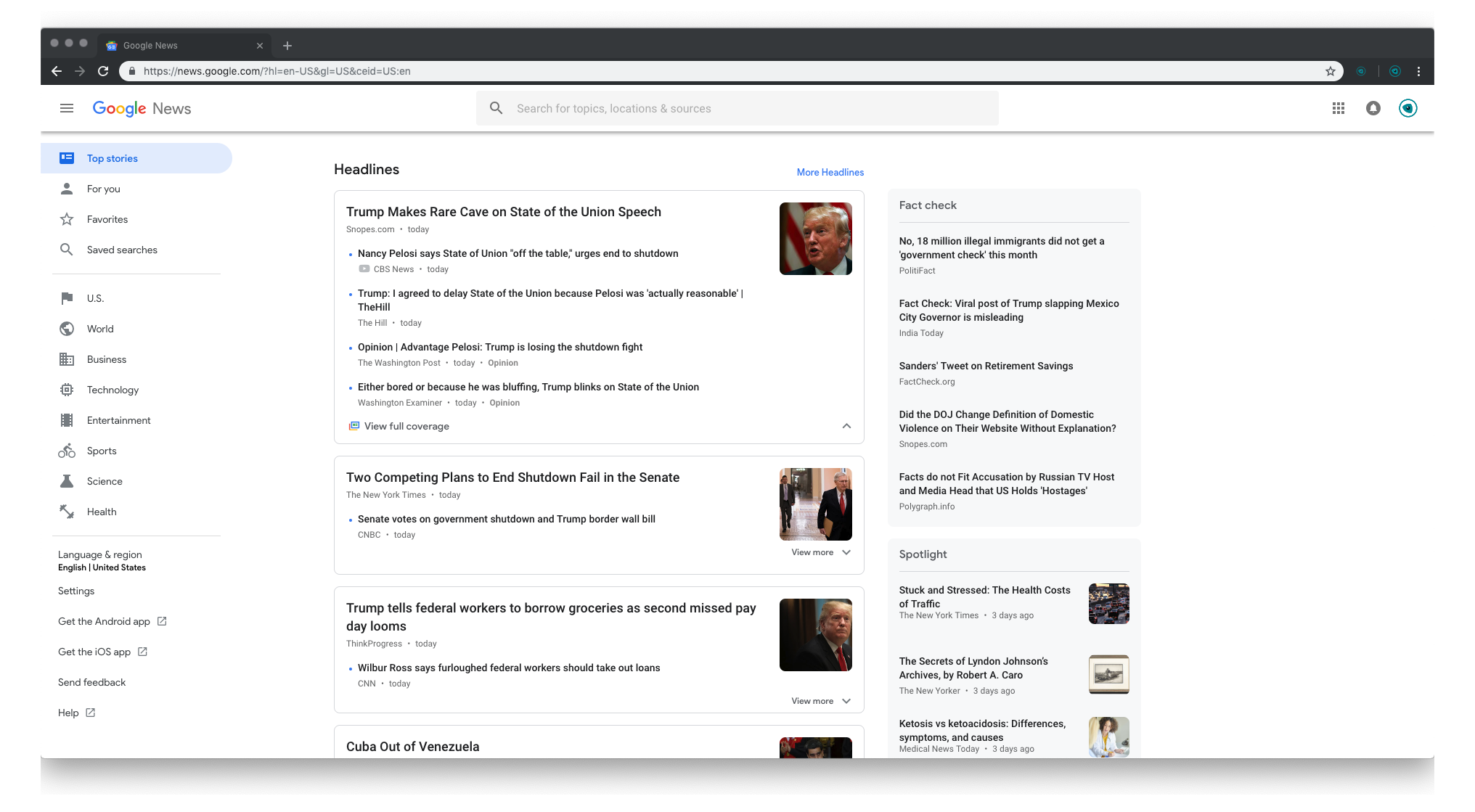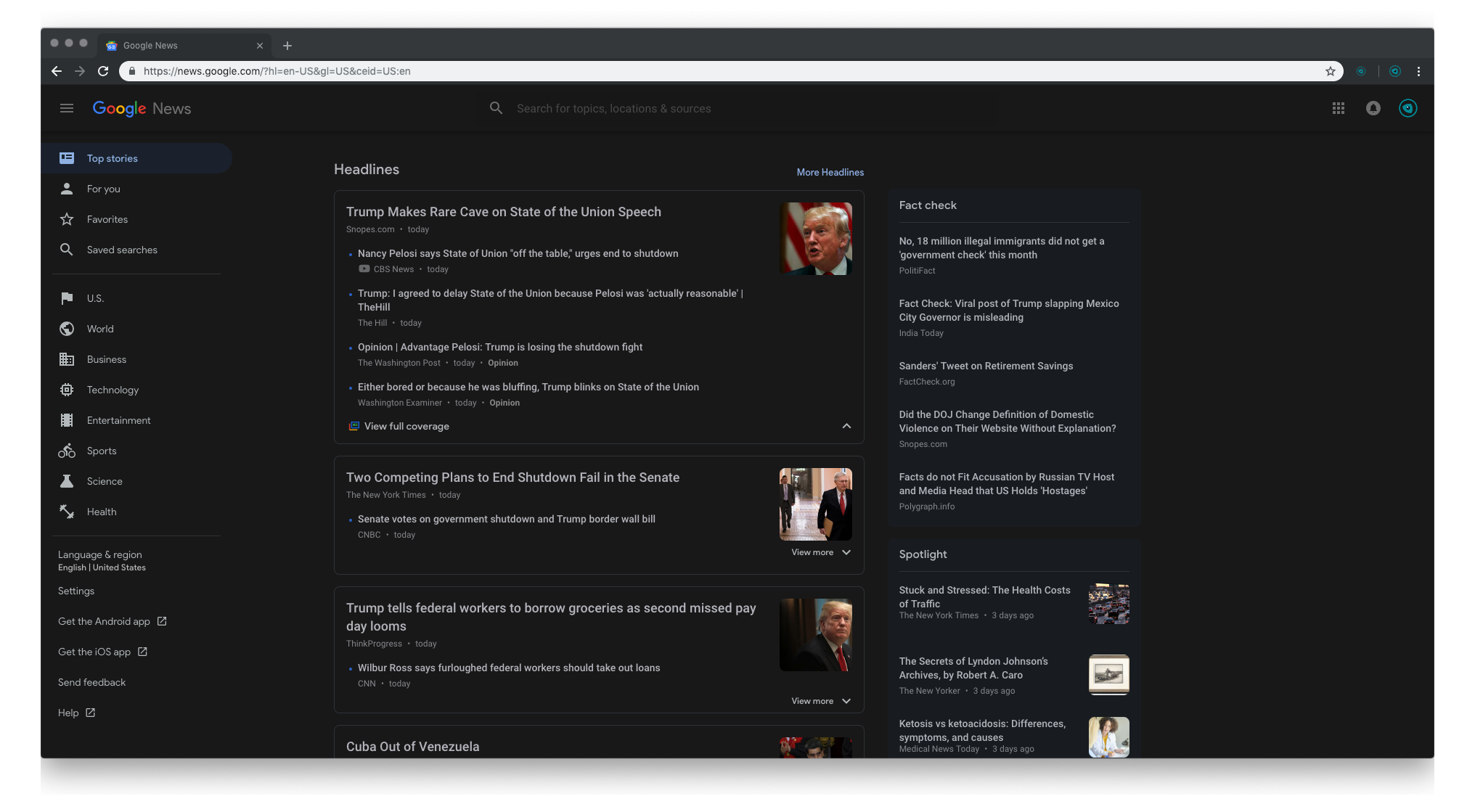 Night Eye can offer more than simply dark UI.
The dark mode is just the beginning. You can go deeper and use some or all available filters such as blue light filter, contrast, brightness and others. Although still in experimental phase, Night Eye will allow you to change the colors of the website. For most people, the default settings are good enough so at the beginning don't bother with them. Night Eye will automatically enable dark mode on every website you visit.
How to enable dark mode on Google News for Android
Automatic is what we would recommend as is the most convenient way to have dark mode at the right time of the day or when you are running out of batter.
1. Open the Google News app
4. Choose the Dark theme option
How to enable dark mode Google News for iOS
At night is again the most logical option that can be used. If you are reading the news in the morning, the dark UI might not be the best option for your eyes.
1. Open the Google News app
4. Choose the Dark theme option
Summary
Although dark mode can have positive effect over your productivity and health in general, there are moments when it is not. If you are outside with descent sunlight or in an office environment where there is usually a descent lightning, normal mode can be the better option.
Enable Dark Mode on Google News (Web) now