Update 08.10.2019 Instagram dark mode for iOS 13 and Android 10 has finally arrived.

Since the launch of the desktop version, there has been a growing debate wether it is superior to the mobile app. As a dark mode fanatics, we would pick the desktop version anytime, but lets look at the objective pros and cons so that you can decide yourself. We will also show you how to activate instagram night mode on you desktop and if you are using the iOS app.
Pros for using Desktop version of Instagram
* Instagram Dark mode is available. Although not built-in, Night Eye enables a stunning dark mode.
* You are less likely to like something while stalking a person. You know very well how easy it is to accidentally like an old photo of the person you are stalking.
* Bigger images. The avocado toast looks even tastier when you are looking it on bigger screen, doesn't it?
* Less addictive. Have you caught yourself mindlessly scrolling instagram without actually knowing why you are doing it? It takes 2 seconds to start doing it which allows you to go into zombie mode. Desktop, on the other hand, requires more attention and can help you reduce the zombie mode.
Some Cons that need consideration
* If you are using it at work - people can stalk you
* It generally takes more time to scroll
* You cannot post pictures or videos, making the desktop experience more passive.
* No DMs - although this could be considered as a good thing if you simply enjoy browsing Instagram. However it is a missing feature, so we must put it as a negative thing.
The Verge asked their readers which platform they prefer to use Instagram on. Quite surprisingly nearly half of the readers voted in favour of Desktop.
The Verge Pole results
58% - Mobile app
42% - Desktop version
Total voters - 2544
Source -
The Verge
Instagram dark mode for Desktop
Although there is no official built-in dark mode, you can use Night Eye browser extension instead. It is simple to use dark mode extension that enables dark mode on Instagram Desktop and pretty much any website on the internet. It is available for all major browsers and takes literally seconds to get it running.


Step by step guide:
1. Install Night Eye for your preferred browser
2. Open the extension by clicking on the icon that will appear next to the address bar in your browser
3. Pick a preferred language (English is set as default)
4. Enjoy

Check out the quick video guide.
Preview of Instagram Normal View and with Dark mode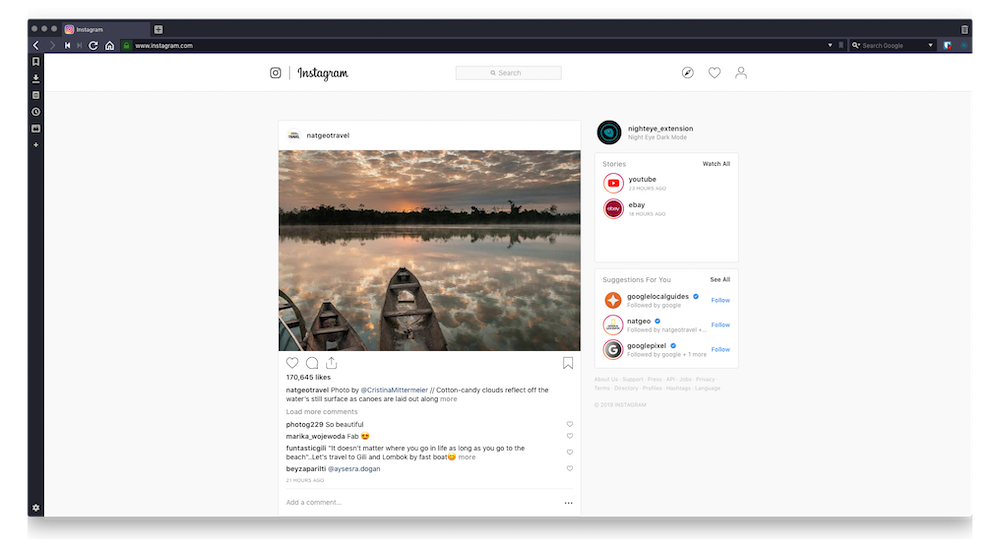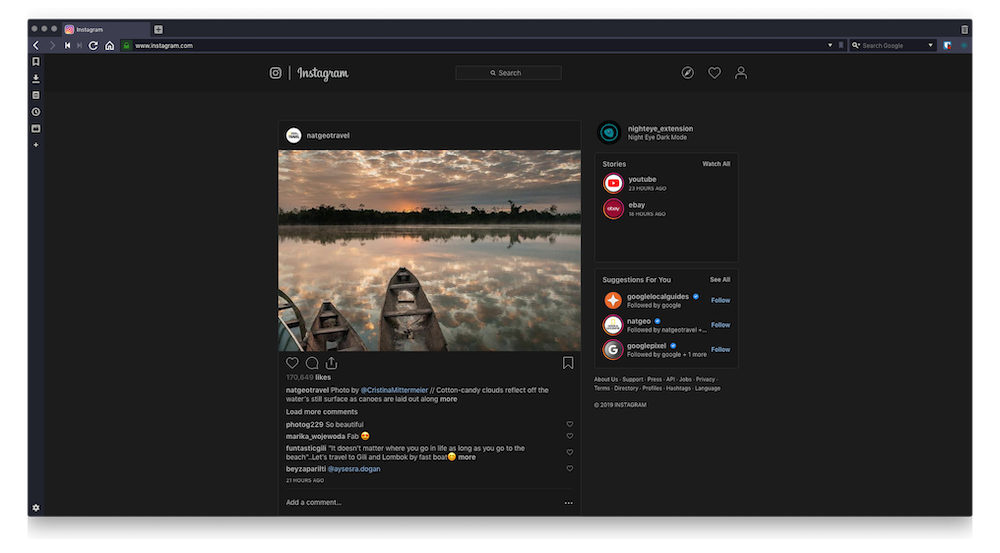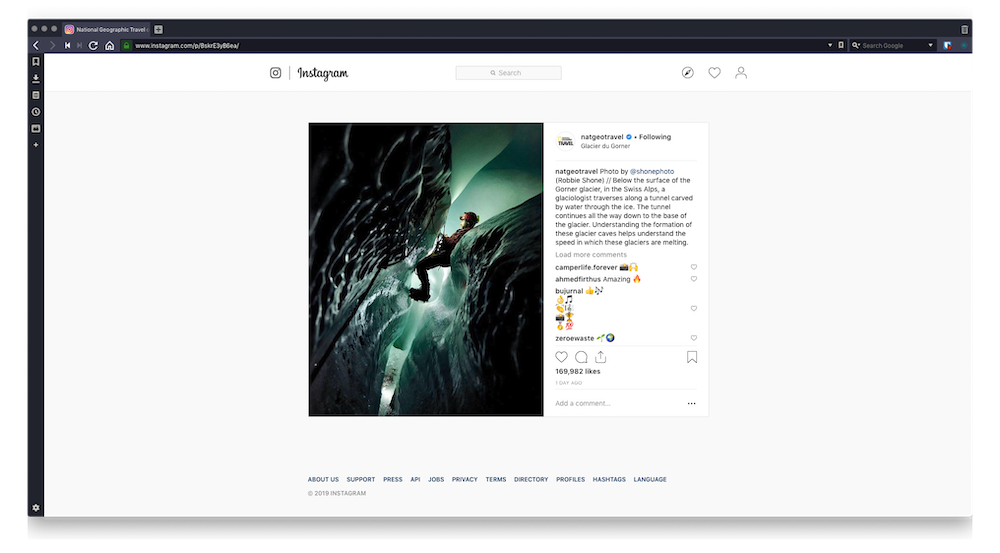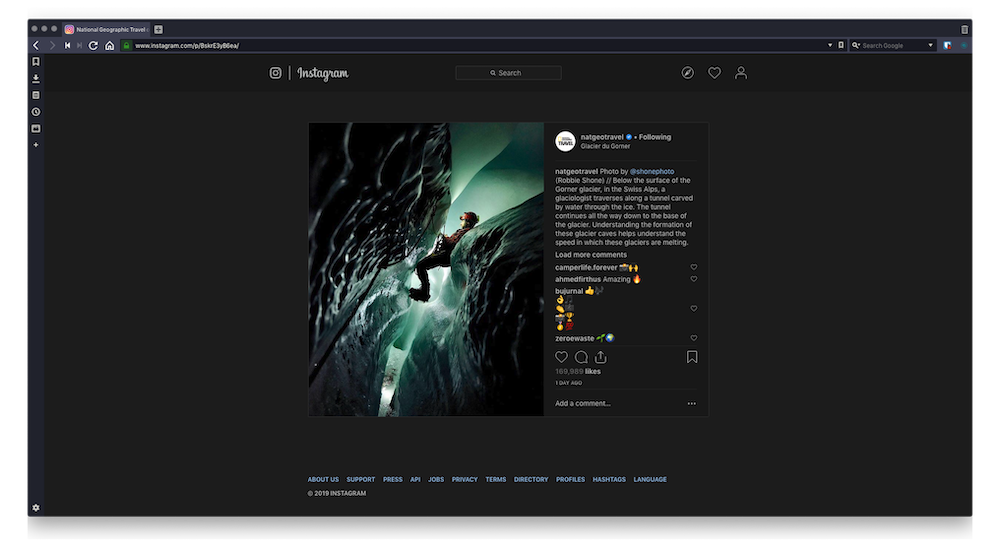 There are many customisation options such as blue light filter, contrast filter, brightness filter, color changing feature and more. For most people, the default settings are satisfactory enough so at the beginning don't bother with them. Night Eye will automatically enable dark mode on every website you visit.
For more details on how it works and how to use it -
https://nighteye.app/how-to-start/
If you have questions, check out our
FAQ
https://nighteye.app/help/
or simply message us using the built-in support chat. To do so, open the extension window and at the top right corner you will see the support chat.
Start your 3 months Free Trial and enable a smooth dark mode with Night Eye
Instagram dark mode on iOS 13
Official method
In order to enable a global dark mode that will affect the Instagram app follow those steps:
1. Open Settings on your device
2. Go to Display and Brightness
3. Change the option to "Dark."
4. Enjoy Dark Mode on Instagram



Not official method
In order to enable a global dark mode that will affect the Instagram app follow those steps:
1. Settings
2. General
3. Accessibility
4. Accessibility Shortcut - It is located at the very bottom of the Accessibility screen.
5. Select Smart Invert Colours.

Now you can enabled and disable the iOS dark mode by clicking the home button three times. If you are using iPhone X, Xs, Xs Max or XR - click the new Slide button three times.
Voila, you can enjoy browsing the Instagram app with darker UI. Although it looks pretty good, one thing to consider is that videos come with inverted colors.

Here are few previews to decide wether it worth it for you or not
Instagram dark mode on Android 10
Official method
In order to enable a global dark mode that will affect the Instagram app follow those steps:
1. Go to Settings on your device
2. Go to Display
3. Select Dark Design (though this may vary depending on the manufacturer)
4. Enjoy Dark Mode on Instagram